VMware VCP-DCV 2019 exam has been released back in January this year. Students willing to pass this exam shall be familiar with VMware vSphere infrastructure and have to attend one of the required training courses. After that, they have to pass a Foundation exam called "VMware vSphere 6.7 Foundations Exam 2019". Only after, they can pretend to go for the VCP-DCV 2019 exam and hope to become VCP Certified.
I have been working on a VCP-DCV 2019 community study guide for several months and the work wasn't easy because VMware did not provide specific guidelines for the sub-chapters. So the work was difficult as I guessed what knowledge which topic is needed. I used some guidelines from VCP 6.5 guide which has a better structure.
That's why also we recommend downloading our older study guide for VCP6.5-DCV which has a better structure of chapters and perhaps more detailed step-by-steps included  – Download Free VCP6.5-DCV Study Guide.
I've been working and putting in place a Free Study Guide for passing VCP-DCV 2019 exam for a while. I have good news today to share with our readers. The good news is that there is a PDF version of this guide now available.
You can go ahead and download this guide at one of our long-time partner's website – Nakivo. Download your Study Guide Now. The community study guide can be download as a free PDF. Thanks to Nakivo for sponsoring this.
Free Download at Nakivo – VCP6.7-DCV Study Guide is here.
You could have followed, probably, the chapter-after-chapter progress on our VCP6.7-DCV Study Guide Page.
On that page you can also find the latest documentation sets you'll need to download as a PDF.
Passing VCP certification exam validates your vSphere knowledge and gives you more insurance in what you do. It also shows your employer that you have knowledge of VMware data center technologies.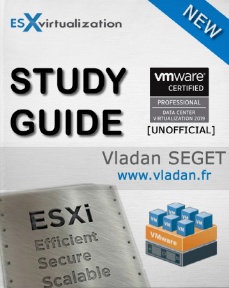 VCP – VMware Certified Professional is an exam for Administrators & Engineers. This exam level is designed for IT professionals who install, configure, manage and optimize VMware solutions.
Over the years, the VCP exam has more and more requirements as VMware vSphere gets more complex. Back in the days of vSphere 4 or vSphere 5, the exams might seem to be easier and allowed just to have enough experience and know some configuration maximums. Nowadays this is not enough to pass.
To pass this exam, you'll have 115 min, and you must crack through 70 questions. The cost of the exam is $250.
Quote:
The VCP-DCV 2019 certification validates candidate skills to implement, manage, and troubleshoot a vSphere V6.7 infrastructure, using best practices to provide a powerful, flexible, and secure foundation for business agility that can accelerate the transformation to cloud computing.
Few questions from the exam page at VMware.
Few Questions from VMware FAQ page:

Will vSphere V6.5 courses satisfy the VCP-DCV 2019 certification upon passing the exam?
No, you must complete a vSphere 6.7 course to achieve certification if you do not already hold a current VCP certification. If you have taken a vSphere V6.5 course, you may take the VMware vSphere: What's New [V5.5 to V6.7]  or VMware vSphere: What's New [V5.5 to V6.7] – On-Demand course and it will qualify.
Why does the VCP-DCV 2019 have a year designator as its version?
Data Center Virtualization solutions are frequently updated. Having a year as its certification version allows VMware to better maintain the exam and training content, and more importantly, provides certification candidates to communicate how current their skills are in relation to other certifications.
Do I have to complete the requirements in the order listed?
No, however, we strongly recommend that you do so. Also, please note that successfully registering to take an exam does not imply that you meet the certification requirements in full.
Will earning VCP-DCV 2019 certification re-certify my older VCP certification?
Yes, by passing the VCP-DCV 2019 exam you will successfully re-certify.
You can have a look at our VCP 6.7 – DCV Study guide page where you can also download all the VMware PDF documentation set.
Note that you should not rely only on our study guide, but rather get as much as documentation as possible and do a lot of lab hours to practice your knowledge.
Download VCP6.7-DCV Study Guide here at Nakivo website.
Some other resources from our blog might be usefull?
More from ESX Virtualization
Stay tuned through RSS, and social media channels (Twitter, FB, YouTube)