Today we'll discuss vSphere 7 storage. This post is part of Free VCP-DCV 2021 Study Guide. The main page of the guide is here – VCP7-DCV Study Guide – VCP-DCV 2021 Certification, and you'll find there ALL the chapters. VMware vSphere 7 supports many different datastore types.
We have pretty much described the different storages in the previous post here – VCP-DCV 2021 vSphere 7 – Identify and differentiate storage access protocols for vSphere (NFS, iSCSI, SAN, etc.). So this post will complement some information.
Again, use the vSphere 7 documentation set for the study and don't rely only on our guide.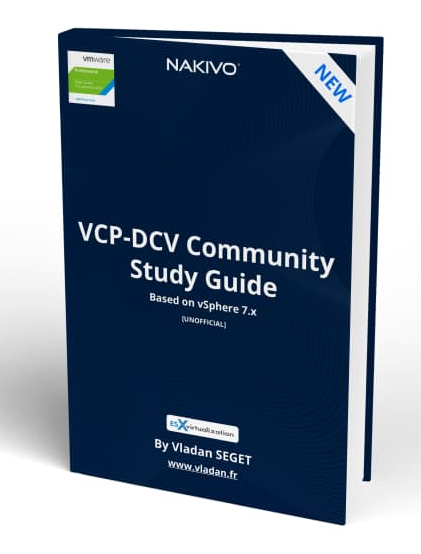 Download FREE Study VCP7-DCV Guide at Nakivo.
The exam duration is 130 minutes
The number of questions is 70
The passing Score is 300
Price = $250.00
VMFS – you can use VMFS 5 or VMFS 6 within vSphere 7. This file system is installed on block storage devices. VMFS is a special high-performance file system format that is optimized for storing virtual machines that can be iSCSI LUNs or local (Direct Access) DAS storage.
The upgrade from 5 to 6 is not direct. You must delete and reformat the datastore. vSphere uses a locking mechanism so multiple access, from multiple hosts to files is controlled.
NFS – vSphere 7 supports NFS v3 and 4.1 and this file system is a file system that uses the network to access it. In the case of NFS, the access to the files is controlled by the NAS device.
VMware vSAN – vSAN uses local storage and SSDs from each host to create a storage pool shared within the cluster. You'll need at least 2 hosts and one witness host to create vSAN storage. Please check other chapters of our guide for more specific and detailed information about vSAN.
vVOL – this is another type of storage using vVol datastore that are storage containers on a block device.

From vSphere 7 documentation:
Depending on your storage type, some of the following tasks are available for the datastores.
Create datastores. You can use the vSphere Client to create certain types of datastores.
Perform administrative operations on the datastores. Several operations, such as renaming a datastore, are available for all types of datastores. Others apply to specific types of datastores.
Organize the datastores. For example, you can group them into folders according to business practices. After you group the datastores, you can assign the same permissions and alarms on the datastores in the group at one time.
Add the datastore to datastore clusters. A datastore cluster is a collection of datastores with shared resources and a shared management interface. When you create the datastore cluster, you can use Storage DRS to manage storage resources. For information about datastore clusters, see the vSphere Resource Management documentation.
Find other chapters on the main page of the guide  – VCP7-DCV Study Guide – VCP-DCV 2021 Certification,
Thanks for reading.
VMware VCP7-DCV Exam page here.
More posts from ESX Virtualization:
Stay tuned through RSS, and social media channels (Twitter, FB, YouTube)