In this post called VCP-DCV on vSphere 8.x Objective 1.11 – Describe VMware vSphere Distributed Services Engine we will talk about VMware DPU. This post is part of our Free Study Guide page that helps with learning towards VMware certification exam (2V0-21. 23) and became VCP-DCV. Our study page, VCP8-DCV is only an additional help. You should still study via practicing in the lab, VMware documentation set for vSphere 8.x and other publications.
Formerly project Monterey, the vSphere Distributed Services Engine, allows you to improve infrastructure performance by using the Data Processing Units (DPU) for hardware accelerated data processing to improve the performance of the whole infrastructure. With vSphere 8, the applications will be able to benefit from those features. Admins will be able to simplify DPU lifecycle management and boost infrastructure security with NSX.
Project Monterey:
"Project Monterey reimagines the virtual infrastructure as a distributed control fabric through tight integration with DPUs (Data Processing Unit – also known as SmartNICs). VMware is leading an industry wide initiative to deliver a solution for its customers by bringing together the best of breed DPU silicon (NVIDIA, Pensando Systems, Intel) and server designs (Dell Technologies, HPE, Lenovo)."
What's DPU?
DPU is sitting at the hardware layer. Any PCIe devices (graphics, nic…). The ESXi, at the top layer, with the DPU and NSX services underneath. A second instance of the ESXi is directly running in the DPU which allows offloading of some of the ESXi services to the DPU for increased performance. This technology can free CPU cycles that then can be used for running workflows.
Screenshot from VMware

Two ESXi instances per physical server: There are now two ESXi instances running simultaneously, one on the main x86 CPU and one on the SmartNIC. These two ESXi instances can be managed separately or as a single logical instance. CSPs providing VCF-as-a-service will want the former while enterprises using VCF as normal will prefer the latter.
SmartNIC is a NIC with a general-purpose CPU, out-of-band management, and virtualized device functionality.
The vSphere distributed services engine is a lifecycle managed via vSphere Lifecycle Manager. There is no difference in versions when ESXi is installed on the DPU. When you remediate the parent host that contains the DPU, the version of ESXi that you remediate with will also get remediated to the DPU itself.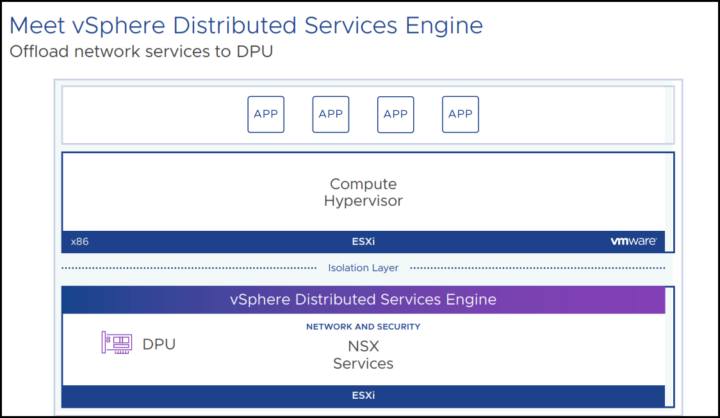 vSphere Distributed Switch version 8.0 will be introduced and it shall increase the network performance, and enhance the visibility and observability of network traffic. Also, provides security encryption, isolation, and protection from NSX.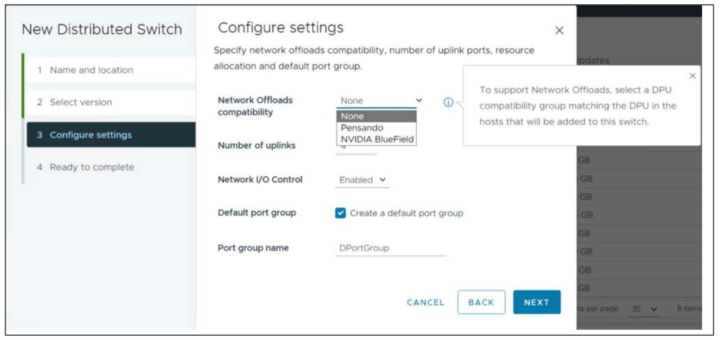 The supported DPU will appear within the drop-down menu on the Network Offload Compatibility. You should select the DPU compatibility group matching the DPU in the hosts that will be added to this switch. A DRS and vMotion are still supported.
vSphere Distributed Services Engine does not require a separate ESXi license. An internal network that is isolated from other networks, connects the DPUs with ESXi hosts. ESXi 8.0 server builds are unified images, which contain both x86 and DPU content.
During vSphere 8 launch, vSphere Distributed Services Engine is supported by DPUs from NVIDIA and AMD, and server designs from Dell and HPE. vSphere Distributed Services Engine is available on servers with pre-installed DPUs.
Hopefully this chapter will help you to study towards VMware VCP-DCV Certification based on vSphere 8.x. Find other chapters on the main page of the guide  – VCP8-DCV Study Guide Page.
More posts from ESX Virtualization:
Stay tuned through RSS, and social media channels (Twitter, FB, YouTube)