You want to surf anonymously on the Internet without spending a dime, but also avoiding seeing your data personal scattered in the nature? There is a solution that comes from Bright VPN.. As you know, there are many free VPN services, most offer advantages that aren't really good, with rather slow speeds and a number of servers and countries served quite limited.
Also Visit: Surfshark vs NordVPN
The principle of the VPN is basically to hide your activity on the Web, to hide your original point of connection – Your IP address. As such, it is quite paradoxical to provide free information personal information such as name, email address, country even a city of residence to a free service which, without to have too many illusions, will hasten to exploit this database to resell this information. (evil…)
Paid VPN services, on the other hand, show generally trusted information as to the use of the data that you're willing to give them. To prove that, usually have independent audits certifying that they do not keep any connection log (log) and that, depending on the country where their head office is located, they can refuse to provide any information to any authority. This confidentiality has a price that materializes therefore in the form of a paid subscription. However, luckilly, there is BrightVPN.
It is a premium VPN which is Free.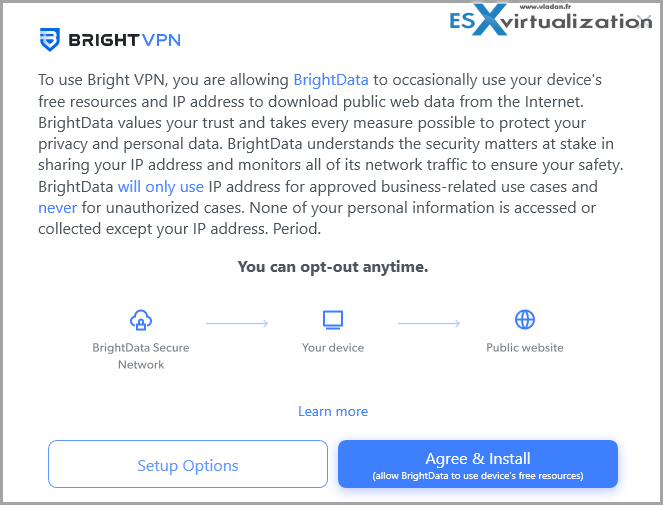 Bright VPN is a product of Bright Data, which is an Israeli company specialized in data management and analysis for businesses, Bright VPN takes a whole different approach. Bright Data says collect web data accessible to the public. Bright Data customers are major banks, universities, social networks, e-commerce sites and many brands you know", can we read on its site website. With this free VPN, Bright Data does not record any personal data about you. The company doesn't ask no contact details (names, address, email, etc.) for use its service. In fact, they even don't ask for your email before you download…
Using the VPN does not require no registration. What interests them is your Internet connection and more particularly your IP address In fact, it uses your ublic IP address as a VPN for their advantage in order to collect for them, the information on the internet.
How VPN night can be free?
Free VPN, it uses your IP address for its calls to its customers without siphoning off your data.
It therefore browses the Web with a standard IP address (yours) corresponding to an average Internet user, so as not to be noticed. To reassure, Bright Data indicates that your Internet connection is only used occasionally, not all the time (…) and that, in general, the service only downloads the traffic equivalent to a few minutes of viewing of Netflix or YouTube per day ". Besides that, Bright VPN allows you to pick the categories of websites you allow the company to view with your real IP address. A way to keep some control over your connections.
YOU LEND ME ANOTHER You will have understood it, you lend your IP address to Bright Data for a few hours a day so it can collect data from the web and in return, Bright VPN provides you with another IP address like any VPN. That's it. And like any VPN service, it lets you choose your virtual connection zone, the country. There is quite a choice…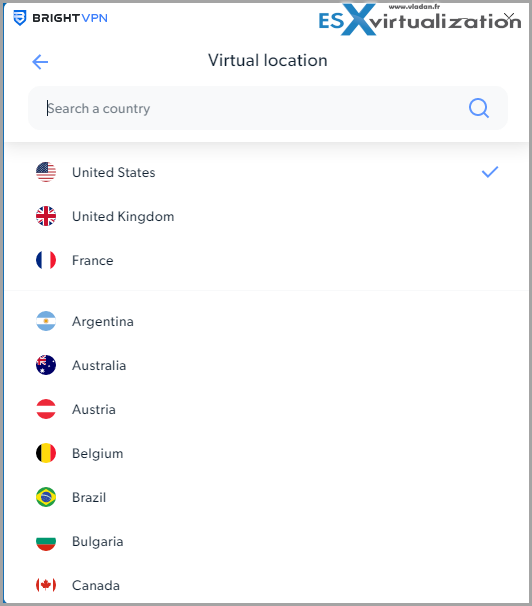 The tool thus has 1150 servers distributed in 150 countries. Not bad. Bright VPN does not impose any data limitations unlike other free VPNs which at best allocate you a few GB to surf anonymously. However, there is obviously some issues, because nothing is really as bright as it seems. And it's understandable.
In terms of performance, Bright VPN still lags behind paid VPN services. The tests showed that the speed was about a half of what's without a VPN. It is definitely better than the free VPNs that we were able to try and with which the speed was divided by four. Bright VPN is currently only available for Windows and as an extension for Chrome, Firefox, Edge and Opera browsers.
We don't want your data, not even your email address…
If Bright VPN does not collect your data, it will ask you for authorization to use your IP address for its own web monitoring and data research purposes. It's quite discrete if you ask me… An IP address from a person (not a company with dedicated IP)
Here is what you sell them, in exchange of the free service:
For example, be the prices of certain products in the case of a comparative study, information on commercial flights, the impact of an online advertising campaign, etc. By using your IP address, the purpose is to pass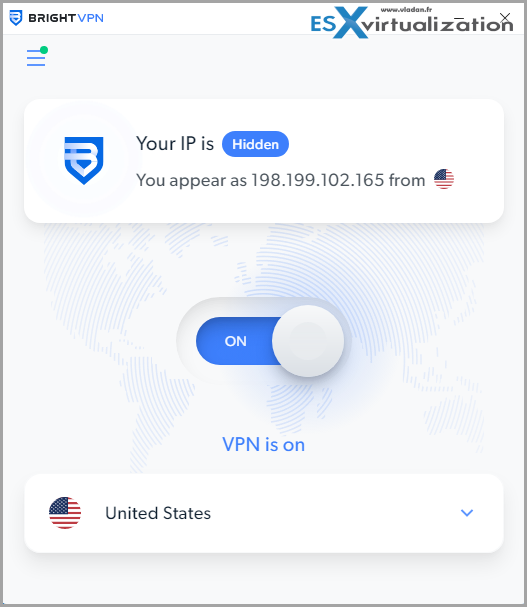 The installation is so simple that I won't even bother to detail that. After installation, the software starts automatically and connect to a remote location so your public IP address changes.
Few FAQ's:
Will Bright VPN slow down my Internet?

No. The Internet connection may only be used when the device is not busy with other tasks. Bright VPN carefully protects device resources and ensures that traffic is only sent by using the device's available resources without significantly impacting the device's operation.
Which security protocols does BrightVPN support?

Protect PC mode IKEv2:AES256/SHA1/MODP2048.
Check out Bright VPN here.
More posts from ESX Virtualization:
Stay tuned through RSS, and social media channels (Twitter, FB, YouTube)