vCenter server is a central point of vSphere. While your clusters can run and ensure High Availability (HA) in an automated matter, you'll need vCenter server 8 to configure them. Same for vSphere distributed virtual switches or other components. All those different software components are installed on vCenter, as plugins, as a side-by-side products, but they need vCenter server to function. Even your backup or monitoring software heavily relies on vCenter server.
Before you upgrade or migrate your environment to vSphere 8.0, you must move any deprecated deployment topology to a supported deployment topology.
When you first install vCenter Server 6.7, your deployment includes either an embedded Platform Services Controller or an external Platform Services Controller.
The installer does not validate whether the Platform Services Controller is external or embedded with vCenter Server. Although many types of join operations are possible, not all resulting topologies are supported. Before you upgrade or migrate your environment to vSphere 8.0, you must move any deprecated deployment topology to a supported deployment topology.

or like this

For topologies with external Platform Services Controller instances, the Platform Services Controller will be converged during the upgrade process to vCenter Server 8.0. After a successful upgrade, the external Platform Services Controller is powered off can be removed from your vSphere inventory. See Decommission the Platform Services Controller.
As you know, vSphere 8 (same as vSphere 7) only uses the embedded model, where the same VM runs the vCenter Server and PSC services on the same virtual machine (VM).
Check the VMware Product Interoperability Matrices and the VMware Compatibility Guide for the latest paths.
To upgrade vCenter Server appliance version 6.5 or earlier, you must first upgrade to version 6.7 or 7.0and then upgrade to version 8.0.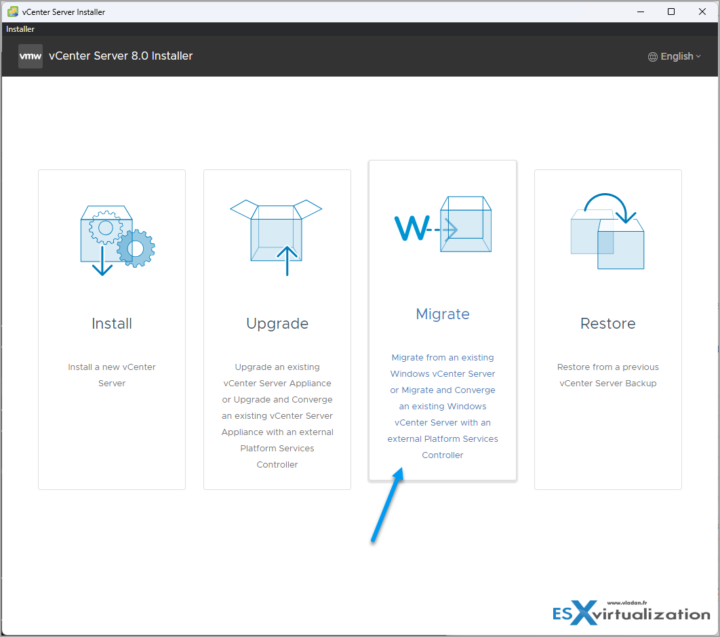 Deprecated topologies and vCenter upgrade paths
We can sum the vCenter version and upgrade possibilities into five major points. Please note that some of those versions are no longer supported by VMware.
vCenter 6.0 or later can be directly upgraded to 6.7.
vCenter Server on Windows is no longer available in vSphere 8, so any previous versions must be converted via the assistant. (There is a "Migrate" option when you run the VCSA installer.) Windows vCenter Server must be v5.5 or v6.0 (any build/patch) to migrate to vCenter Server appliance 6.5. If Windows-based vCenter is v5.0 or 5.1, upgrade to 5.5 first and then migrate to VCSA 6.5.
During the upgrade to the latest vCenter Server 7, there is a tool called the vCenter Server Converge Tool, which allows you to migrate the external PSCs into the embedded ones. When executed, the Converge Tool checks whether you'll need any additional components via internet access (if you have one), and those components will be automatically downloaded from the VMware Online Repository.
For topologies with multiple vCenter Servers and the transition to embedded PSCs, VMware has developed a new UI within vCenter Server where selected vCenter Server(s) can be converged to embedded topology.
When running this utility, your external PSC will be shut down and unregistered from the single sign-on (SSO) domain.
The embedded PSC doesn't only simplify the vCenter architecture and patching, but you also have fewer VMs to manage and less consumption of RAM, CPU, or storage. If you have large-scale architecture with many PSCs, then the conversion can save a good amount of resources.
Migrating Windows-based vCenter and Windows-based PSC
When running vCenter Server and PSC on Windows as separate VMs, you can migrate an external PSC instance from Windows to the appliance.
It is a two-stage process:
The first stage involves deploying a new vCenter Server to the target ESXi host or a compute resource in the target vCenter Server.
The second stage completes the vCenter Server setup and copies data from the source vCenter Server for Windows to the deployed vCenter Server. Before starting with the migration process, make sure you have backed up all data and have started the Migration Assistant on the source vCenter Server for Windows. Click Next, to proceed with stage 1.
Mount the VCSA installer CD on the Windows VM where vCenter is installed, that you're converting, and run the VMware Migration Assistant on the Windows machine. It's a CLI utility you'll find in a subfolder. Just follow the instructions from the assistant. At the end, you can decommission the external PSC after making sure it is unregistered from SSO. It is important to leave the Migration Assistant window open until you complete the upgrade or the migration process of your vCenter Server deployment.
Note: If anything goes wrong, you should know that you can do a rollback by reverting the source appliance or vCenter Server on Windows. If that's needed, please see VMware KB 2146453.
What can you migrate and how?
During the Migration Assistant process, you can monitor the migration and manage what you want to bring over with you. The previous version of vCenter might also have had an external database. You have the possibility to migrate the data from the external DB to the embedded PostgreSQL database in vCenter Server 8. There are check boxes that allows you to make a choice which data you cant to bring over.
You can also migrate vCenter tasks and history. The progress of the migration is shown in the browser window.
vCenter Server 8 runs on a single VM as a virtual appliance. You can add more resiliency with vCenter Server HA, where three nodes of vCenter Server instances running at the same time and in case any host that hosting one of those 3 instances goes down, another instance is automatically created on another host to make sure that the resiliency remains within the cluster. This configuration, however, consumes some resources so it's not really recommended for smaller installations.
Find other chapters on the main page of the guide  – VCP8-DCV Study Guide Page.
Click on the image below to get your VCP-DCV on vSphere 8 FREE Study Guide at our partner Nakivo.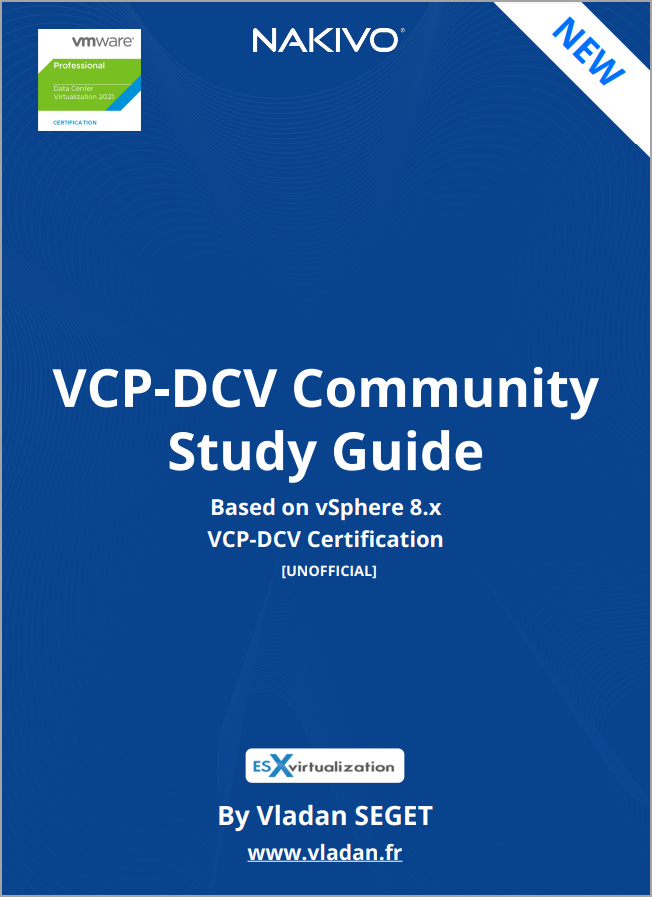 ******************************************************************************
More posts from ESX Virtualization:
Stay tuned through RSS, and social media channels (Twitter, FB, YouTube)
VMware Education (On Demand Courses)
***********************************
VCA | VCP | VCAP or VCIX exam vouchers
***********************************
VMware Learning Credits – Learning Credits provide the dual benefit of funding a well-trained IT staff, along with discounts options of up to 15 percent. Customers can schedule training when and how they need it. Customers can buy credits at the time of license purchase or as a stand-alone purchase
Stay tuned through RSS, and social media channels (Twitter, FB, YouTube)