Today's objective is VCP6.5-DCV Objective 6.3 – Configure vSphere Replication. An interesting topic which covers hypervisor replication product within vSphere suite allowing you to replicate VMs to a remote site where they stand by, waiting to be powered on in case there is a disaster on the main site.
Our New VCP6.5-DCV Study Guide page is starting to fill up with topics from the Exam Preparation Guide (previously called Exam Blueprint).
Right now you have a choice to study towards the VCP6-DCV – Exam Number: 2V0-621, ( it has 28 Objectives) or going for the VCP6.5-DCV (Exam Code: 2V0-622) which is few chapters longer (it has 32 Objectives). Both exams are valid for two years, then you have to renew. You can also go further and pass VCAP exam (not expiring).
Exam Price: $250 USD, there are 70 Questions (single and multiple answers), passing score 300, and you have 105 min to complete the test.
Check our VCP6.5-DCV Study Guide Page. 
You can download your free copy via this link – Download Free VCP6.5-DCV Study Guide at Nakivo.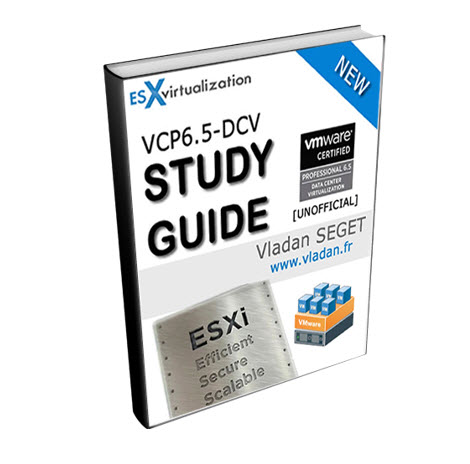 VCP6.5-DCV Objective 6.3 – Configure vSphere Replication
Compare and contrast vSphere Replication compression methods
You can configure vSphere Replication (VR)to compress the data that it transfers through the network. Compressing the replication data that is transferred through the network saves network bandwidth and might help reduce the amount of buffer memory used on the vSphere Replication server. However, compressing and decompressing data requires more CPU resources on both the source site and the server that manages the target datastore
vSphere Replication 6.0 utilizes the FastLZ compression library. This provides a balance of speed, minimal CPU overhead, and compression efficiency.
If you are using vSphere 6.0 and VR 6.0 at both the source and target locations, updates are compressed at the source and stay compressed until they are written to storage at the target. In cases where there is a mixed configuration, packets may be decompressed at some point in the replication path.
Performing this decompression in the VR virtual appliance (VA) will cause higher vCPU utilization in the appliance. Best is, vSphere 6.0 and VR 6.0 at both the source and target locations.
For most replication workloads, you will likely see compression ratios of approximately 1.6:1 to 1.8:1. This will result in faster sync times and lower bandwidth utilization.
But what's interesting is the fact that if compression is enabled.
Quick quote:
However, if the target ESXi host is earlier than 6.0,vSphere Replication prevents vMotion from moving replication source VMs to that host because it does notsupport data compression. This prevents DRS from performing automated vMotion operations to hosts thatdo not support compression. Therefore, if you need to move a replication source VM to an ESXi host earlier than 6.0, before you perform the vMotion operation, you must reconfigure the replication to disable data compression.
Configure recovery point objective (RPO) for a protected virtual machine
You can change the RPO settings and enable the Point in time instances on this screen. (follow the "Configure vSphere Replication for Single/Multiple VMs" below)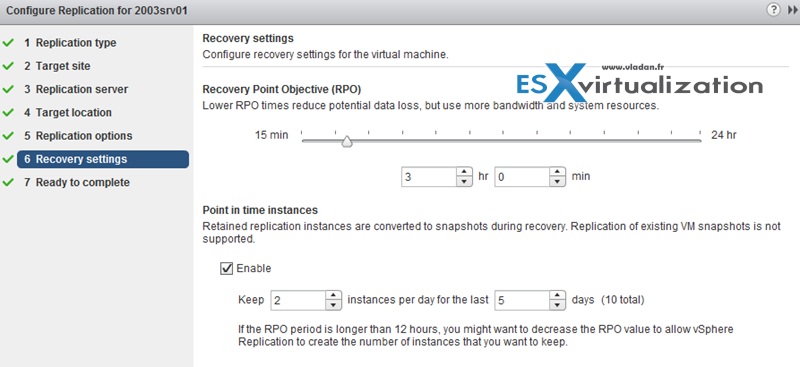 VMware VR allows RPO from 5 min up to 24 hours.
Manage snapshots on recovered virtual machines
vSphere Replication does not maintain virtual machine snapshot hierarchy at the secondary site.
Writes are replicated, so vSphere Replication does not know what snapshots are. As such, snapshots are not replicated. When the VM is accessed at the recovery side, it is like the snapshots have been collapsed.
Install/Configure/Upgrade vSphere Replication
vSphere Replication is distributed as ISO. Mount the ISO to access the OVF file to be deployed.
Requirements:
Source and target site must have vSphere web client and the client integration plugin is installed as well

Select the vCenter Server instance on which you are deploying vSphere Replication, click Manage > Settings > Advanced Settings, and verify that the 

VirtualCenter.FQDN

value is set to a fully-qualified domain name or a literal address

Network ports – For a list of all the ports that must be open for vSphere Replication, see https://kb.vmware.com/kb/2087769
Bandwidth –  vSphere Replication transfers blocks based on the RPO schedule. If you set an RPO of one hour, vSphere Replication transfers any block that has changed in that hour to meet that RPO. vSphere Replication only transfers the block once in its current state at the moment that vSphere Replication creates the bundle of blocks for transfer. vSphere Replication only registers that the block has changed within the RPO period, not how many times it changed
vSphere Replication deployment
vSphere Replication 6.0 administration guide p. 31
Select cluster and then Actions > Deploy OVF template > local file > browse… and so on…
If you don't want to rely on the DHCP you can use fixed IP…. Select a network from the list of available networks, set the IP protocol and IP allocation, and click Next. vSphere Replication supports both DHCP and static IP addresses. You can also change network settings by using the virtual appliance management interface (VAMI) after installation.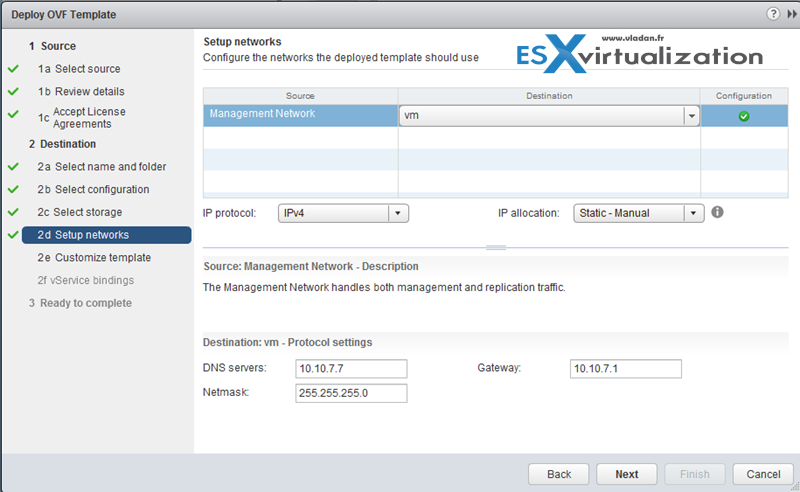 And then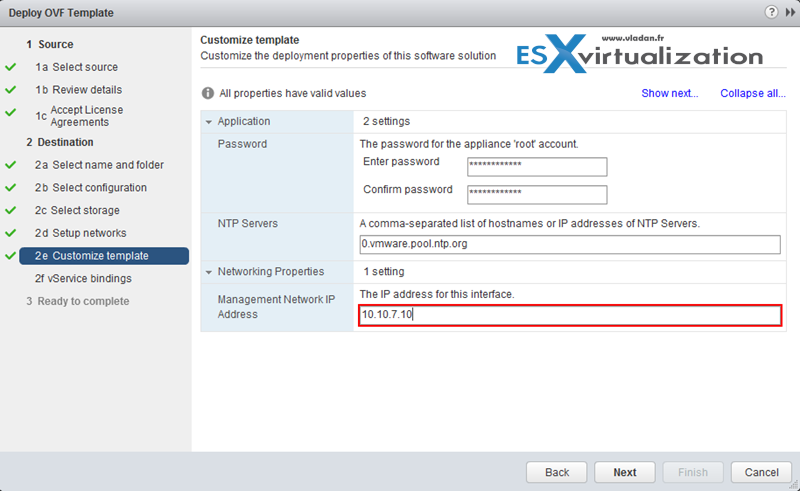 Once done. Log off and log back again to see the VR plugin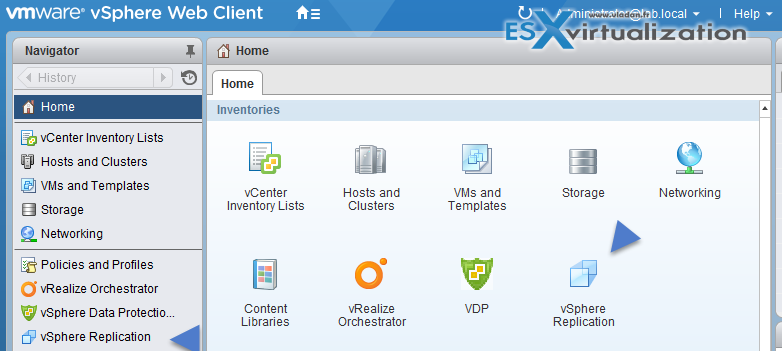 Configure VMware Certificate Authority (VMCA) integration with vSphere Replication
You can change the SSL certificate, for example, if your company's security policy requires that you use trust by validity and thumbprint or a certificate signed by a certification authority. You change the certificate by using the virtual appliance management interface (VAMI) of the vSphere Replication appliance. For information about the SSL certificates that vSphere Replication uses, see "vSphere Replication Certificate Verification," on page 45 and "Requirements When Using a Public Key Certificate with vSphere Replication," on page 46.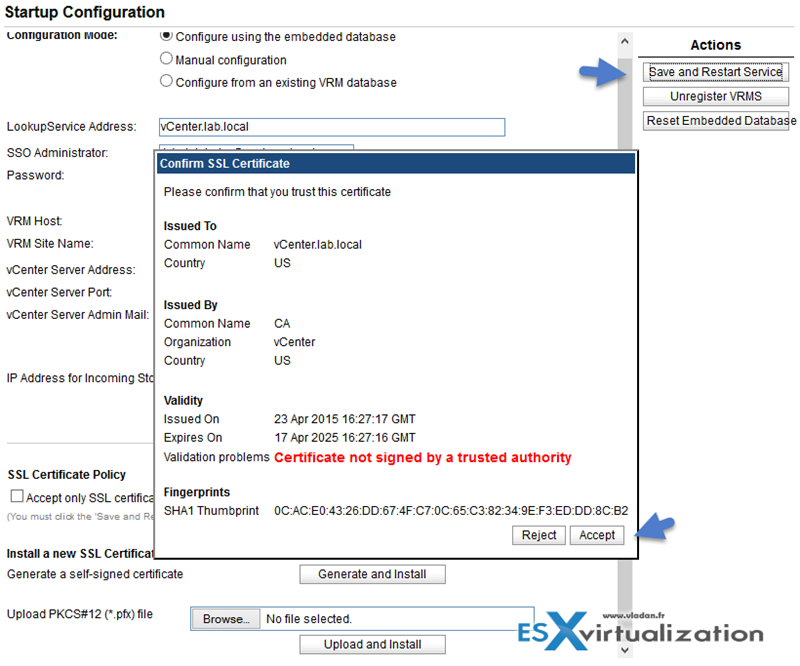 Configure vSphere Replication for Single/Multiple VMs
Before this, make sure that you have the permissions.
Step 1: Select VM(s) > Right click  > All vSphere Replication Actions > configure Replication
Now if you haven't restarted the vCenter service, you see this (1), because after restart you should see this (2). Also, you'll get some error on the permissions if you don't restart, and so you won't be able to configure the replication for your VMs. That "from the field" experience …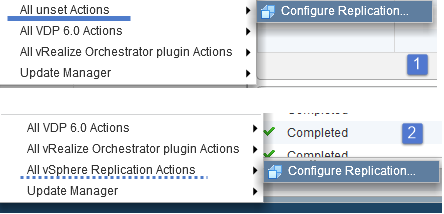 Step 2: Replicate to a vCenter server (or service provider) > select target site > target location…


And enable compression…


Tip: Check our How-to, tutorials, videos on a  dedicated vSphere 6.5 Page.
Recover a VM using vSphere Replication
With VR, you can recover virtual machines that were successfully replicated at the target site. You can recover one virtual machine at a time.
Web client > vSphere replication > Home tab > Monitor > Incoming replication

From there you have two options:
Recover with recent changes – Performs a full synchronization of the virtual machine from the source site to the target site before recovering the virtual machine. Selecting this option avoids data loss, but it is only available if the data of the source virtual machine is accessible. You can only select this option if the virtual machine is powered off.
Recover with latest available data – Recovers the virtual machine by using the data from the most recent replication on the target site, without performing synchronization. Selecting this option results in the loss of any data that has changed since the most recent replication. Select this option if the source virtual machine is inaccessible or if its disks are corrupted.

You continue and select folder where you want to recover the VM…
Perform a failback operation using vSphere Replication
Failback is manual, it means that after performing a successful recovery on the target vCenter Server site, you can perform failback.
You log in to the target site and manually configure a new replication in the reverse direction, from the target site to the source site.
The disks on the source site are used as replication seeds, so that vSphere Replication only synchronizes the changes made to the disk files on the target site. Before you configure a reverse replication, you must unregister the virtual machine from the inventory on the source site.
Deploy a pair of vSphere Replication virtual appliances
Idem as above.
So this is it for today. We have covered the VCP6.5-DCV Objective 6.3 – Configure vSphere Replication. Make sure to bookmark the VCP6.5-DCV Study page which starts to fill up quickly with further objectives.
More from ESX Virtualization
Stay tuned through RSS, and social media channels (Twitter, FB, YouTube)