Another post today called VCP6.7-DCV Objective 4.3 – Set up a content library, that follows VMware official blueprint for VCP-DCV 2019 Certification. Chapter after chapter we're getting slowly there. There are 41 chapters where we've already covered 27. This is a lot of content to push in quite a short time period, but this exam seems to have more topics to cover. If you want to pass Professional vSphere 6.7 Exam 2019, you have also a possibility to use our VCP6.5-DCV Study guide and pass VCP6.5-DCV: VMware Certified Professional 6.5 – Data Center Virtualization exam. You'll still earn the VCP-DCV 2019 Certification.
VMware Content library was introduced in VMware vSphere 6.5 back in a day and has had much fewer functions and possibilities that it's the case for VMware vSphere 6.7. With vCenter Server 6.7 Update 2, you can publish your .vmtx templates directly from a published library to multiple subscribers in a single action instead of performing sync from each subscribed library individually.
The published and subscribed libraries must be in the same linked vCenter Server system, regardless if on-prem, on cloud, or hybrid. Work with other templates in content libraries does not change.
With vCenter 6.7 Update 2, you can now publish your VM templates managed by Content Library from a published library to multiple subscribers. You can trigger this action from the published library, which gives you greater control over the distribution of VM templates. The published and subscribed libraries must be in the same linked vCenter Server system, regardless if on-prem, on cloud or hybrid. Work with other templates in content libraries does not change.
VMware has introduced VM Template (VMTX) syncing in vSphere 6.7 U2. A VM template will now be automatically synchronized between on-prem and on-prem vCenter Servers and also from on-prem to VMware Cloud on AWS.
Content libraries are container objects for VM templates, vApp templates, and other types of files. vSphere administrators can use the templates in the library to deploy virtual machines and vApps in the vSphere inventory. Sharing templates and files across multiple vCenter Server instances in the same or different locations brings out consistency, compliance, efficiency, and automation in deploying workloads at scale.
This guide is available as Free PDF!
Free Download at Nakivo – VCP6.7-DCV Study Guide.
Starting with vSphere 6.7 Update 1, content libraries also support VM templates. So, templates in the content library can either be of the OVF Template type or the VM Template type. vApp templates are still converted to OVF files when you upload them to a content library.
Open Virtual Appliance (OVA) templates can now be imported from some HTTPS endpoint or your local storage. You also can just sync the content of OVA templates to other vCenter Servers.
The distribution of VM templates additionally requires that the respective vCenter Server instances are in Enhanced Linked Mode or Hybrid Linked Mode and that the respective hosts are connected through a network.
You create and manage a content library from a single vCenter Server instance, but you can share the library items to other vCenter Server instances if HTTP(S) traffic is allowed between them.
Two types of libraries:
Local Libraries – store items in a single vCenter Server instance. You can publish the local library so that users from other vCenter Server systems can subscribe to it. When you publish a content library externally, you can configure a password for authentication.

Subscribed libraries – You subscribe to a published library by creating a subscribed library. You can create the subscribed library in the same vCenter Server instance where the published library is, or in a different vCenter Server system. In the Create Library wizard, you have the option to download all the contents of the published library immediately after the subscribed library is created, or to download only metadata for the items from the published library and later to download the full content of only the items you intend to use.
vSphere web client > Menu > Content Libraries > Right-click (or Actions) > Synchronize.

Content Library Roles
Content Library Administrator role is a predefined role that gives a user privileges to monitor and manage a library and its contents.
A user who has this role can:
Create, edit, and delete local or subscribed libraries.
Synchronize a subscribed library and synchronize items in a subscribed library.
View the item types supported by the library.
Configure the global settings for the library.
Import items to a library.
Export library items.
When you create a subscription for a local library, the result is a subscribed library. A publisher library is aware of its subscriptions. Subscriptions enable the administrator of the publisher library to control the content distribution. With subscriptions, content is distributed either when the subscriber initiates synchronization, or when the administrator of the local library publishes the library items to one or more of the existing subscriptions.
When you use subscriptions, you have the flexibility to decide how much of the library content you want to share with the subscribers. For example, you can publish some or all library items. You can also publish content to selected subscribers or to all subscribers.
The use of subscriptions allows content distribution between a publisher and a subscriber in the following scenarios.
The publisher and subscriber are in the same 

vCenter Server

 instance.
The publisher and subscriber are in 

vCenter Server

 instances that are in Enhanced Linked Mode.
The publisher and subscriber are in 

vCenter Server

 instances that are in Hybrid Linked Mode.
Create New content Library with authentication
You'll need to provide Name, description and select vCenter server to which this library will be attached. then the other options you'll have whether it is:
Local content library
Subscribed content library
Select datastore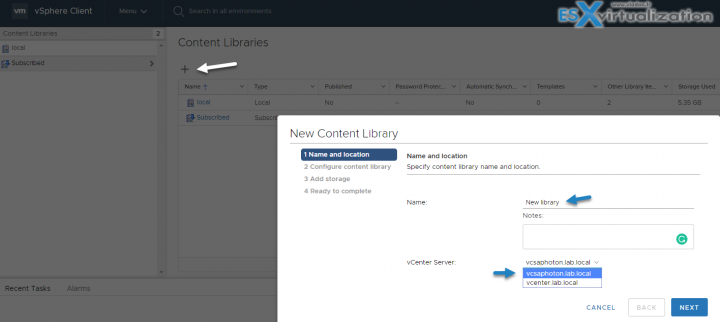 Then select if you want to create Local content library or Subscribed content library and if you want to enable authentication.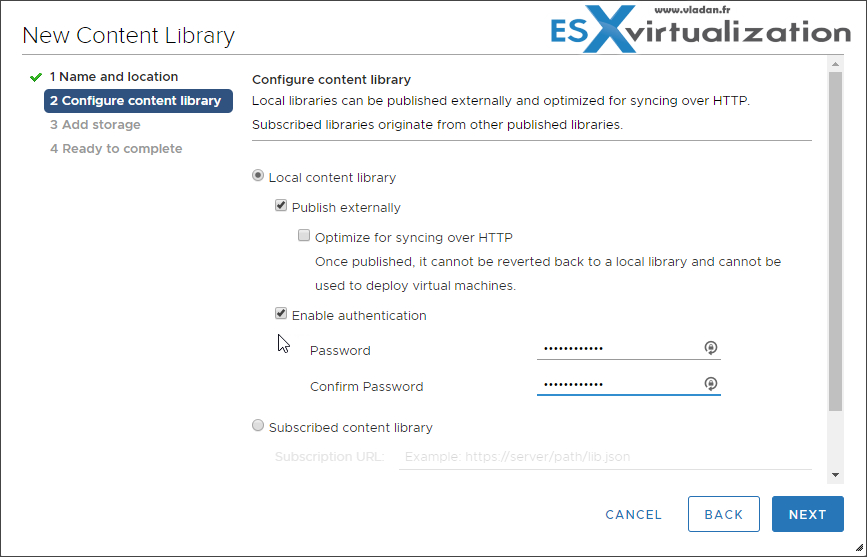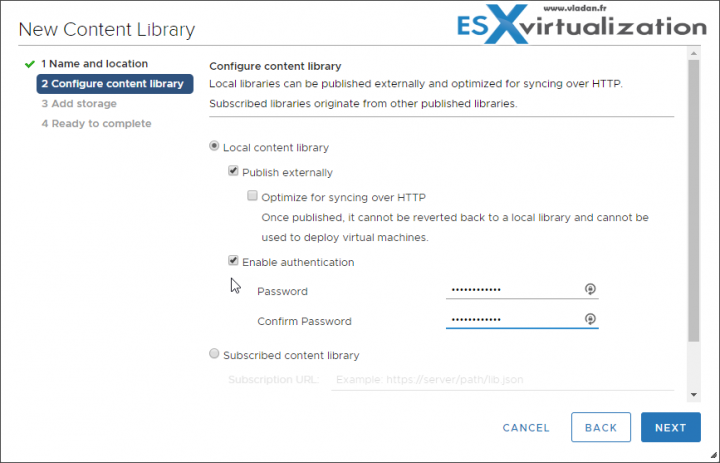 And then finally you'll see this library added to the list of existing content libraries on your vCenter server system.

You can edit items only in a local library, regardless of whether it is published or not. Library items in subscribed libraries cannot be modified.
You can edit both VM templates and OVF templates.
In a content library, an OVF template is either a template of a virtual machine or a template of a vApp. When you clone a virtual machine into a template in a content library, you choose whether to create an OVF template or a VM template. However, if you clone a vApp into a template in a content library, the resulting content library item is always an OVF template. Because the OVF format is actually a set of files, if you export the template, all the files in the OVF template library item (.ovf, .vmdk, .mf) are saved to your local system.
Use the official documentation as well as your home lab for the study. Follow the progress of the VCP6.7-DCV Study Guide page for further updates.
Well, this is it for today.
More from ESX Virtualization
Stay tuned through RSS, and social media channels (Twitter, FB, YouTube)