A storage topic today. If you're new to this blog, here is another article which shall help to study towards a Professional vSphere 6.7 Exam 2019. It's not an official study guide, but rather a community-driven study guide which is taking shape at this page – VCP6.7-DCV Study Guide – VCP-DCV 2019 Certification. Today's topic VCP6.7-DCV Objective 7.16 – Configure and manage host profiles.
Host profiles allow us to "copy" a configuration from a reference host. The configuration of the reference host, which is extracted as a host profile, serves as a configuration template for configuring other hosts. We say that a host profile is applied to that host.
Follow the documentation, use your experience, study elsewhere. We're not the only blog around. Also, the VCP6.5-DCV study guide is a good help as the objectives covered were guided by sub-chapters and as such the topics might be targetted more accurate.
This does not mean that the guide we're working on is not good… -:). We're simply saying that nothing better than studying from multiple sources (documentation, study guides, blogs).
In order to become VCP-DCV 2019 certified, you can still pass the VCP6.5-DCV exam and earn the VCP-DCV 2019 badge. And, there is fewer chapters. Did you know?
To become VCP-DCV 2019 certified you have 3 different choices of exam:
Professional vSphere 6.7 Exam 2019
VCP6.5-DCV: VMware Certified Professional 6.5 – Data Center Virtualization exam (our VCP6.5-DCV Study Guide Page which is complete)
VCP6.5-DCV DELTA: VMware Certified Professional 6.5 – Data Center Virtualization Delta exam
Note: You must be VCP5, or VCP6. If, not, you must attend a class and you have no "Delta" exam option.
This guide is available as Free PDF!
Free Download at Nakivo – VCP6.7-DCV Study Guide.
VCP6.7-DCV Objective 7.16 – Configure and manage host profiles
Follow the VMware vSphere Host Profiles PDF.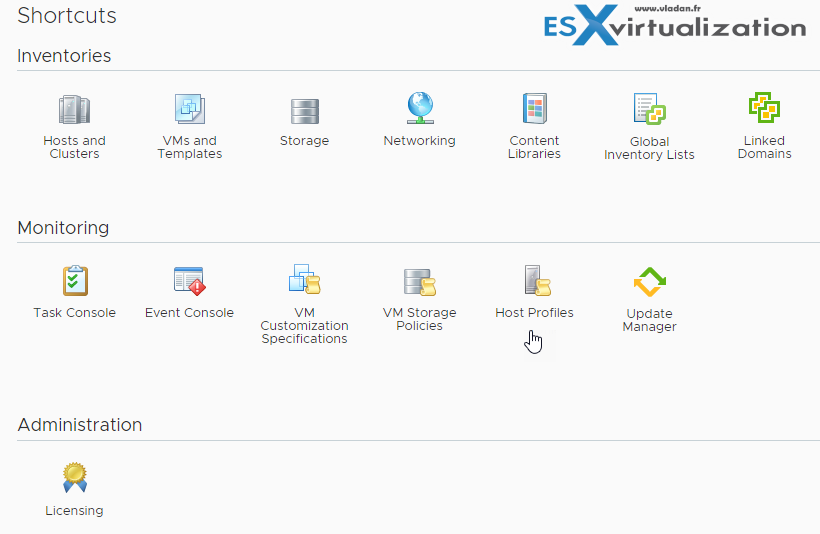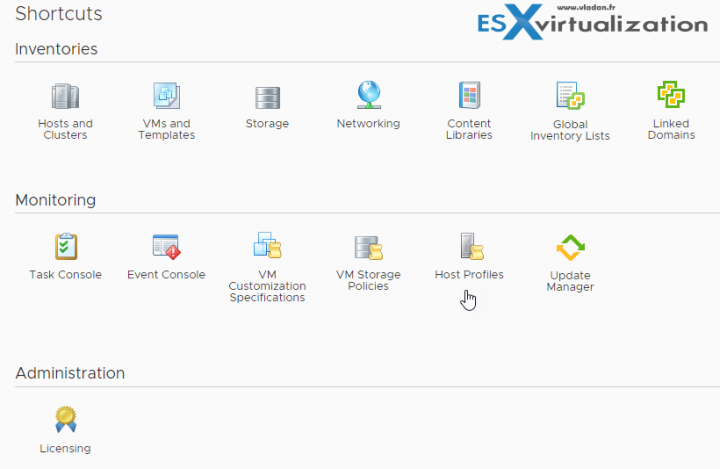 The Host Profiles feature creates a profile that encapsulates the host configuration and helps to manage the host configuration, especially in environments where an administrator manages multiple hosts or clusters in vCenter Server.
Requirements: vSphere Enterprise Plus license.


There are quite a few actions you can do with host profiles:
Copy Settings from Host – If the configuration of the reference host changes, you can update the host profile so that it matches the reference host's new configuration.
Copy Settings to Host profile – If you want to copy some changes to other host profiles after you made a change to host profile. Once you make changes to a host profile, you can propagate those changes to other host profiles in the inventory
Duplicate Host profile – creates a copy of an existing host profile
Export Host Profile – You are able to make an export of host profile in VMware profile format (.vpf). Note: administrator and user profile passwords are not exported.
Attach/detach hosts and clusters – After creating a host profile from a reference host, you attach the host or cluster to the host profile.
Remediate – Edit Host Customization.
Edit Host Profile – You can edit host Profiles policies, select a policy to be checked for compliance, and change the policy name or description
Check host profile compliance – can confirm the compliance of a host or cluster to its attached host profile and determine which, if any, configuration parameters on a host are different from those specified in the host profile.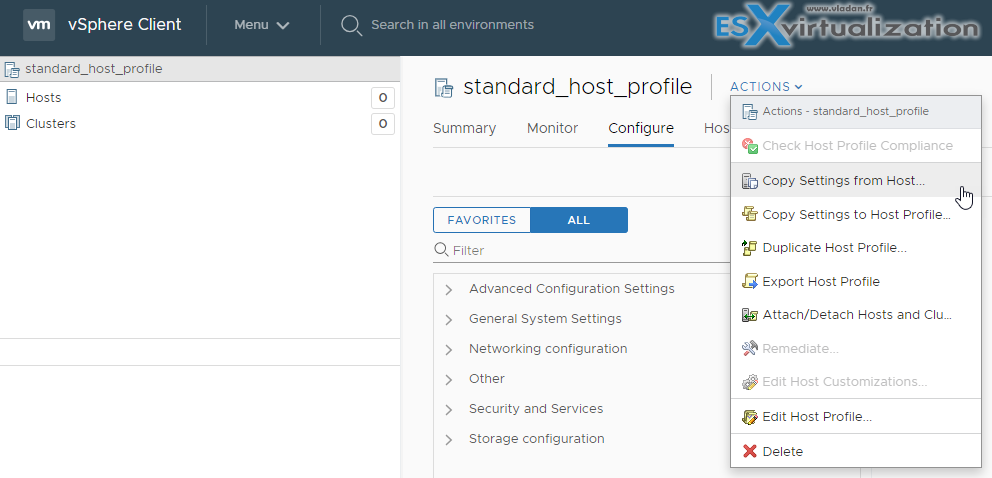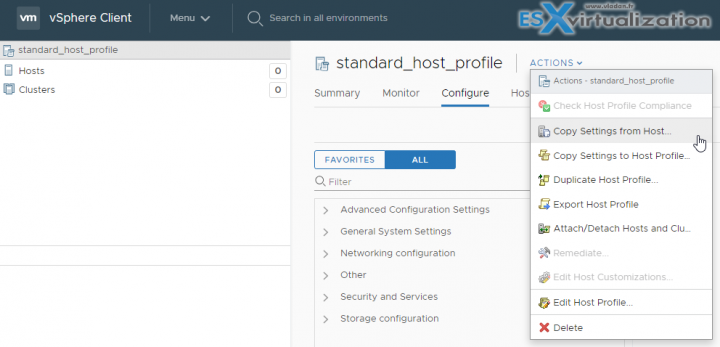 Editing a VMware host profile is a good way to do a uniform configuration change on a number of hosts within your environment. However, if you have host that has changed config and you need to update your host profile from that host, you can simply use Copy settings from host rather than Edit host profile.
The Workflow on configuring VMware vSphere ESXi host with a VMware Host profile
First Attach host profile to a host(s). You can attach a host profile to a host or to a cluster. If you attach host profile to a cluster, all hosts keep the same uniform configuration. So basically there are 3 steps to do:
Attach VMware Host profile
Check host profile compliance
Remediate host with attached host profile
Here are the steps:
Attach VMware Host profile – Right-click the cluster from the Hosts and Clusters view >  Host Profiles > select Attach Host Profile.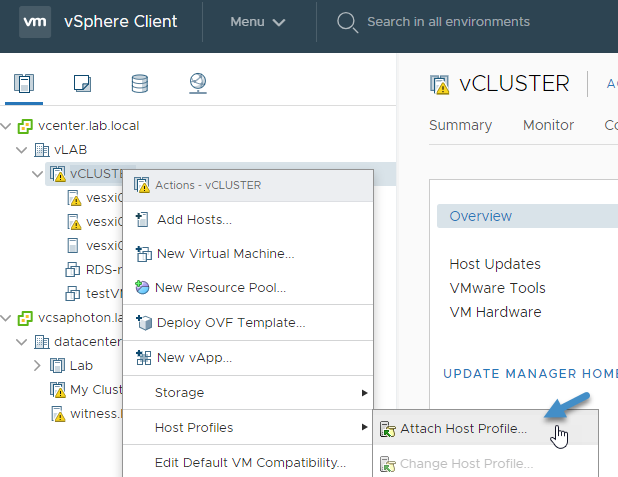 Check Compliance – when select cluster (or host) you go to Configure > Host profile. There you have different actions, including the Check compliance action.


Remediate – The remediate action is also accessible at the same menu. If host(s) is not in compliance with the attached profile, you must remediate it. Before the host(s) can be remediated, you have to edit the host customizations.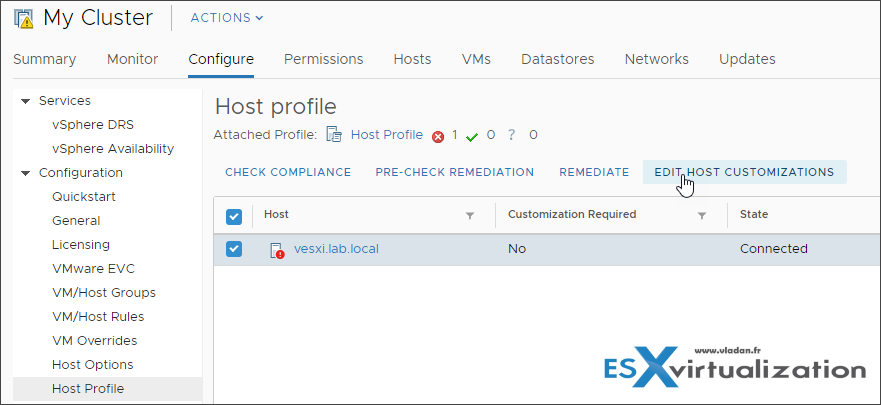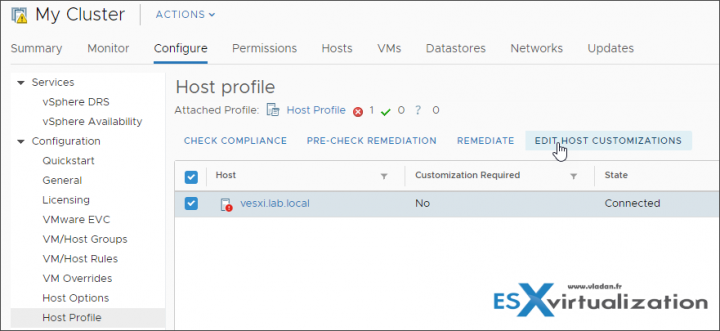 Here it really depends on the changes you're doing. And after all, you perhaps not need to change anything here. So go ahead and select the host(s) using the checkbox and then select Edit hosts customizations.
Once clicked, an overlay window will pop up allowing us to change things here such as IP address, subnet mask, name etc. Once you review the options here you can make changes if needed.  One example could be when you've created a new vmkernel port for each host. As a result, you would need to enter the IP address during this step here.
Note: you can also import a CSV file as the source for customizing host(s).
Once done, hit OK.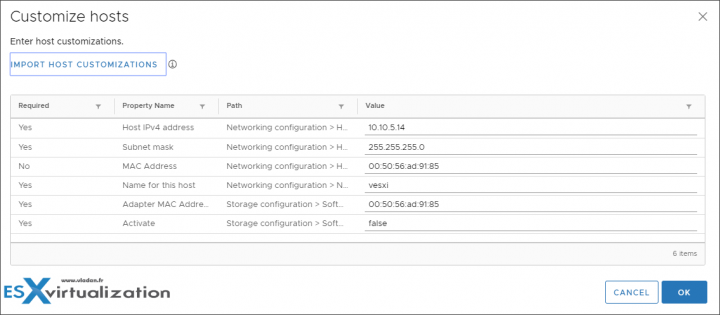 And this step passed you can finally hit the remediate button.


Certain Host Profile policy configurations require that the host be rebooted after remediation. In those cases, you are prompted to place the host into maintenance mode. You might be required to place hosts into maintenance mode before remediation.
Hosts that are in a fully-automated DRS cluster are placed into maintenance mode at remediation. For other cases, the remediation process stops if the host is not placed into maintenance mode when it is needed to remediate a host.
Please see the official documentation as well as use your home lab for the study. Follow the progress of the VCP6.7-DCV Study Guide page for further updates. We have learned about host profiles and options. VMware host profiles are a very powerful tool for your VMware vSphere environment.
Follow the VMware vSphere Host Profiles PDF.
More from ESX Virtualization
Stay tuned through RSS, and social media channels (Twitter, FB, YouTube)