A couple of months ago, Veeam released an update to their Veeam Backup for Microsoft 365 v6a. If you're starting to use Office 365 and not using any backup software (because Microsoft won't help you with granular restores) just read on. You might have some questions Why would you need to use software like this? With Veeam Backup for Microsoft 365 you can protect by backing up and recovering Microsoft Exchange, SharePoint, OneDrive for Business, and Teams.
If you're a global admin, SharePoint, or Teams admin in Microsoft 365, you can also restore entire site collections from the site collection Recycle Bin. However, if a malicious user gets the access credentials to the infrastructure, it can wipe out all data, including those recycle bins. So without a proper backup strategy with a separate tool, it won't cut it and most likely you'll lose your data.
A good backup strategy must include tools that are usually provided by another vendor. Ex. here we deal with M365 so the data protection is done with Veeam Backup for Microsoft 365 v6a, for example. But it can be another vendor as well, just not Microsoft. It's just the simple Eggs/Basket principle, you see..
Then we have the storage question. If I store the backups within the same infrastructure (Microsoft cloud), it's not really a good idea…. A 3-2-1 backup rule should apply even for M365 data if you want peace. Not to store within the same region, same infrastructure, same location… The basics. Immutability questions. Now, there is a bunch of cloud storage providers allowing you to use immutability for your backups (that means that even you as an admin can't delete those during a certain time period!)….. That allows being protected even in some extreme cases that I can't even think of.
Veeam Backup for Microsoft 365 v6a helps you with:
Retention policy confusion/gaps
Accidental deletion of data – this
Internal Security threats
External Security treats
Legal and compliance requirements
Managing hybrid deployments and migrations
Teams data structure
What's new in Veeam Backup for Microsoft 365 v6a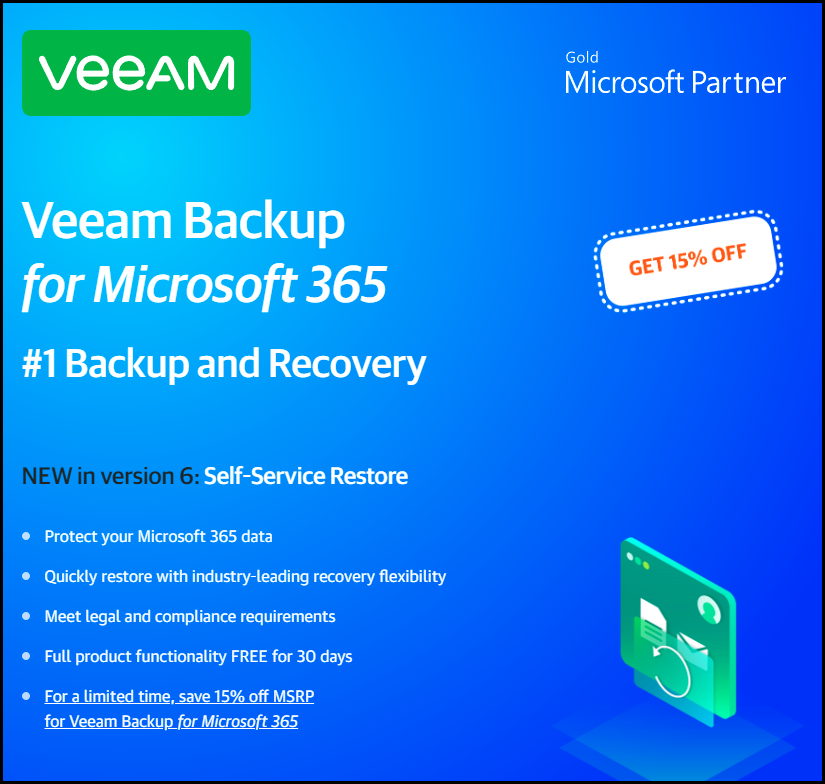 Self-Service Restore Portal
This web-based restore portal in NEW Veeam® Backup for Microsoft 365 v6 provides one centralized location to efficiently divide restore permissions and access across your organization without providing direct access to the backup server — saving time while maintaining administrative security.
Backup copy to low-cost object storage
You can now create a backup copy of Microsoft 365 data directly from object storage and store it in lower cost. V6 also adds backup copy to Amazon S3 Glacier, Glacier Deep Archive and Azure Archive, enhancing cloud object storage integrations, including AWS S3, Azure Blob, IBM Cloud, Wasabi and other S3-compatible providers.
New ISO installer with a wizard-driven UI that allows you to deploy and manage Veeam Backup for Microsoft 365 and its selected components like remote Veeam Backup for Microsoft 365
consoles, PowerShell modules or REST API servers.
2x faster data migration from local repositories to object storage for SharePoint sites with over 100K items in a single list.
SharePoint data can be restored to another location – restore SharePoint data to another Microsoft 365 organization, on-premises organization or a different site collection within the same organization.
Where can I deploy the software? On-prem or , alternatively in the Azure Marketplace, AWS Marketplace or in IBM Cloud.
*** *** *** *** *** *** *** *** *** *** *** *** *** *** *** ***
Veeam Backup for Office 365 v6 –  30 Days Trial Download Latest ISO (Get 15% OFF)
*** *** *** *** *** *** *** *** *** *** *** *** *** *** *** ***
Veeam Backup for Microsoft 365 v6a FAQ
A few faqs, that are interesting.
Can Veeam Backup for Microsoft 365 be used as a standalone product or does it require other Veeam products?
Veeam Backup for Microsoft 365 is a separate, standalone product.
Can I back up Microsoft Teams with Veeam Backup for Microsoft 365?
Yes, you can back up and restore Microsoft Teams data with Veeam. When data is posted and shared within Microsoft Teams, it is journaled into different locations, including SharePoint Online. You can use Veeam Explorers™ to find and restore Teams data, including documents and sites. You can also restore data attached to Teams tabs and channels and then manually reattach it to the corresponding Teams location.
Where can I store my Microsoft 365 (Office 365) backup?
You can store your Microsoft 365 (Office 365) backup wherever you want! If you have extra local storage available, you can use it to back up on premises. If you want to use the cloud, you can leverage a variety of object storage options — including AWS S3, Azure Blob, IBM Cloud, Wasabi and S3-compatible providers. You can also create a backup copy and store it in low-cost, long-term storage options, such as Amazon S3 Glacier, Glacier Deep Archive  and Azure Archive…
More Free Software From Veeam
More posts from ESX Virtualization:
Stay tuned through RSS, and social media channels (Twitter, FB, YouTube)