During the latest VeeamON at Las Vegas that just finished, Veeam has unveiled their latest upcoming Veeam v12 software. In fact, Veeam Backup and Replication 12 will be released this year (currently in BETA) and will bring some significant features. Starting with the core – the database where everything sits, Veeam is moving to PostgreSQL!!!
Another significant improvement giving you an edge against ransomware is the fact that you'll be able to write directly to object storage (that has a possibility to be configured as an immutable repository).
Until now I had to remain silent because of the strict NDA about this product. This now changed and we're allowed to speak. Expect more in-depth content soon….
In the image below you can see Veeam v12 and its database PostgreSQL 14 via PGAdmin …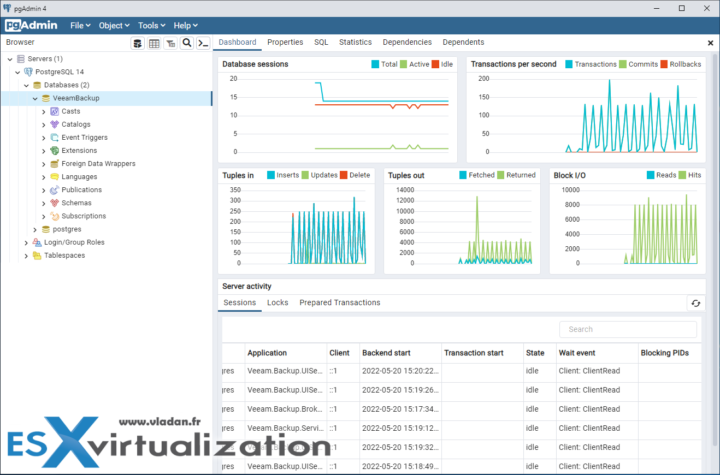 The reason for this move from SQL Express is mostly technical, where the SQL express has limitations and can't scale more than 10Gb of the database size and use 4 cores maximum. The use of SQL Server standard would be possible but adds some additional costs.
PostgreSQL is Free, there are no database restrictions and it is also proven in other Veeam products. (it's already integrated as a configuration database in all Veeam backup for cloud products such as AWS, Azure, or Google. However, customers can stay on SQL server if they wish, if they have a license for paid editions. However migration paths will be available.
PostgreSQL can be installed as the part of Veeam v12 installation bundle (included version will be v14 of PostgreSQL) but there is a lso a possibility to run Postgre on Linux or an external server.
What's coming in Veeam Backup and Replication v12?
Local Object Storage or backup directly to cloud storage
Object Storage locally? Yes, it will be possible in Veeam v12, it has the main advantage of immutability and speed. With the ransomware war going on, this is a must-have a feature going on. Your Veeam repositories must become inaccessible for hackers because it's your last line of defense. You losing your backups – you losing everything.
Object storage on-prem or via a cloud service provider will allow you to create a simple storage repository or as a part of a scale-out backup repository (SOBR) setup.
A scale-out backup repository can be expanded at any moment: if the extents of your scale-out backup repository run out of space, you can add a new extent to the existing scale-out backup repository. For example, if backup data grows and the backup repository reaches the storage limit, you can add a new storage system to the scale-out backup repository. The free space on this storage system will be added to the capacity of the scale-out backup repository. As a result, you will not have to move backups to a backup repository of a larger size.
A screenshot from the lab shows Veeam v12 and Add Backup repository Wizard – Object Storage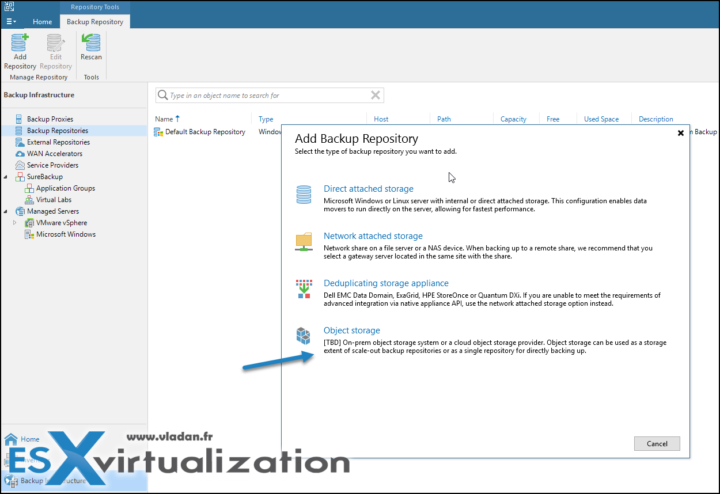 Per-VM Backpup Chain
You want to move a VM between different jobs, right? Previously not possible, but with Veeam v12 you can. This adds some enhancement to health checks (now separate) and also when you have to re-try you only need to do the retry for a single VM instead of the full bunch of VMs that are part of the same job.
Advantages:
Move machines between backup jobs
Separate health check
Trigger active-full for one VM
Retry one machine instead of whole job
The default settings on each repository in Veeam v12 is to "Use per-machine backup files" ….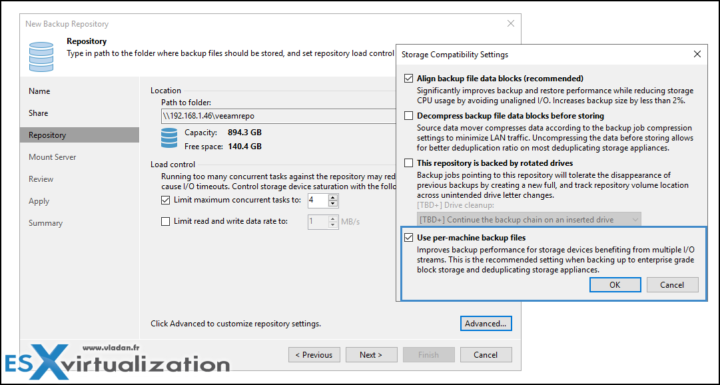 To upgrade existing chains – it will be a manual process after you upgrade to Veeam v12, and it likely a job-by-job process that will take some time.

The repository will looks like this. (screenshot from our Vanguard summit presentation in Prague)….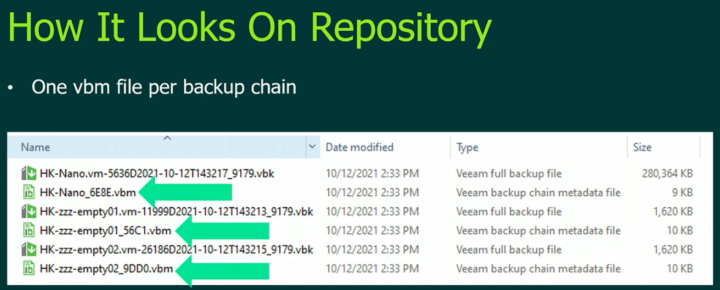 Kubernetes and container backup
YOu'll be able to save appps with their dependencies. Veeam will have centralized visibility and management of Kubernetes data protection with the new Veeam Backup & Replication plug-in for the new Kasten by Veeam K10 V5.0.
Veeam CDP enhancements
Veeam CDP which was introduced in v11 was so far used for on-prem installations where you needed a really tight RPO and RTO for certain VMs. Now, with the upcoming Veeeam v12, service providers will be able to use also Veeam's CDP VMware Cloud Director and Veeam Cloud Connect. And also CDP for NAS.
Veeam's CDP previously only supported VMware vCenter targets that resided in the cloud or at remote datacenters.
Wrap up
It's an overview post about upcoming Veeam v12 where we talked about some of the upcoming features. Expect more content to come. Veem is not only hardening the software and taking advantage of object storage technology to secure the backups but also to make those backups make faster. That's why one of the best options (or the best one) will be to have on-prem object storage. Some other vendors, such as Object First startup that is able to object storage for backup and is able to deliver the "easiest and most cost-effective backup storage" on the market. The optimized implementation of object storage built specifically for backup enables organizations to maximize backup performance without the complexity
You could have followed the VeeamON sessions for free, remotely, as I did. And those sessions will be kept online for me to re-watch them until June. The organization, the sessions, the demos, everything worked perfectly. The general session has had 4-5 different demos (not pre-registered), but all of them worked !!! And already next year's VeeamON 2023 has been announced ….. in Miami. The May 22-25, 2023 at Fontainebleau Hotel, Miami, Florida.
****************************************************************
Free Trial of Veeam Backup and Replication v11  – Latest ISO.
****************************************************************
Earlier this year I got the privilege to be re-elected as a Veeam Vanguard which makes me really proud to still be part of this awesome community. If you want you to become Veeam Vanguard, head to this page.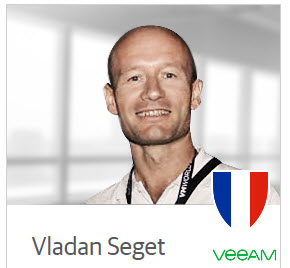 ****************************************************************
Save 15% On Veeam Backup for Microsoft 365 NOW !!
****************************************************************
Check out also FREE Veeam Products:
There are products from Veeam that are free. Did you know?
****************************************************************
Free Trial of Veeam Backup and Replication  – Latest ISO.
****************************************************************
More posts from ESX Virtualization:
Stay tuned through RSS, and social media channels (Twitter, FB, YouTube)