Vembu technologies have a new offer which allows you to use their solution for data protection for just $1.8/month. That's pretty appealing but there might be a catch. We'll have a look at their offer today – Vembu Essentials Edition – and see whether it has a true value for customers.
Vembu uses a web-based console which is fast and responsive. You can access the Vembu backup server from any location, just via your browser and no software needs to be installed on your laptop or workstation.
The backup server itself can be installed on Windows system or on Linux. (Ubuntu supported). You'll need 8Gb of RAM. Vembu supports the latest VMware vSphere, Hyper-V, and KVM.
The latest news about Vembu is that Vembu BDR Suite now supports VMware Backup and Recovery using NetApp Storage Snapshot. (Beta available now). Also, their Free version will backup up to 10 VMs (no feature restriction) – Vembu BDR Suite Free Edition
If you don't know Vembu technologies, you should perhaps read our previous posts. We have also written a full product review (sponsored), where we were testing the product in the lab. It is a very detailed article which you can find here –  Vembu BDR Suite 4.0 Product Review
Vembu Essentials Edition – what's in?
This edition allows you to have a small environment with 10 physical CPU sockets or 100 VMs.
The licenses can be availed at the CPU Socket level or per VM. The CPU socket based license is based on the number of physical CPU-Sockets on the VMware/Hyper-V host that is to be backed up. This lets you back up any number of VMs running on that host.
The per VM license will cost you just a $1.8/month, per VM. (announce during VMworld US)
Vembu BDR pricing can be found on this page at Vembu's website.
—————
Vembu BDR Web console managing VMware vSphere and Microsoft Hyper-V.

Quick VM Recovery feature allows you to instantly mount a VM backup on the backup server with very little downtime.
For restore operations, the Disk Management Mount option lets you mount the virtual machine's virtual disk as a local disk so that you can browse its contents and recover data.
Then, there is a Download option allows you to download individual virtual disks (VHD, VHDX, etc.).
How is Vembu storing backups?
You can aggregate local storage and create large storage pool. Storage Management option lets you manage and configure drives into separate storage pools for storing the backup data. Vembu BDR has a new file system that halts backup for nothing and once the storage pool gets filled, you can extend the storage by using the edit option.
New volumes can be added to an already created storage pool as well. The hybrid volume manager of Vembu BDR Server supports scalable and extendable backup storage for different storage media such as Local drives, NAS(NFS and CIFS) and SAN(iSCSI and FC). Vembu BDR provides storage pooling option for both backup level and group level.
Screenshot from the lab… Add both volumes to a storage pool. Only local volumes in this example.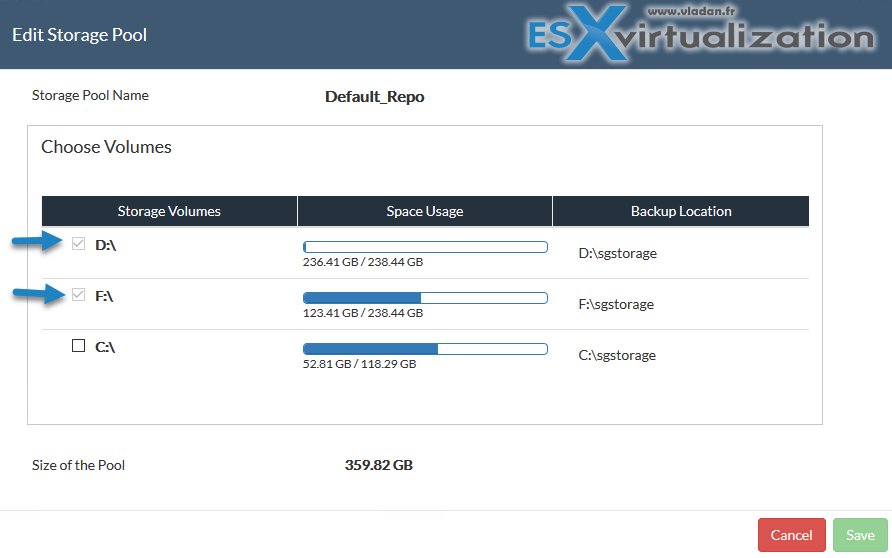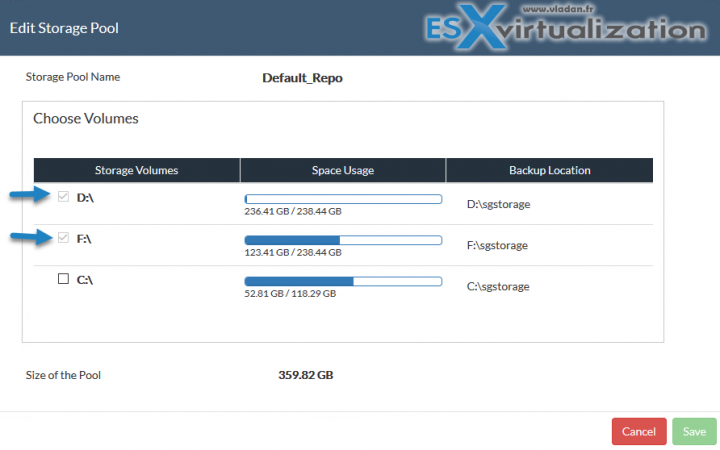 Vembu Technologies are further developing their flagship product to satisfy customer needs.
The following are the list of feature which is planned to be released in 2019
1. VM Backup from Storage Snapshots
2. Agentless Backup for AWS Instances
3. Agentless Backup for Nutanix AHV
4. Application-aware backups for Oracle DB
5. Hyper-V VM Replication & Failover
6. SCVMM support
7. Restore the backed up VMs and Physical machines to Microsoft Azure
8. Instant VM boot on AWS
9. Web-based GUI for Vembu Universal Explorer (Exchange, SQL, SharePoint, AD, and Oracle)
10. Planned Failover for VMware & Hyper-V replicas
11. VM Replication from the backup data
12. Live VM Migration
13. File-level restore to the source VM and Physical machine
14. Parallel processing of VMs during Backup and Restore
15. Supporting Rotated Disks in Backup Infrastructure
16. Option to run scripts and commands(Pre-Freeze and Post-Thaw scripts) at VM level during the Pre and Post backup job
17. Synthetic full backups
18. Active Directory Integration
19. Backup Copy Feature – Secondary Copy to external drives
Note: These features are subject to change without any notice.
Vembu Website link here.
Other posts about Vembu Technologies:
More from ESX Virtualization:
Stay tuned through RSS, and social media channels (Twitter, FB, YouTube)