Vembu software uses an interesting file system within their backup product and we'll have a look today at some details. It is an object-based file system which stores the metadata allowing to expose every incremental backup as full. So the restores are faster and can also be used for migrations from and to different hypervisors platforms (Hyper-V to VMware for example or vice versa).
With VembuHIVE the backup application can instantly associate the data in VembuHIVE to any file system metadata. It can read the image file directly without mounting it. It has built-in versioning and error corrections.
It is an efficient cloud file system designed for large-scale backup and disaster recovery (BDR) application.
Quote:
VembuHive file system has in-built version control, encryption, and in-built error correction. During the backup, the data present in the backup files or an image is separated from all the bookkeeping associated with it, i.e., its metadata and stored as objects.
VembuHIVE exposes every incremental backup as a virtual full backup. It means that not only that a restoration of a backup will not require a merging of all the changes to a previous full backup, but also that through Vembu Virtual Drive backup files get exposed as VHD, VHDX, VMDK-Flat, and RAW image files – at the same time. Those files are created (assembled from chunks) in seconds.
Lab screenshot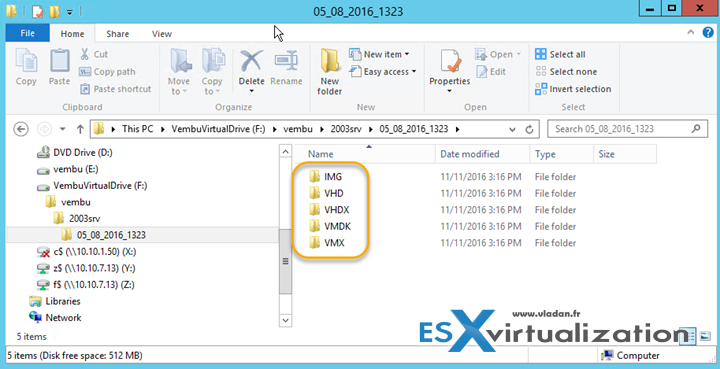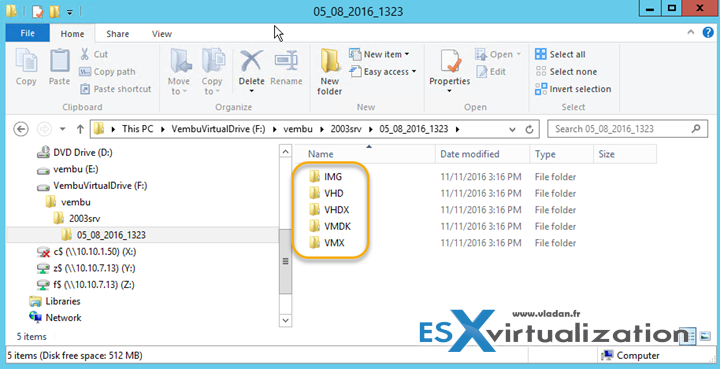 Source: Vembu Free PDF – A Deep Dive Into VembuHIVETM File Systems – download link
Vembu backup and replication software does backup and replication for different hypervisors and also physical systems.
Vembu quick restore is fast because the backups for VMware, Hyper-V and Physical Windows Disk Image backups are stored at block level in a neutral format. (in a DB) and presents those backups through the Vembu Virtual Drive.
Now, the 3.9.1 Update 1 brings compatibility with vSphere 6.7, so it's only a maintenance release. No new features were announced in this update.

Vembu Free Edition
Note: We have posted the details in this post – Vembu BDR Suite Free Edition – Details and Compare and you can check the details and compare at Vembu too. (things might have changes since I wrote about the free version too).
Basically, you get a lot for free. Plus, the features "reserved" for the "paid version" are limited for 3 VMs of your environment within the "free edition".
Check out Vembu BDR suite details here.
More about Vembu on ESX Virtualization:
More from ESX Virtualization:
Stay tuned through RSS, and social media channels (Twitter, FB, YouTube)