Update: Unfortunately, the product is no longer available for new clients. Existing clients continue to get support, but the development has stopped because the main partner has left the group.
VMcom Backup is a new young product for VMware vSphere and ESXi Free version which is easy to install and use. VMcom Backup For VMware vSphere can be deployed via an OVF file and has a fast, HTML 5 web-based UI.
While data centers and datacenters products are getting larger and more complicated, it's definitely good to see someone willing to strip down complexity to a bare minimum and come up with a product that allows you to get the job done without complexities. VMcom has, however, some prestigious clients already. I can mention Motorola or Netscout, for example, but there is more. The headquarters are in Brno, Czech Republic, but VMcom has a global reach.
VMcom Backup is distributed as a virtual appliance so you deploy it via vCenter or via ESXi. It is not CPU hungry as it uses fixed block length deduplication instead of variable block length deduplication which might not be the most efficient at first look, but VMcom is smart to overcome this limitation.
By default, it uses 1MB block lengths so during backups, it checks each incoming chunk of blocks against the checksums and an internal table of blocks already backed up. In case he finds a duplicate, it creates a reference to the location without backing up the repetitive block. Simple.
If it is a new, unique block, VMcom will write it to the hard drive like all previous unique blocks and create a checksum and table reference for all future incoming blocks. Deduplication works best for VMs with similar OS so it clearly makes sense to backup let's say Windows VMs as a group. The Windows OS, which is common for all the VMs, will be backed up only once. This gives a smaller footprint.
Currently, only VMware is supported as this represents the largest market share within datacenter's clients, however, Hyper-V and KVM versions are planned in the future.
VMcom Backup Features
Fast backups and restores using VMware CBT (Changed Block Tracking), uses VDDK 7.0 library
Deduplication at the datastore level, to save space
vSphere 7.0 and ESXi 7.0 support
Full VM or File-Level restores (for Linux or Windows). Also supports to restore to a different vCenter or ESXi host.
Multi-tenancy for Service Providers (or for internal use of larger organization). Each tenant can be assigned a set of privileges for backup and recovery of particular vSphere objects.
A HTML 5 Web-Based User Interface
Based on Linux so you don't need additional licensing
Agentless
Built-in Deduplication and Compression
VMcom uses some Interesting Technology called Write-ahead cache which allows faster backups:
Quote:
VMcom's write-ahead caching scheduler was also redesigned. This feature allows VMcom to predict frequently recurring blocks of data and write them to the slow drives before they are actually needed. During backup, prepared blocks simply slot into their places without the need to perform a time expensive write operation.
Supported Hardware and Minimal requirements:
Supported VMware vSphere / ESX(i) versions : 7.0, 6.7, 6.5, 6.0, 5.5, 5.1, 5.0, 4.1
VM requirements – 1 vCPU, 2 GB RAM, 40 GB storage
Sockets or VMs – Licensing anyone? Both !
Yes, this product needs a license and there are two different licensing models, which basically satisfy both supporters and haters. You can buy per CPU socket perpetual license or you can take a monthly subscription license (Pay-as-you-go) on Per-VM basis.


Check the details on this page at VMCom
I quickly tried a demo environment available for testing and "look and feel". In fact, this environment is available for you during 12 hours, and then it's automatically destroyed. (a vCD nested environment it seems).
Here is a screenshot from the UI shows the details of one job where there are 2 VMs protected. It's a test environment.
So first time here, just click the Run Now button and execute the pre-defined job.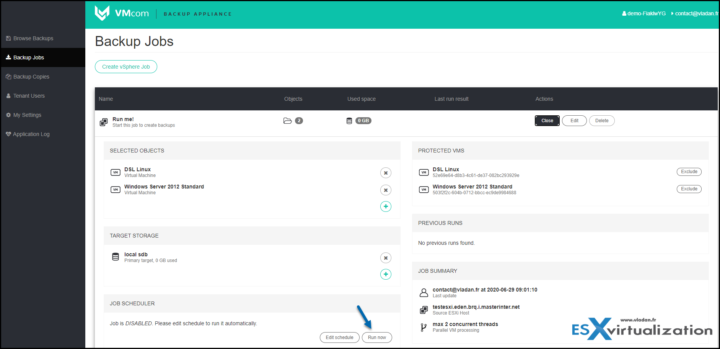 Correct Sizing
VMcom setup is easy and we'll show you that in the next post, however proper planning for sizing is better done before deployment. At VMcom, you can have a look at this page where you'll find a detailed guide for sizing vCPU, RAM, or deduplication cache (optional) for larger clusters and larger environments.
Let me show you for example how to size a CPU of the VMcom Virtual appliance. If the appliance was assigned for example 4 virtual CPU cores, it will utilize up to 8 backup threads (8VMs simultaneous backup). It's basically your vCPU number multiply by 2.
A free version of VMcom Backup to backup ESXi free? – Yes for IT Geeks and fans.
What did I say? Yes, it seems great that VMcom has also a free version that can backup VMs running on ESXi Free version. Well, it's not another version, it's the trial which becomes free after expiry.
VMcom Backup Appliance works around ESXi Free API limitations by utilizing SSH access directly to the host. In order for this to work, SSH service must be started on the host. You can use incremental backups and restores.
Quote from VMcom:
VMcom requires no license code for ESXi Free hypervisor backups. We as IT geeks and administrators want to make the life of fellow IT administrators a little bit easier and therefore we offer backing up ESXi Free product for free as well. So feel free to use it!
Download Free trial (which expires after 14 days) and use it after that period for your ESXi Free Version, for free, forever… -:)
Final Words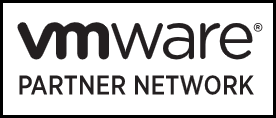 In the next post, we'll do some more screenshots around the backup/restore and bring more details for the deployment phases. If you don't want to wait for our next post, just head to VMcom and try it by yourself.
I think it is a very interesting product which does not have many options which could go wrong. A simple and effective backup product that just does the job as needed. VMware has phased out VDP backup product a while ago. If you're looking for something easy to use which has a nice and simple web integration, and which also can do multi-tenancy if needed, VMcom might be a very interesting product with flexible licensing allowing you to go either with physical sockets or per-VM monthly payments.
More about VMcom Backup at ESX Virtualization Blog
VMcom Backup For VMware vSphere or ESXi Free – [This post]
More from ESX Virtualization
Stay tuned through RSS, and social media channels (Twitter, FB, YouTube)