Update: Unfortunately, the product is no longer available for new clients. Existing clients continue to get support, but the development has stopped because the main partner has left the group.
VMcom backup is a new product I know that is very easy to set up and use. It might not have all the plus-plus features like the competition, but its pricing structure and ease of use make this product an ideal companion of many IT admins willing to backup VMs running on VMware vSphere or ESXi free.
In fact, VMcom Backup Appliance uses ESXi Free and the API limitations by using SSH access directly to the host. Like this, it has a possibility to create incremental backups and use it also for restores. In order for this to work, SSH service must be started on the host.
Yes, VMcom backup has an incremental backup possibility for VMs running on ESXi Free version.
I have written two blog posts about the solution recently:
Check them out…
This post will try to show you some of the things to get started and some configuration tips.
The product can be downloaded from the VMcom website here. You will download an OVA file, which stands for open virtual appliance. It is a single-file package of a standard OVF template that has everything in it. The Linux OS, storage, configuration…. everything.
After the deployment,
login is admin with password pleasechangeme
Note: If you don't have your own ESXi environment, you can even test the online version where you connect to the remote lab via your web browser. All you need to do is to leave your name and email. There are few VMs which you can test for backups, you can create backups and do a restore.
Links:
Let's get started.
after the connection, you have a demo backup job, but I wanted to go through my own way and created a new backup job. To do so, click the button Create vSphere Job.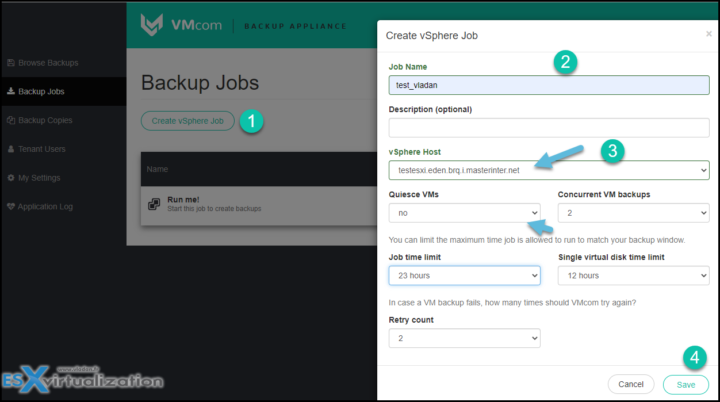 Put in some meaningful name for the job, select the vSphere host from your environment, and see if you need to change the other options or not. I left defaults.
Once done, click save. You have the job created. Now we need to put some VMs inside of this job as for now, this job is empty.
To do this, click the Open button next to the job.

We can now add some VMs from the live environment as well as assign the storage where we will send those backups.
Note: you'll need to create this storage when you first configure the product.
You click the "+" sign and you'll receive a pop-up window allowing you to select VM(s).
You'll click the "+" sign and you'll get another pop-up window to select the destination where you'll store the backups.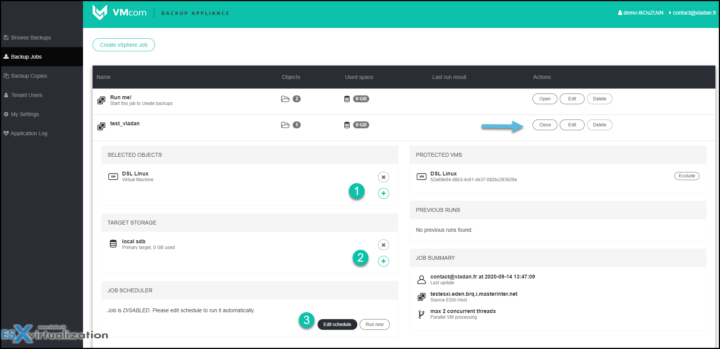 This is it. Then click the (3) which opens the scheduler.
Enter your options and you're done.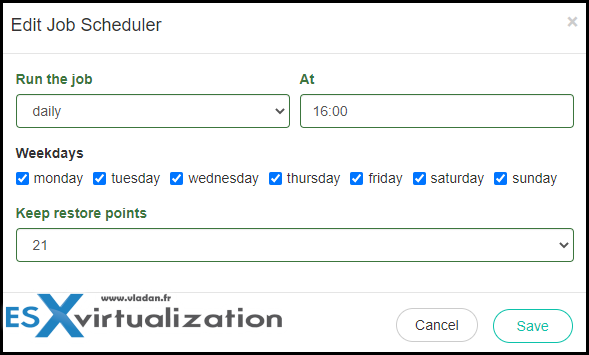 Click the run backup button to execute the backup job immediately. You're done. Pretty easy.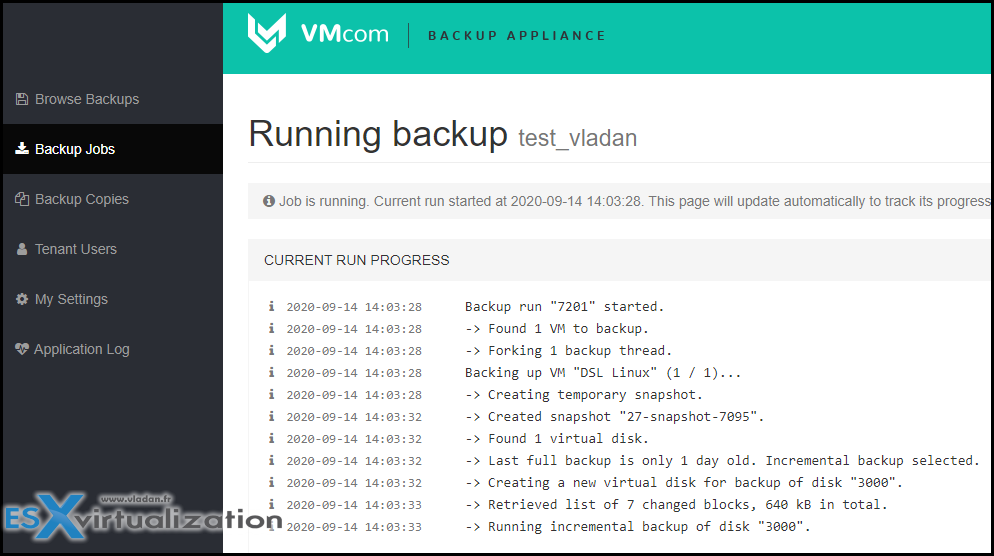 The product is really easy to use. I almost have nothing to write about that simple it is.
There is another option that might be interesting, and this option is Backup Copies which allows you to send backups to another location. To another host, to another storage. You know, it's good not to keep all the eggs in the same basket…
Restore Operations
You can either restore the entire VM or restore individual files.
You need to go to the Browse backup menu and there you click the Browse button, to select the restore point.

Then you can see the two options
Attach backup for file browsing
Restore entire VM

Pick your option and follow the assistant.
As you can see, this product is really easy to work with. The fact that it works even for ESXi FREE hosts, is an advantage. You might have lab workloads that you want to be backed up even if those are running on free ESXi hosts.
We have shown the main UI and its options.
VMcom is VMware Partner and its product is a robust product because it is used by many service providers around the globe. VMcom backup is not well known yet within the virtualization community because we haven't seen them around on local VMUGs, VMworld conferences or collaborating with other bloggers just yet. But the product is not new in 2020 and has been around for several years already.
Check the VMcom website and download a trial.
More about VMcom at ESX Virtualization
More from ESX Virtualization
Stay tuned through RSS, and social media channels (Twitter, FB, YouTube)