In the latest release of VMware vSphere 5.1, the introduction of Enhanced vMotion which enables you to move virtual machines (VMs) which runs on local storage on one host to local storage on another host has been introduced. The VMDK disk files are moved from one side to another without the need of shared storage.
The virtual machine moves from one physical host to another without downtime. It clearly makes possible for a SMB customers without the budget for hardware SAN device to schedule maintenance tasks on servers running VMs from local storage.
By invoking manually Enhanced vMotion, it's possible to move without downtime, running VMs from one host which needs hardware maintenance, to another available host in the cluster. The VMDK disk files moves at the same time.
How it works?
–  Hosts must be managed by same vCenter Server.
–  Hosts must be part of same Datacenter.
–  Hosts must be on the same layer-2 network (and same switch if VDS is used).
It is manual process – it means that DRS or sDRS dont' make use of Enhanced vMotion.  There is a limit (soft limit I imagine, which could possibly get tweaked through a conf file) maximum two concurent Enhanced vMotions per host. I think that VMware (as always) setting up things, so they work, so even if there is no doubt that this limit can be lifted, it's clearly not recommended.
You can see on the image below that the VM is migrated (from left to right) and at the same time the VMDK disk files are migrated as well.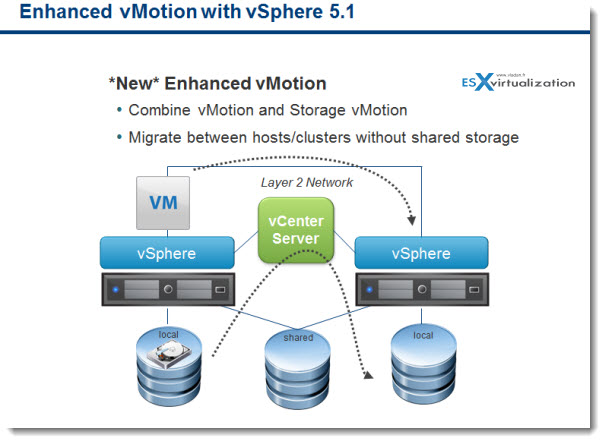 Limits (some examples, to better understand):
As of today, you probably know that there is a limit of two  Storage VMotions per host. There is also limit of 8 vMotions per host. This counts when considering concurent limitations for Enhanced vMotion.
Two Enhanced vMotion + 6 vMotions at the same time. (because 8 is the limit for the max. vMotions)
Two Enhanced vMotions + Zero sVMotions at the same time. (the sVMotions invoked will remain in queue till EvMotion finishes )
DRS or sDRS don't use Enhanced vMotion technology at all, and will not do any recommendations on Enhanced vMotion migrations. The manual Enhanced vMotions are posssible through DRS or SDRS clusters.
VMware Enhanced vMotion will make use of multi-NIC when available.
Requirements:
vCenter is required in order to use VMware Enhanced vMotion. There is no requirements as concerning the shared storage, as I said earlier. The Enhanced vMotion can be invoked from within the classic vSphere Windows client and also through the New vSphere 5.1 Web client, which will become the main client for managing vSphere 5.1 and onwards.
Enhanced vMotion is part of the  VMware Essentials Plus Package
I just re-hash that as for now vCenter Server Essentials was bundled with any of those kits, which are limited for 3 physical hosts with 2 CPU socket each. In addition the Essentials Kit has got a VDP, VSA and VR… -:)
Here is a video from VMworld San Francisco
vSphere 5.1:
VMware Enhanced vMotion – New in vSphere 5.1 – This post