This one is just for a personal note. It's a VMware KB which has all the ESXi build numbers and versions. It might be useful for cases where you're looking to upgrade certain hosts and looking at whether the build number has been still supported or removed because of problems encountered. That's the case for some of the latest builds (ESXi 7 U3b, 3a or 3) as those versions had conflicts with dual i40en drivers.
here is the note concernngESXi 7.0 Update 3, ESXi 7.0 Update 3a, and ESXi 7.0 Update 3b were removed from all online and offline download portals on November 18th 2021.
Please see KB 86398 for further details.
It's a very long list of build numbers of VMware ESXi hypervisor starting ESX 4.0 GA !! (that was back in 2009).
You can find the VMware KB with all the build numbers here.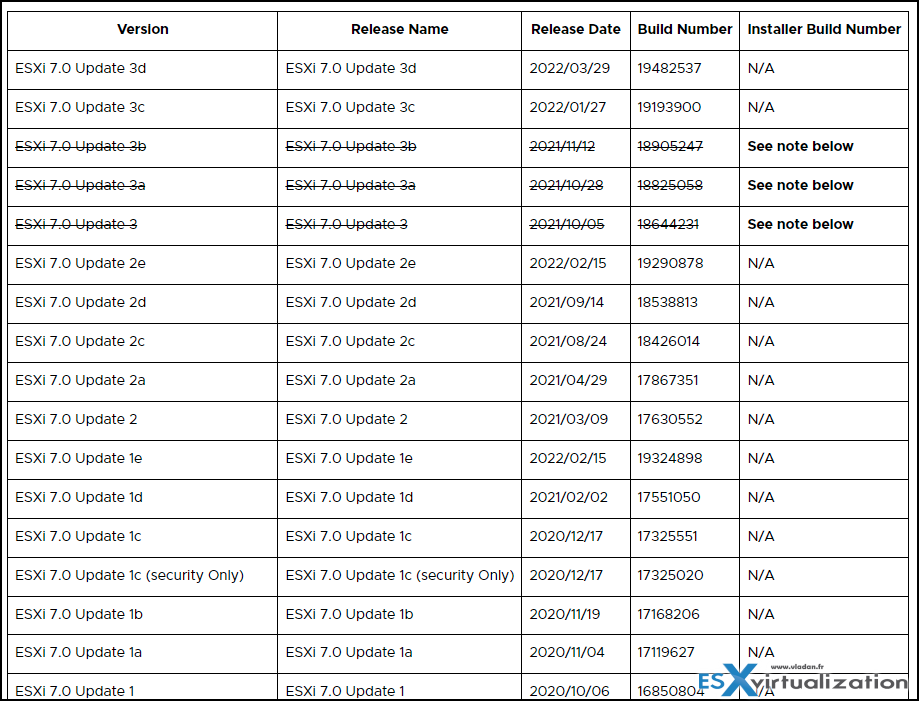 Latest ESXi 7U3d
The latest release of ESXi 7 U3d has been released about a month ago and contains mostly critical patches and some updates for new hosts supporting quick boot.
You'll be able to read that:
IMPORTANT: If your source system contains the ESXi 7.0 Update 2 release (build number 17630552) or later builds with Intel drivers, before upgrading to ESXi 7.0 Update 3d, see the What's New section of the VMware vCenter Server 7.0 Update 3c Release Notes, because all content in the section is also applicable for vSphere 7.0 Update 3d. Also, see the related VMware knowledge base articles: 86447, 87258, and 87308.
If you're planning to upgrade, you should definitely check the 3 KBs mentioned above as vCenter server has to do some additional prechecks concerning hosts that might have potential problems when upgrading them.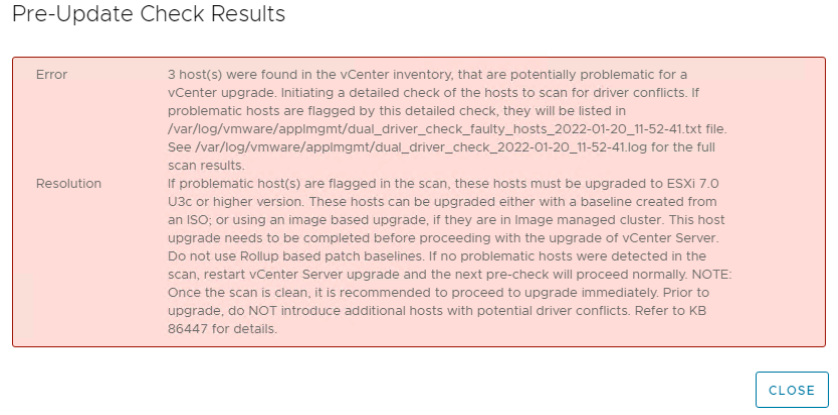 Quick quote from the details:
Upgrading to vCenter Server 7.0U3c now requires an additional precheck. This precheck ensures that the ESXi hosts managed by the vCenter Server are at the correct ESXi versions and will not have any issues related to driver conflicts. There are two situations that can cause the vCenter precheck to fail:

ESXi hosts running 7.0 U2c/U2d outside of a vLCM image-enabled cluster are not impacted

If the precheck detects versions of ESXi that could potentially have dual i40en driver conflicts, a more detailed check of these hosts is automatically triggered to detect if the dual-driver condition truly exists on the hosts flagged by the VC precheck.
As usual, test with a POC if you have a possibility. Read all necessary KBs, save configurations of ESXi hosts, and make sure to have vCenter server backup (and snapshot) before you hit the upgrade button. The upgrade process needs planning and then only executing all the necessary steps.
There are nice graphics from VMware summarizing just that.

Upgrade vCenter server appliance – here (if you need offline update).
vSphere distributed switch
VSAN on-disk format
Host profiles
VMware Tools
Virtual Hardware
be sure to check out our VCP7-DCV study guide page where you can find most of the topics concerning VMware vSphere 7 that we cover on this blog during the year.
More posts from ESX Virtualization:
Stay tuned through RSS, and social media channels (Twitter, FB, YouTube)