First time I saw VMware Blast, it was through one of those VMworld Videos from San Francisco where it was demoed. Since then the technology has matured and evolved. Now, VMware Horizon View 5.2 Blast is present as a supported feature in the latest Horizon View 5.2 product.
The Blast is part of what's called Horizon View Feature Pack. It's several component that are used as an Ad-ons for the Horizon View 5.2 and they interact with the View connection server.  For example, the HTML Access installer enables the VMware View Connection Server (Blast-In) rule in the Windows firewall.  You can also read the full details about Blast in the Features Pack Document: https://www.vmware.com/pdf/horizon-view/horizon-view-52-feature-pack-document.pdf
Supported Browsers:
IE 9

Firefox 15+
Chrome 22+
Safari 5.1+
Screenshot from the course: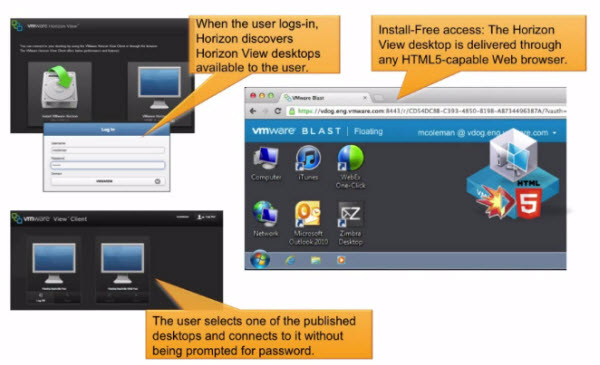 The Free video series which introduces the Horizon View 5.2 product, MAC client updates or some GPO settings with demos are newly available at VMware. The videos are done by VMware Certified Instructor, Linus Bourque. The video is small overview of what's covered in the real training course VMware Horizon View Install, configure, manage Instructor-led class for VCP 5-DT certification.

You might want to check out my post about the new VMware certification paths, which has been introduced several months ago and which are regularly updated. The post New VMware Certification Roadmap gives you the details.
I have done VMware View 5.0 setup in my lab and blogged about it. Even slightly outdated, recently updated with VMware Horizon View 5.2 Connection Server SSL Certificate How-to.
Horizon View HTML Blast Client Video:
Horizon View HTML Blast Client Demonstration
Full serie:
VMware Horizon View 5.2 Blast Client and Demo – this post
Source: VMware Blog