VMware Horizon View 5.2 updated some PCoIP GPO settings. Those settings enhances the Persona management (via product from RTO Software – acquired by VMware) which has been introduced in View 5.0. You can read my post on How-to configure View Persona management here.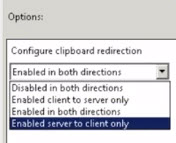 You'll see the step-by-step in the second video, where you'll see the selection of the right GPO and different settings.
The PCoIP optimizes the view on the desktop by utilizing compression methods and modifying only the pixels that changes. A progressive images display is also one of the advantages of using PCoIP. Those two videos are a small overview of what's covered in the real training course VMware Horizon View Install, configure, manage Instructor-led class for VCP 5-DT certification.

You might want to check out my post about the new VMware certification paths, which has been introduced several months ago and which are regularly updated. The post New VMware Certification Roadmap gives you the details.
VMware View 5.0 setup in my lab, recently updated with VMware Horizon View 5.2 Connection Server SSL Certificate How-to.
Optimizing PCoIP GPO Settings:
Optimizing PCoIP GPO Settings Demo:

Full serie:
Optimizing PCoIP GPO Settings Horizon View 5.2 – this post
Source: VMware Blog