Another Free cool videos about Horizon View 5.2 which are available. There are many Horizon View clients available for variety of different OS like Windows, Linux, Android, MAC OS….You can also setup the SSO timeout value through the administrator's dashboard.
VMware View client for MAC is one of the View clients available. The MAC client supports many options like:
Access from Mac to Windows desktop hosted by Horizon View

Mac OS X Snow Leopard 10.6.8 and OS X Lion 10.7.0 or later
PCoIP and RDP support
RSA SecurID and RADIUS authentications
SSO support
Location based printing
USB redirection
Overview of Different Horizon View Clients for different OS types: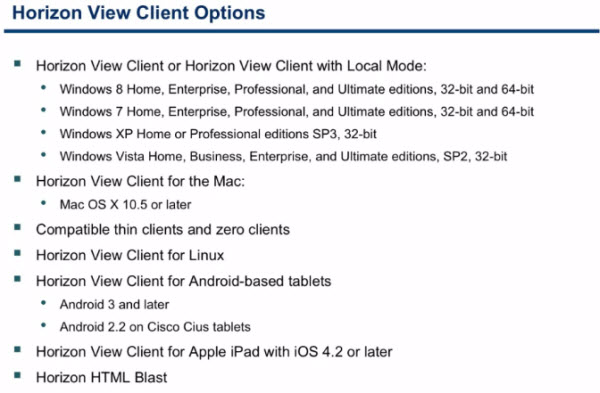 The new video series from VMware which covers Horizon View 5.2, MAC client updates or some GPO settings with demos. The videos are done by VMware Certified Instructor, Linus Bourque. The video is small overview of what's covered in the real training course VMware Horizon View Install, configure, manage Instructor-led class for VCP 5-DT certification.
You might want to check out my post about the new VMware certification paths, which has been introduced several months ago and which are regularly updated. The post New VMware Certification Roadmap gives you the details.
I have done VMware View 5.0 setup in my lab and blogged about it. Even slightly outdated, recently updated with VMware Horizon View 5.2 Connection Server SSL Certificate How-to.
VMware Horizon View 5.2 MAC client Update overview:
MAC Client Update Demo video – step by step:
Full serie:
VMware Horizon View 5.2 – MAC client update and demo – this post
Source: VMware Blog