A cool demo of VMware Aria within the latest VMware multi-cloud briefing that has been just unveiled today can be found within this post and a video from VMware. The VMware Aria is the latest VMware multi-cloud offering that helps you track, monitor and migrate workloads across all cloud and on-prem environments.
During VMware EXPLORE Barcelona 2022 I have visited the VMware booth to get some first news about VMware Aria. You can read the post with and watch a short video here. VMware Aria has two parts. The back end – Graph, and the front end that is called the Hub.
The whole inventory, with all the public clouds, (AWS, Azure, Google, IBM, Oracle, Alibaba cloud, as well as private clouds, partner clouds, sovereign clouds, telco cloud or edge) are pulled together with the inventory metadata into the Graph.
VMware Aria Hub Free Tier
VMware Aria Hub Free Tier is a free instance of VMware Aria Hub and VMware Aria Graph for use with AWS and Azure public cloud accounts. No VMware products or services are required so you can sign up even if you are not a current VMware customer and see for yourself how VMware Aria Hub powered by VMware Aria Graph can make multi-cloud management easy by reducing complexity and giving you visibility to all of your workloads, no matter where they are deployed and no matter if they are legacy applications such as LAMP stacks or cloud native applications running on EC2 or Azure virtual machines, or modern stacks leveraging Kubernetes clusters or serverless functions.
Below you can see the start/home page of Aria Hub. You can set your favorite applications, you can see the aggregate costs (or the cost of each individual cloud) of those application which might (and are) using multiple accounts. You have the possibility to see the security and compliance, some business' insight as well as the location, customer experience (latency).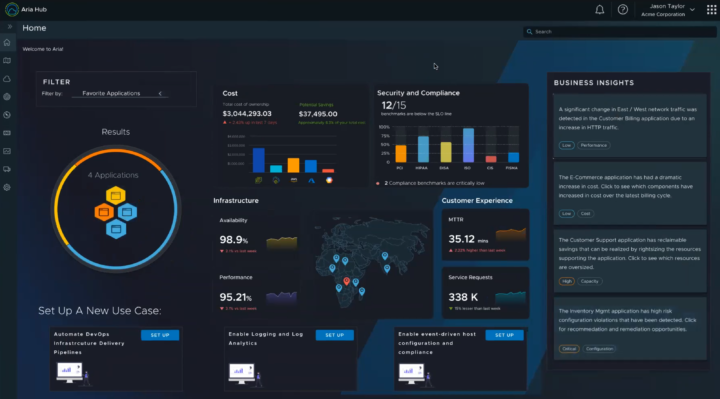 From this overview you can "drill down" by application to see the different metrics such as performance, cost, delivery or security.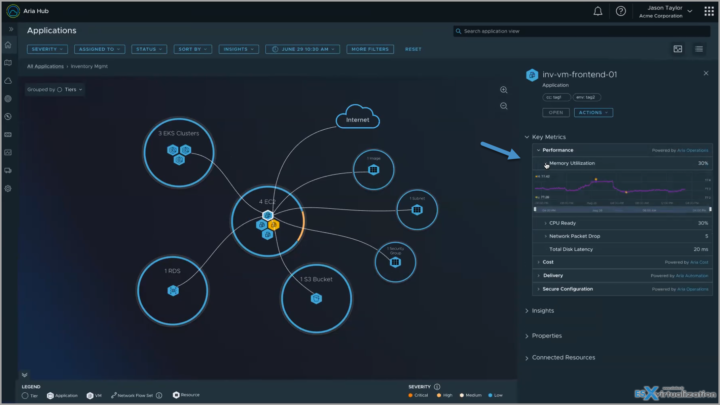 And when you choose an infrastructure view, you can drill down when picking a cloud location, into the sddc level, cluster level, host level and then a VM level. You can again find different details about the object.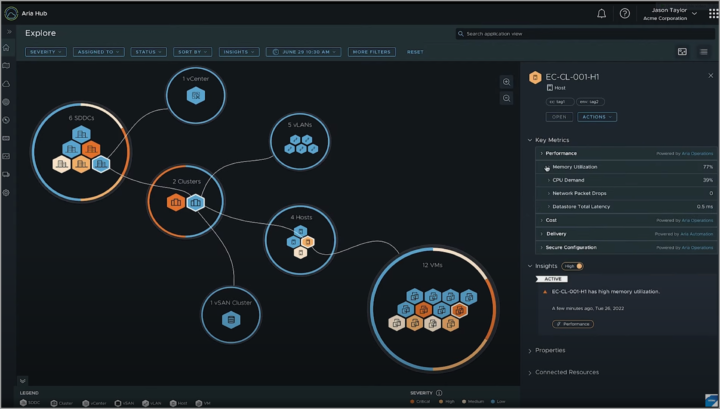 Migration Services
To me, this one is the coolest feature in Aria (I like all of them, btw -:). The migration service within Aria hub allows you to plan ahead your migration from technical perspective, but also from a cost perspective as the system can foresee the difference between the different clouds.
It allows you to scope, Asses, plan and execute the migration. You can assess readiness for migration, scope migration candidates and understand the requirements of the target cloud and TCO impact.
The planning allows you to create a predictable plan which can reduce the risk of migration failure. You can customize the landing zones etc. The migration itself is executed via workflows. You can see the rapport health as the migration progresses over time, you can analyze and revert back in case of problems.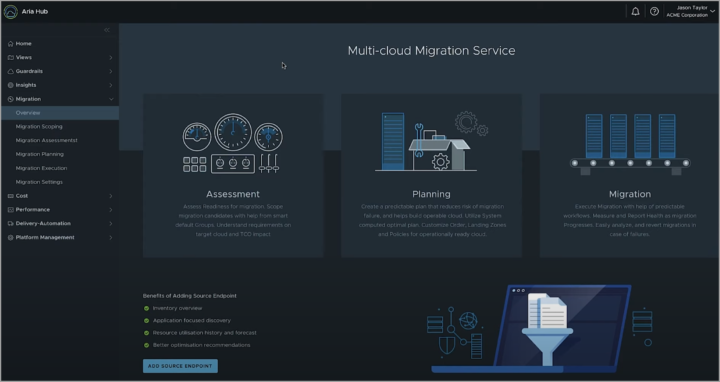 The migration planning is executed in 4 steps where the fist step you can exclude certain workloads that you don't want to be part of the migration. (example in the video they remove some storage VLANS that have high or medium storage requirements.)
The migration assistant allows you to simulate the costs on the new location. The next step helps you to break the migration into bundles. The next step allows you to select the landing zone (geo zone) where you want the workload to be migrated.
The migration pipeline (img, below) can be edited to add business steps that you might needs.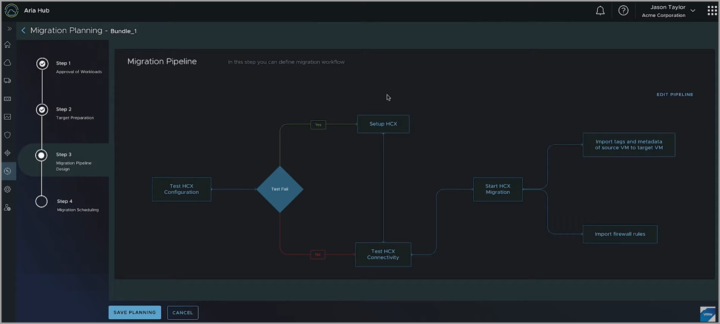 The migration can then be scheduled to be executed during maintenance window, during several days/weeks, to achive the full migration of this particular bundle.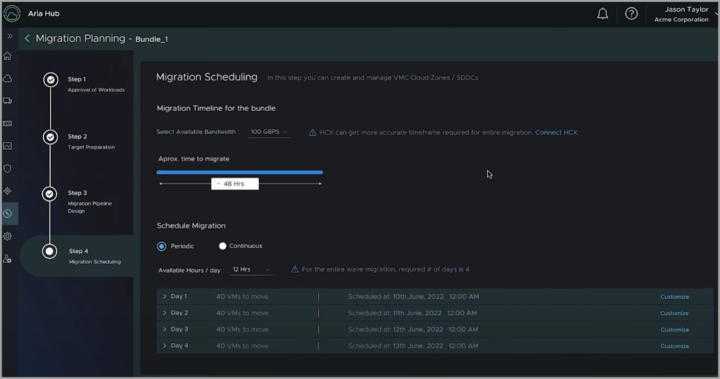 The migration then runs from the on-prem environment to the VMC.
VMware Multi-Cloud Briefing is a quarterly online event series designed to help organizations succeed with their multi-cloud strategies. Each briefing has a new topical focus and features new speakers and solutions, all dedicated to informing, engaging and enabling companies worldwide to seize the opportunities and address the challenges of a multi-cloud world. No need to register.
Here is a video from VMware:
This briefing and the entire series can be found on VMware YouTube channel and the Multi-Cloud Briefing Playlist.
Links:
The free offer is definitely to check out. You don't even have to be a VMware customer to be able to try this new free tier of Aria. Check it out!
More posts from ESX Virtualization:
Stay tuned through RSS, and social media channels (Twitter, FB, YouTube)