Hello VMware EXPLORE Barcelona 2022!! Here we are together with other bloggers and peers, to learn about the latest development , latest news about VMware multi-cloud solutions, such as VMware Aria. One of the announces here in Barcelona is the announce of VMware Aria Free Tier that you can test for Free.
I have recorded a quick video with Dean Lewis, a fellow Veeam Vanguard, that works for VMware. We were at the VMware Booth where you can explore those multi-cloud technologies, vSphere 8, vSAN 8 and all the other VMware products.
Note that I have covered already VMware Aria on StarWind's blog and you can see that VMware Aria is basically a portfolio of multi-cloud management offerings that is powered by VMware Aria Graph. Aria Graph is a graph-based data store technology built organically at VMware that captures the complexity of multi-cloud environments.
Quote from the Announce.
A free tier of VMware Aria Hub powered by VMware Aria Graph! The new free tier enables you to inventory, map, filter, and search resources from up to two of your native public cloud accounts, currently from either AWS or Microsoft Azure. It also helps you understand the relationships of your resources to other resources, policies, and other key components in your public cloud and Kubernetes environments. You also get access to visibility into CIS benchmark violation data coming from VMware Aria Automation for Secure Clouds and list price costing for resources coming from VMware Aria Cost powered by CloudHealth. On top of that, you can manually curate apps to better understand the dependencies and relationships of your business apps. Learn more about the technical details of the free tier here.
Here is the overview.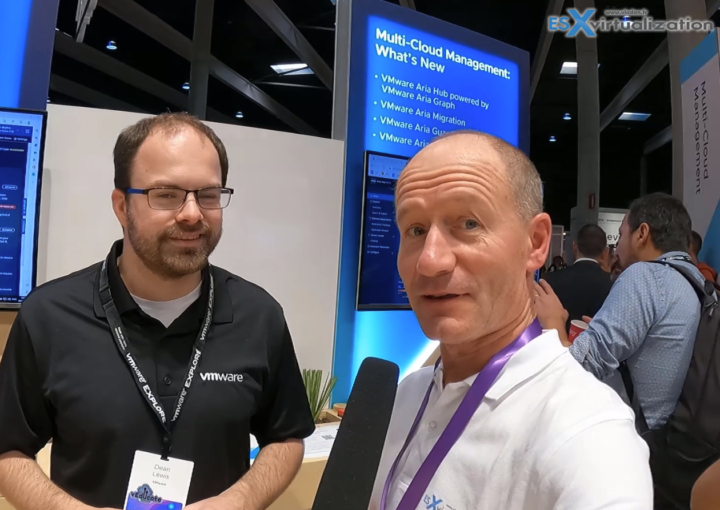 Here is the video from the event.
The event is hosted in Barcelona and according to my sources, there is over 8000 people registered this year which is much more than VMware actually expected. Due to this fact, yesterday's general session has been full and some people were refused access and invited to watch online because they could not get inside !!! Pretty amazing that VMware EXPLORE Europe is much more successful than in the US where apparently the opposite happened.
I'm surprised to see many more devops and secops teams attending the event then in the past. This is due to the fact that VMware since several years creating much more tools and packaging for Kubernetes workloads and management. The workloads has changed the way we work and what we do with virtualization and VMs is now fully extended to Kubernetes workloads, including backup and recovery or security compliance. Many vendors within the Exchange solution area now support not only most of the main public clouds, but also Kubernetes workloads.
More posts from ESX Virtualization:
Stay tuned through RSS, and social media channels (Twitter, FB, YouTube)