VMware has released an update to vCenter Server 5.5.0a. Both versions, Windows based and also VCSA (Linux Appliance) based vCenter servers – vCenter server appliance are updated.
There is no new features in the 5.5.0a version. It's only maintenance release as it fixes some bugs which showed quickly after the initial release. While I don't think that many people has rushed into upgrades or fresh installs of vCenter yet, for those of you who did not, it's interesting as this release fixes some issues with upgrades from 5.1 concerning SSO (certificates…) and also some login issues after upgrading from 5.1 to 5.5 (SSO do not recognize Single label domain identity source during the upgrade process. The full details of what's been resolved are in the release notes.
I've installed the VCSA 5.5 in my lab, so for me the process of upgrading is fairly simple. In addition, my VCSA is backed-up daily with Veeam, so I can easily revert back if anything goes wrong. For those of you who never used the VCSA, the process is very simple. There is really only like 2-3 step process of upgrading in my situation.
Here is how easy is to upgrade the vCenter server appliance:
1. Login to your VCSA and go to the Update tab and click the Check updates button.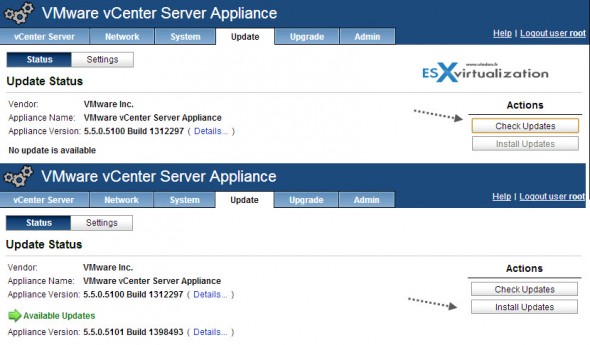 2. Wait while the appliance installs the files … -:)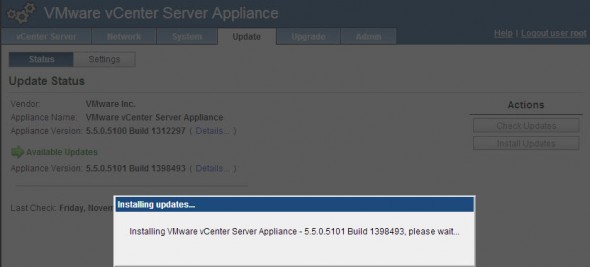 And here is the process finished. The appliance updated to 5.5.0a version.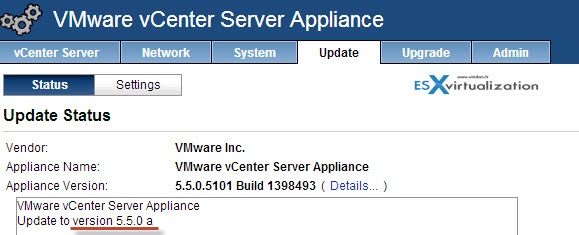 There are fans of VCSA and there are other who don't like VCSA. IMHO, the future is VCSA…
I still have many videos to watch from VMworld, there is over 25 free sessions available from VMworld 2013 to watch, so if you haven't had the chance to attend or don't have paid for the online subscription, go and head to my VMworld 2013 page where you'll find the links to the Individual sessions.
In one of those video sessions I watched VMware invoked briefly the version 6.0 of vSphere which will most likely to be out during next VMworld. They were talking about the "legacy" windows client which apparently won't be even available with the 6.0. Only the web client will be to manage the infrastructure. By that time, other components like the update manager, or linked vCenters, shall be integrated into the vSphere web client and will be compatible. Wait and see…
Source: VMware
The article was published first at ESX Virtualization website. Feel free to subscribe via RSS or by e-mail to get the latest news to be delivered via weekly newsletter.