Yesterday VMware has finally released the final release of VMware vSphere 5.5 which is GA and available for download. The whole vCloud suite and vSphere products including ESXi 5.5 are available at VMware.
After Friday's aler through Twitter and VMware KB not to let the automatic update let upgrade the vSphere replication to 5.5 pre-release version, things has started to be more clear that the final release is imminent. Also the 5.5 drop down box was made available Friday (I managed to take a screenshot and post it to my vSphere 5.5 page).
The wait is now over and VMware vCloud Suite including all vSphere 5.5 products are there. I have already wrote many blog posts about vSphere 5.5 and some about VSAN, which should be available as well.
The ESXi 5.5 is allowing now using all the RAM you have available, which allows even very "beefed" boxes to be used as home multipurpose virtualization machines. Unfortunately as all the new functions including Virtual hardware 10 can only be managed through vSphere web client.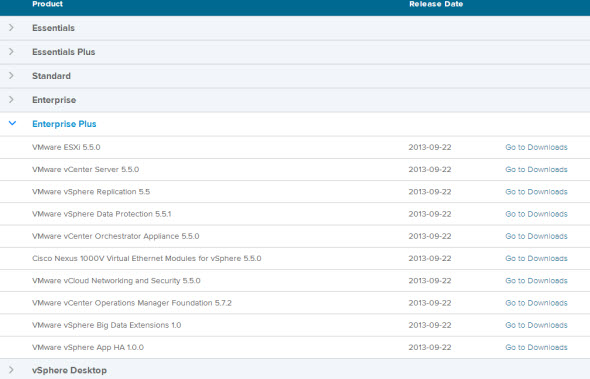 Usually people runs those homelabs for learning purposes, or provide a whole family with VMs, so having single box which does not consume a lot of energy at home is convenient way to built a home lab.
There is still a possibility to quickly pull down a trial of vCenter server appliance (VCSA) and do a quick 5 minut depoyment with a trial download. I have posted video of the install/configure process which really takes much much less time than the full blown Windows install (even if done with Easy install).
And If you have your Microsoft AD and DNS infrastructure already in place and you don't have to rebuild other VMs the re-installing only the VCSA (not all the lab) is not so bad. You might not even have to reinstall the underlying ESXi as you can request another trial and assign another serial number to the home installation.
Much better option would be some kind of subscription (Technet like) where you would be able to download and test products you want.
As concerning  VMware licensing of vSphere 5.5 I'll do a separate posts after the dust will settle down, as there might be some movements there as well.  The base licensing of vSphere Essentials 5.5 or vSphere 5.5 Essentials Plus did not change. Entry ticket is roughly $500.
You can subscribe via e-mail, via RSS or follow me on Twitter @vladan , for future posts.