VMware vSphere 5.5 introducing larger virtual disk size (up to 62Tb) which requires ESXi 5.5, where existing VMDKs can be grown (offline). Those large VMDKs are supported also on the newly released vSAN datastores. You can grow the VMDKs, but for now its an offline process. VMware has it on the roadmap on the future releases, to integrate this process as an online (VMs on).
vSphere 5.5 Storage Features
62 Tb VMDKs (smaller VMDKs can be grown offline) – only through vSphere Web Client.
62Tb RDMs supported as well
Supported on VMFS 5 and NFS
The existing VMs with VMDKs smaller be resized offline
Limitations for 62TB VMDKs and vRDMs:
There is many features that are supported like vFlash Read Cache, vMotion, Snapshots, Storage vMotion, Linked Clones, SE Sparse disks. Snapshots VMDKs larger than 2 TB will automatically use the SE Sparse disks format introduced in vSphere 5.1. (not the VMFS sparse redo log format).
SRM/vSphere Replication…are supported as well.
62 Tb VMDKs are Not supported on vSAN.
vSphere Windows Client cannot be used
Here is an outline what is and what is not supported: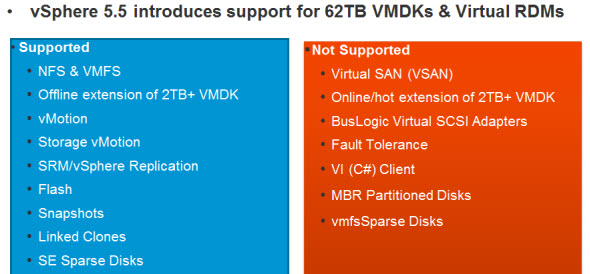 There is a new features for 16Gb end-to-end for FC storage.
MSCS – Microsoft Clustering Support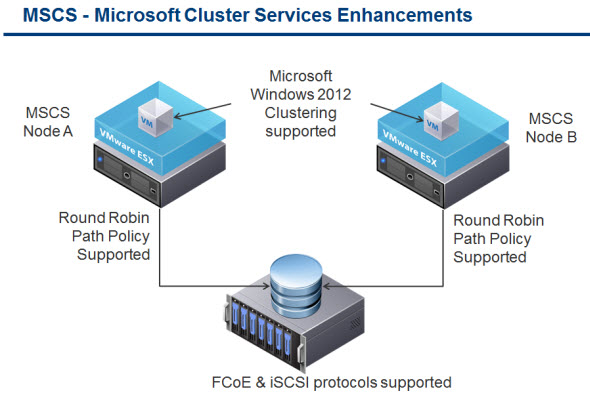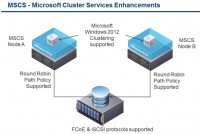 A Microsoft Clustering Support is vSphere 5.5 and so Round Robin path policy is supported as well as Windows 2012 Clustering. Concerning the protocols, there is FCoE and iSCSI support, that has been announced.
PDL Auto Remove
This feature called Permanent Device Lost allows a vSphere to remove a device marked as PDL automatically from the host. PDL is based on SCSI Sense Codes, and PDL means that the host is no longer sends I/O to those devices.
PDL usually happens during hardware failure or if a device was incorrectly removed from host. With PDL Auto Remove the device is automatically removed since it won't come back.
VAAI UNMAP Improvements
esxcli storage vmfs unmap
There is now improved UNMAP command introduced in vSphere 5.5 which allows the creation of temp files and uses UNMAP primitive to tell the array that these blocks can now be reclaimed.
Dead space can be reclaimed in increments (previously only all at once)
Reclaim Size can now be specified in blocks (previously only percentage value)
VMFS Heap Improvements
Previously there was an issue with VMFS heap, when trying to access more than 30Tb of open files from single ESXi host. So it's been partly fixed in 5.0p5 and 5.1U1 with larger heap size.
Now it has been fixed with better algorithm by improving the heap eviction process. So there is no more the need of having larger heap size (consumes memory) and so 256Mb of heap size is a maximum which allows to access all address space – 64TB VMFS.
vSphere 5.5 Release:
VMware vSphere 5.5 Storage New Features – this post