VMware Releasing major updates to almost all vCloud Suite products. vSphere 5.5 has been announced and I already covered quite a few products and new features. In this article you'll see what has been prepared in VMware VDP 5.5 and VDP Advanced. vSphere Data Protection, based on Amavar's code, is a backup appliance. vSphere Data Protection 5.5 is distributed with vSphere Essentials Plus and higher. The Advanced version of VDP 5.5 is a separate product.

I've had many questions from my readers on how to protect the VDP? To do backup of the backup appliance? The VDP 5.0 introduced a rollback feature allowing to go back in time and do a "system restore" to a previous state, but what if the whole VDP is lost?
What's new in VMware VDP 5.5?
Disk level Granularity  – allows backup/restore individual VMDK (virtual disks).
Restore directly with ESXi (if vCenter is not available) – by going to https://<ip_of_vdp>/vdp-configure you can access to Emergency restore tab where you can trigger restores. (VDR had this feature too).
Detachable/remountable data partitions – for DR scenarios of VDP
Replication to the cloud – off site backups
Time-of-day scheduling – schedule backup to be triggered exactly when you want
Removal of the blackout window

And another screenshot of the Emergency Restore feature. You can restore also other VMs (not only your "broken" vCenter server).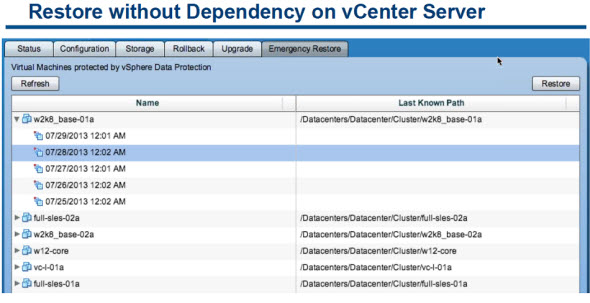 Now let's see the features a bit closer, and in addition, there are some differences between the VDP and VDP advanced.
Detachable/remountable data partitions –  What is that? It's another layer of resiliency. In fact, when your VDP is lost, the data partition which contains the backups can be reattached to a new VDP appliance. So, for example you loose a datastore where you've had the VDP running. Now you can reinstall a fresh copy of VDP and attach the Data (disks) to the newly installed VDP. (If of course you were smart enough not to put the system AND the data disks onto the same datastore. So the backups are not lost and can be visible and accessible again through the newly installed VDP.
Screenshot summarizing the detachable/remountable data partitions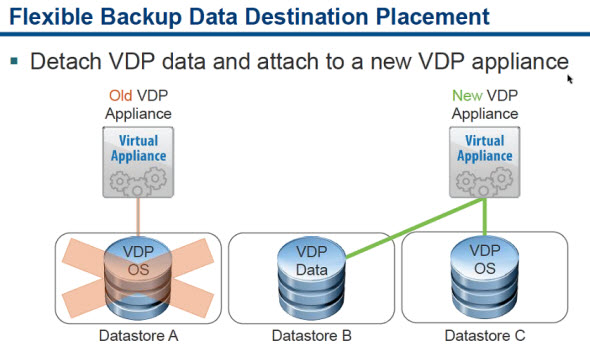 VDP uses agents for backing up SQL, Exchange or SharePoint….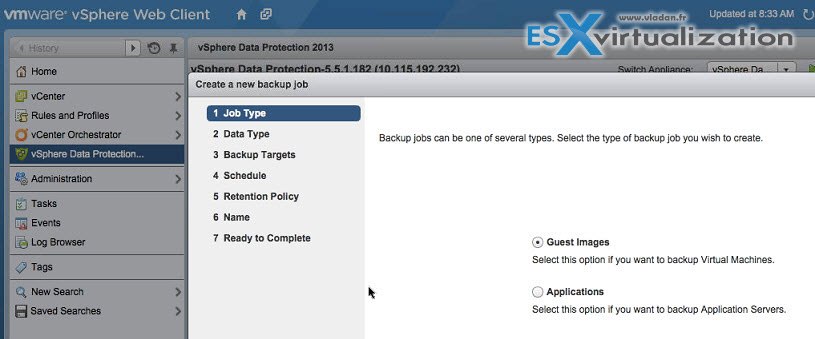 Few screenshots when creating new backup job – what you backing up (image backup or application backup), when to backup and which are retention policies and options. You can click to enlarge.
Granular Virtual Disk Backup and Restore
You can chose what to backup. If you want to backup only the "data" VMDK, you can. You have the choice to do so, if for example you want to protect only certain VMDKs and not others.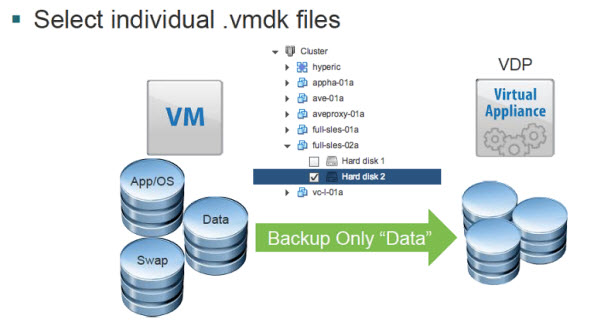 What's new in VMware VDP 5.5 Advanced
Replication
Data Domain integration
Exchange message-level recovery
SharePoint integration
Automated backup verification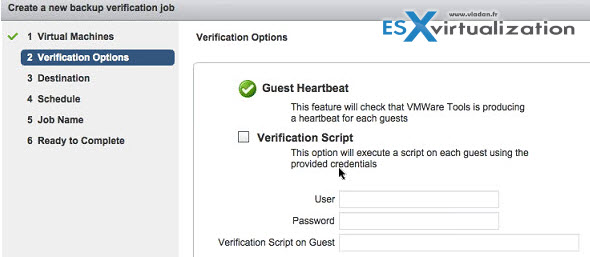 SharePont Agent – integrated directly with VSS. So the protection of SharePoint is now available.
Granular replication – replicate the backups to another VDP appliance. It's deduped, so very efficient.
Backup to DataDomain – target the backup to physical Data domain appliance.
On the image you can see that it's possible also to setup a replication job directly to Avamar.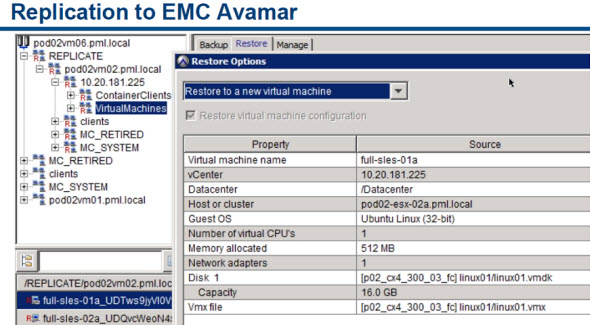 Here is few screenshots when creating replication jobs. You can see the scheduling, expiration or
vSphere 5.5 Release:
VMware VDP 5.5 and VDP Advanced – With a DR for VDP! – this post