Together with the all the announcements around new vSphere 5.5 and vCloud Suite, also vCloud Director 5.5 (VCD 5.5 ) introduces several improvements and enhancements. One of the new enhancement is the content catalog usability improvements, where sharing capabilities are improved together with possibility to add remote catalogs or catalogs son external storage.
vCD 5.5 – The improvements on Content Catalogs:
Better Sharing – 3 levels of sharing (Private, public, share to specific organization)
Remote catalog support and catalogs stored on external storage
Support for any types of content (not only ISO and OVF)
Simple versioning capability for catalog's content, like vApp Templates etc
Better sharing capabilities – provider Admin can now share with specific organization. You can limit to which you want to share the catalogs.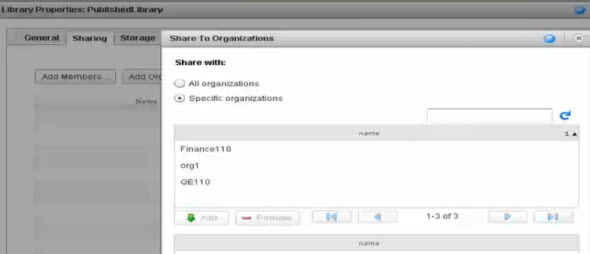 You can also share the catalogs between vCDs, with the possibility to password protecting the share. One you publish and subscribe the catalog content will be synchronized to the subscriber's site. At the subscriber's site, the content catalog is read only.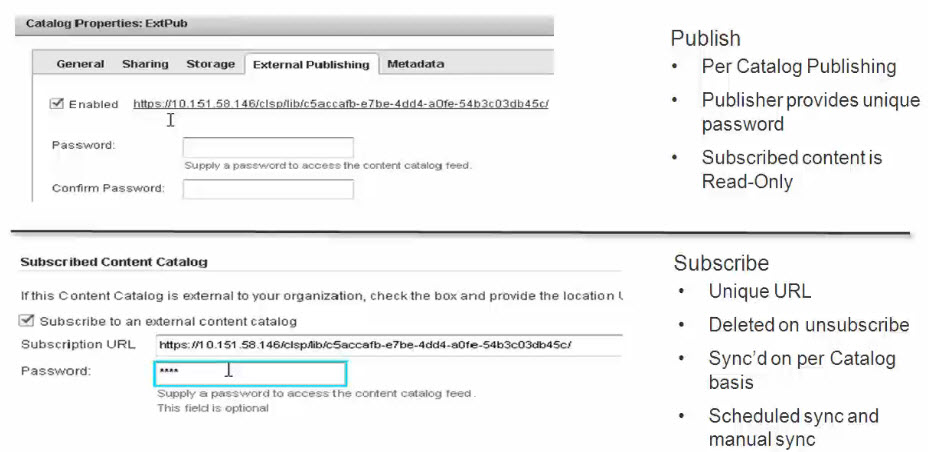 External Storage support for content catalogs – you can setup the location where you want to store the files. Then you can add some JSON files (JavaScript Object Notation)  which are responsible for referencing the location.  VMware has a guide on how exactly to do that.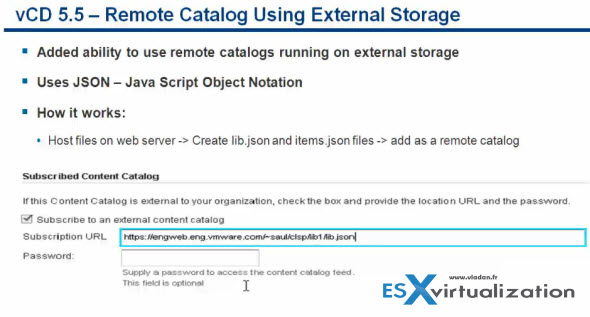 Any types of files for content catalog – as being said at the beginning of this article, any types of files can be uploaded to the catalogue, not only ISO or OVF files. Neat…
Simple Versioning in vCD 5.5 – this feature allows to track version of  items in the catalog. You can track different version of items, between sites.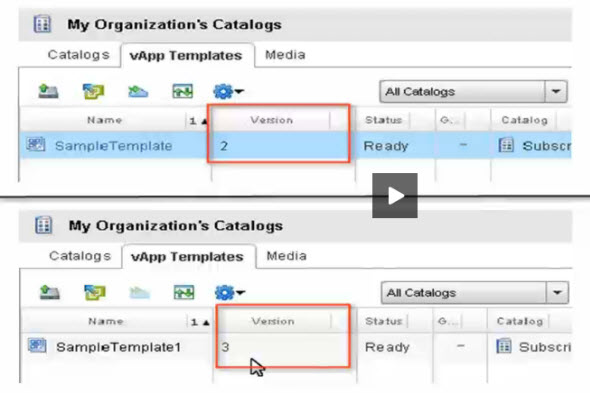 vApp Provisioning and Lifecycle improvements
Configuration # of CPUs, # cores per socket, # of sockets via the GUI
You can edit virtual hardware and Guest OS settings when deploying from template
Hot add/remove disks and NICs
Client side device support for USB devices
Virtual Hardware 10 now being supported.
Image showing the possibility to change number of CPUs and Number of Cores.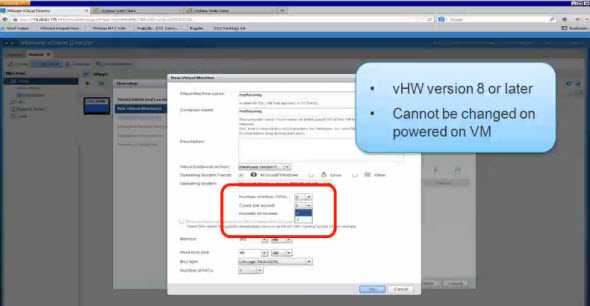 Now with single template I can now provision different VMs depending of the needs for each of those. Change the size of disks, change number of vCPU or cores. Previously you have to have different templates.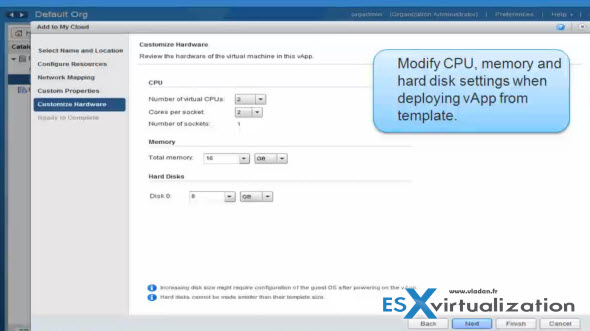 Also you now have the possibility to customize guest OS.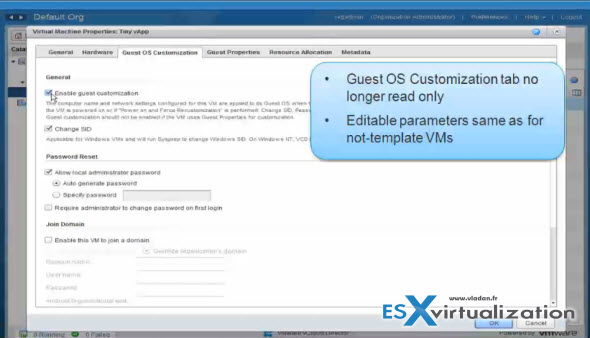 Hot add/remove disks and NICs – you can now hot add disks when the VM is running. Once the disk is added you do have to go to the guest OS and partition and format the disk.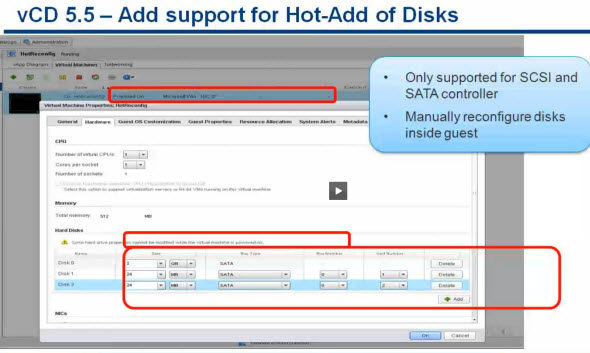 You can also grow existing disks with a limitation to normal disks. A linked clones, VMs with snapshots or fast provisioned disks cannot be extended.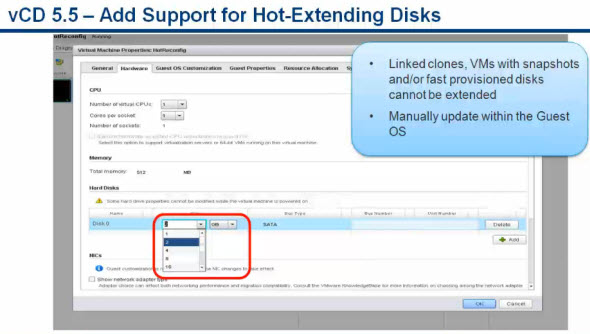 Hot Add Nics is possible in vCD 5.5, where the limitations are as follows.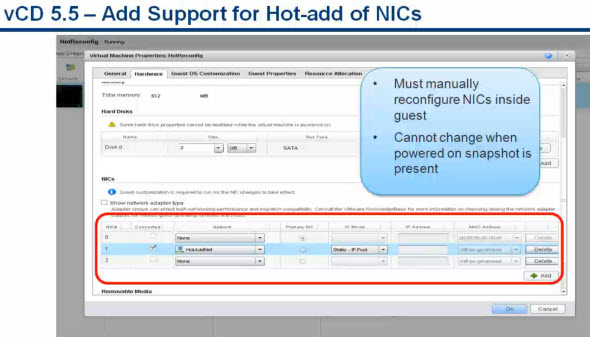 Hot Reconnect NICs – with exception of primary NIC while the VM is running…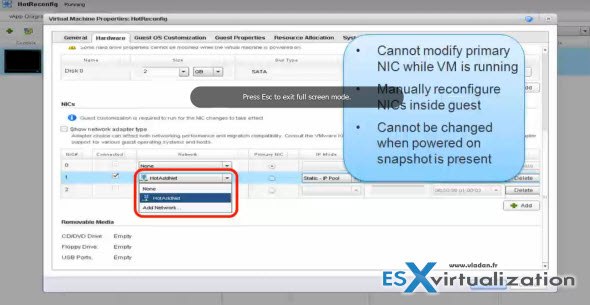 A screenshot for handling USB devices connections to the VMs from the console.
Virtual Hardware 10 Support  – this is managed through the VMs wizard, when creating new VM. There is new support for SATA disk controllers.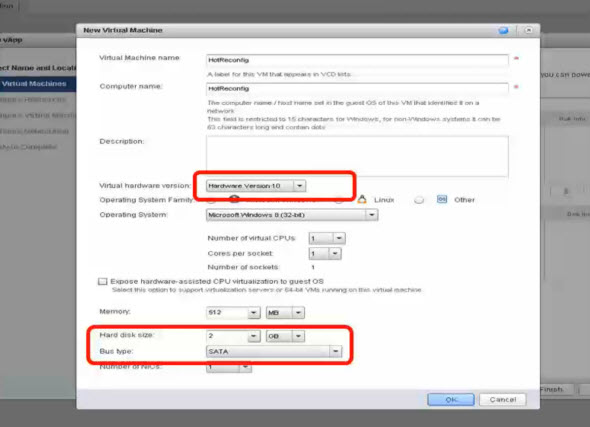 Possibility to clone running VMs with Memory State
Running or Suspended VMs or vApps can be cloned
Including Memory state
You can also Add suspended vApp to the content catalog
Export suspended vApp template to OVF (memory state is not included in the export)
Limitations
If you export to different vCenter willing to copy, the memory state is discarded
No customization of VM settings on suspended VMs
Needs vCenter 5.5 or later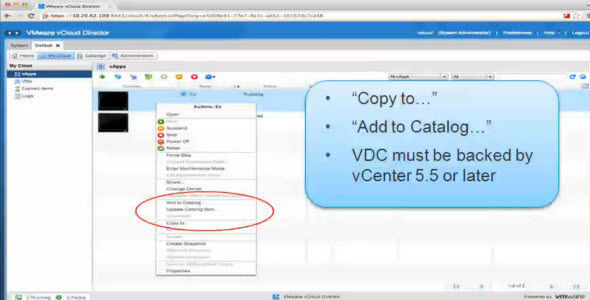 You'll get a warning message when copying between vCenter servers to inform you that the memory state will not be included.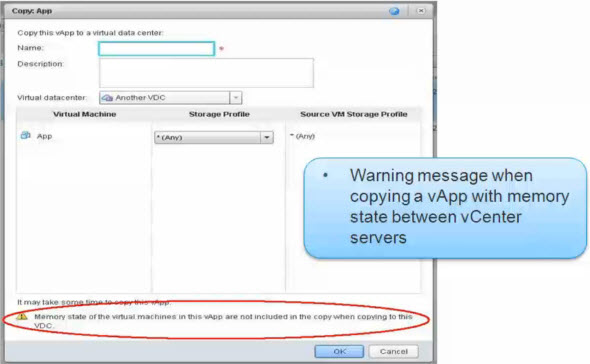 OVF Import/Export Improvement and Enhancements
OVF Import/Export allows now a direct uploads/downloads from the VDC. You can also see the uploads and downloads. A resume function can now handle broken transfers.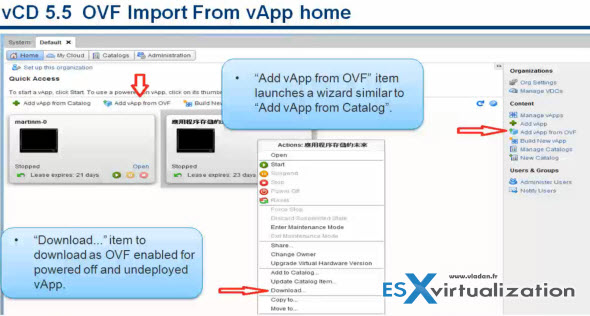 And on this screenshot you can see the possibility to see the Upload or download.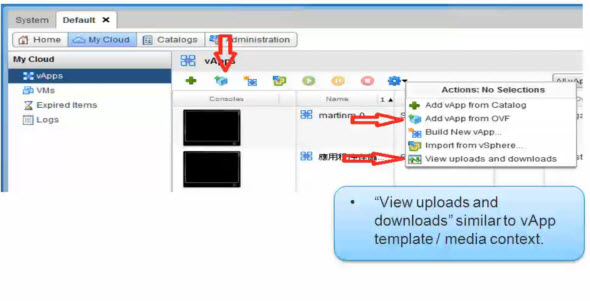 vSphere 5.5 Release:
vCD 5.5 – VMware vCloud Director 5.5 New and enhanced features – this post