There are many ways to upgrade VMware ESXi Hypervisor. Depending on whether the host is part of a cluster or not, managed via vCenter server or standalone host. Also, you might consider different scenario if you have 2-3 hosts to upgrade or if you need to upgrade 25 hosts or more. So it depends on use. VMware recomusingVMware Update Manager (VUM) for updating and upgrading hosts, but also VMs, VMware tools or Virtual Hardware Versions. (VHV). And the tool can orchestrate the operation within clustered environment by putting hosts into a maintenance one by one in order to keep your VMs running.
The new Update Manager information is managed by the vCenter vPostgress installation, although it is stored using a separate schema.
However, an upgrade operation isn't usually simple. It requires some planning, and it is also necessary to check if your hardware is on the HCL for the ESXi 6.5. If yes, then look at the combination of Firmware and Driver version which you'll need to install, for your particular NIC card(s) or storage controller. All this must be done BEFORE upgrading. You might want to check one of my (successful) posts which give you details on how to check for the firmware version and driver version from a command line: ESXi Commands List – networking commands [Part 2].
Another consideration would be the fact that your hosts have the exact same hardware configuration, or have the same physical NICs. In this case you can also VMware Update Manger (VUM) to first upgrade the NICs with the proper driver supported in vSphere 6.5.
I have already covered 3 different ways you can upgrade ESXi 6.0 to ESXi 6.5 but today we'll try to do our last host – via VUM:
How to upgrade an ESXi 6.0 to ESXi 6.5 via VMware Update Manager – [This Post]
Requirements – vCenter Server, vSphere Update Manager (VUM). In my case, I'm using my freshly deployed VCSA 6.5.
Step 1: Check your NICs, Storage controllers and other hardware against VMware HCL.
Step 2: Open vSphere web client and select the host/cluster you want to upgrade, click the Go To Admin View button and select the ESXi Image tab > Import ESXi image.

Step 3:  Create a baseline.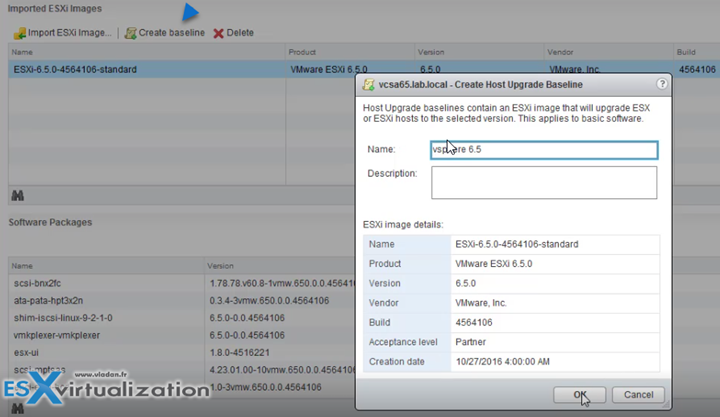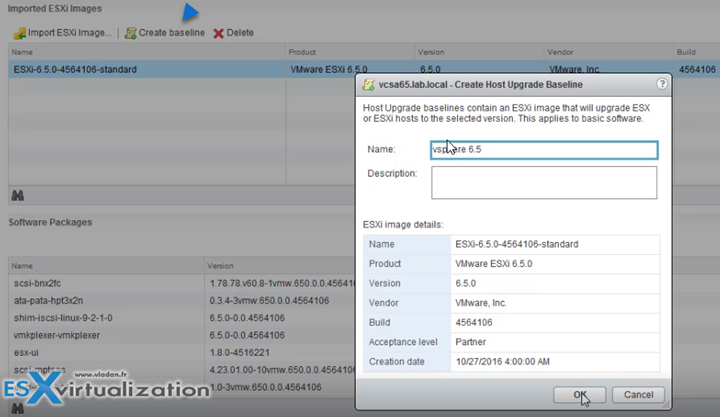 Step 4: Go back to compliance view > Attach this baseline to your ESXi host (or cluster) > Hit OK Button.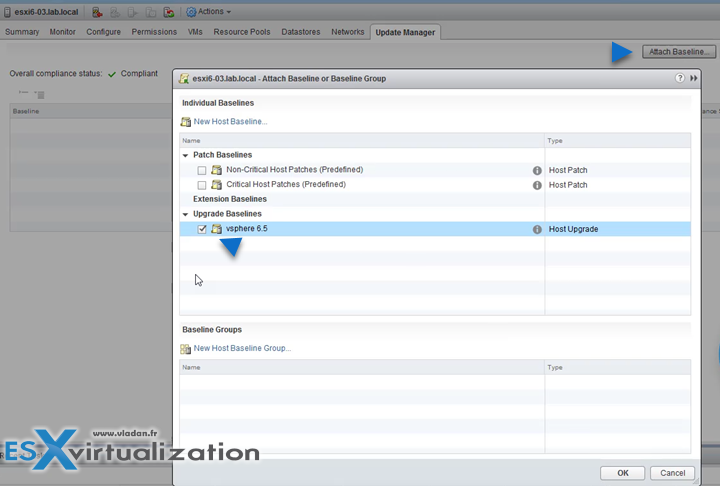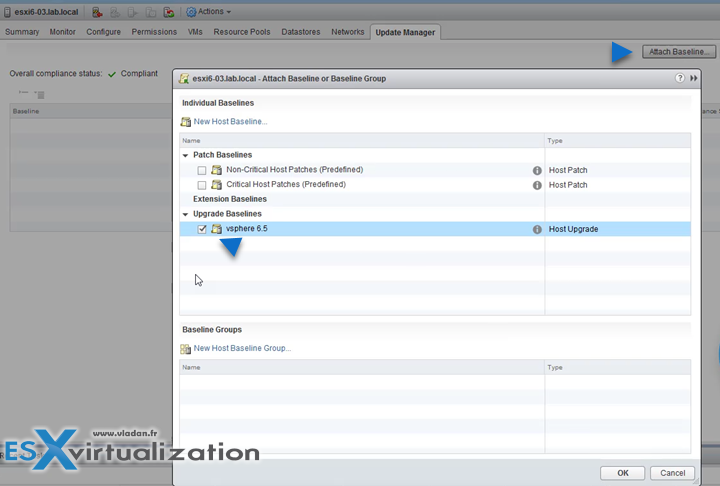 Step 5: Then hit the Remediate button to start the remediate assistant.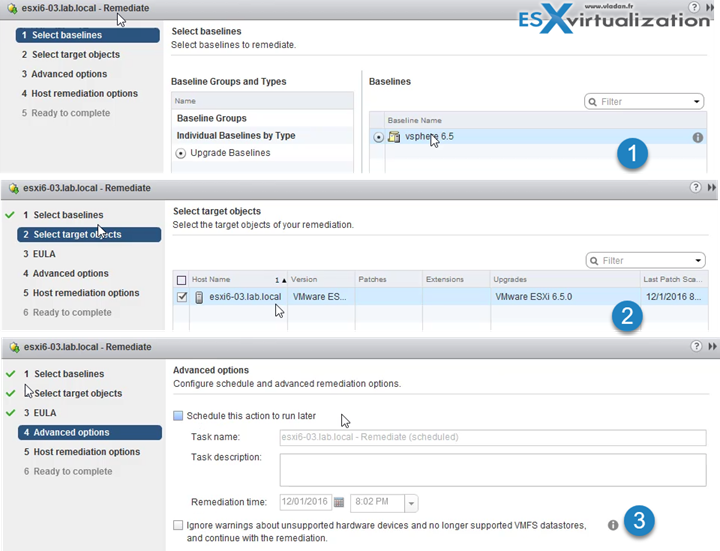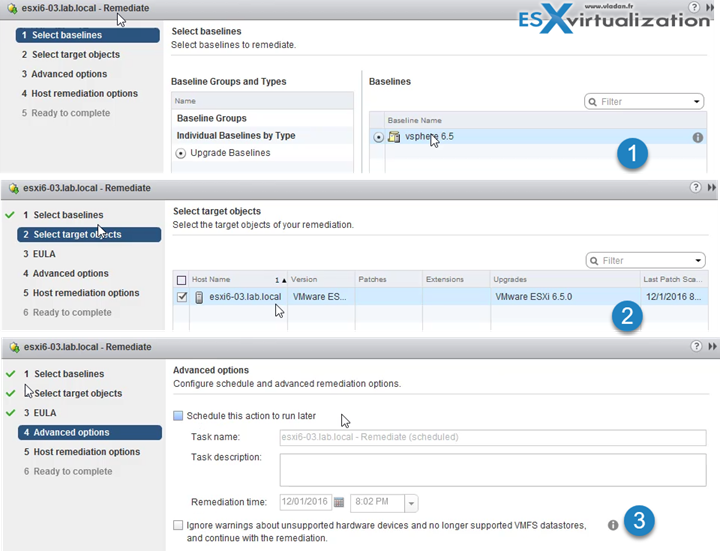 And the option where you can save your remediate options for future use….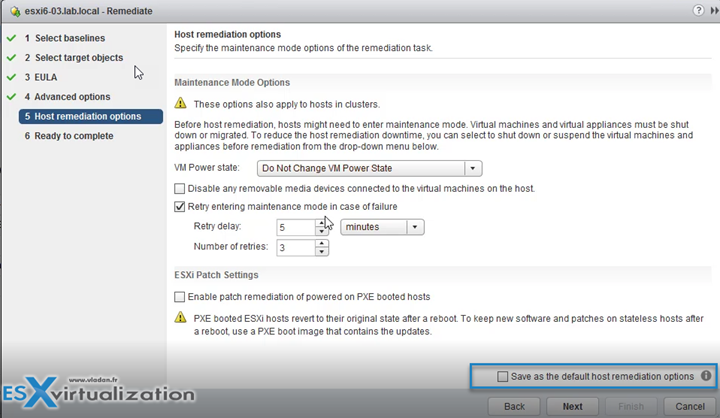 And the final result….

Check the whole video detailing all the steps. It's a 1080p HD video. Enjoy…
Check All vSphere 6.5 articles on our Dedicated vSphere 6.5 WordPress Page !!!
VMware vSphere 6.5:
How to deploy VMware VCSA 6.5 (VMware vCenter Server Appliance) – [This Post] (New !!)
Stay tuned through RSS, and social media channels (Twitter, FB, YouTube)