VMware vSphere Client for Windows is officially dead for vSphere 6.5 but for earlier versions you can still use it. Many VMware and IT consultants are still using it when they visit their clients on older vSphere infrastructures. You perhaps still prefer the old vSphere Windows client for Free ESXi hosts too… so this post is a recap about VMware vSphere Client Download Page, which exists, and which has different versions of those old Windows clients available for direct download.
Before you go and head to this page, let's talk a little bit for which usage one would still need an old version of vSphere client. When working with many VMware customers, you need many versions of vSphere Client for Windows installed on your system (or in a VMw with VMware Workstation or Player). Would not be a good idea to have a single VMware vSphere Client Download Page from where you could easily download the ones you need?
So far, with each release of VMware vSphere, there has been not only a download of the particular version of vSphere, where within the version bundle you have the vSphere client embedded on the vCenter Server ISO, or Some vSphere version does however provide a link directly to the client download while you are at MyVMware.com.
This is kind of bulky. You have the tool which is free but within a vSphere bundle only. But now, it's centralized by VMware. So you don't have to search all over VMware site, version after version,  in order to install. The collection of all those links are now centralized to a single VMware vSphere Client Download Page.
It's already on since some time, but I haven't seen any other bloggers writing about that. So, if you are not aware, there is a VMware KB which lists all versions of available VMware vSphere Clients starting with version 5.0.
VMware vSphere Client Download Page – Where?
Here is part of that list (incomplete). You'll find few last versions of VMware vSphere client for Windows (not all of them, you'll find the link to All available clients at the end of this article).
To have all the list of all clients, follow the link below. You can find also vSphere 5.1 and 5.0. That's all. vSphere 4.0 isn't available for download, and I think that nobody runs 4.x environments any longer.
Yes, this is the end. The end of vSphere Client. No longer you'll get this one with a new version of VMware vSphere. Retweet if you're nostalgic…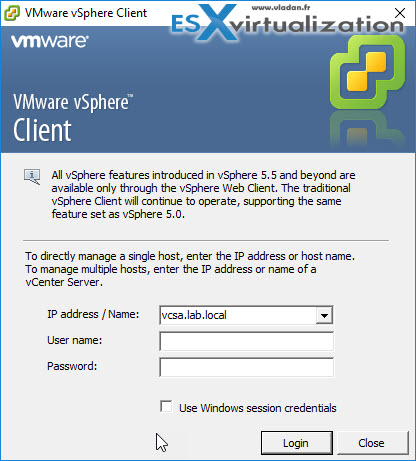 For vSphere 6.5 there is no more vSphere Client for Windows…
Which is the vSphere client version for which VM hardware version?
This is an interesting question. With each new version of vSphere, there is a new version of the virtual hardware, and the possibility of management. For example, you cannot manage, modify or create VMs with Virtual hardware 13 (vSphere 6.5) with vSphere Client 6.0 or you cannot manage virtual hardware 10 (vSphere 5.5) with vSphere client 5.1.
In VMware vCenter Server 5.1 and 5.5, virtual machines can only be created with hardware version 9 and 10 from the vSphere Web Client. However, you can upgrade the hardware version using the vSphere Client.
Screenshot from VMware KB 2007240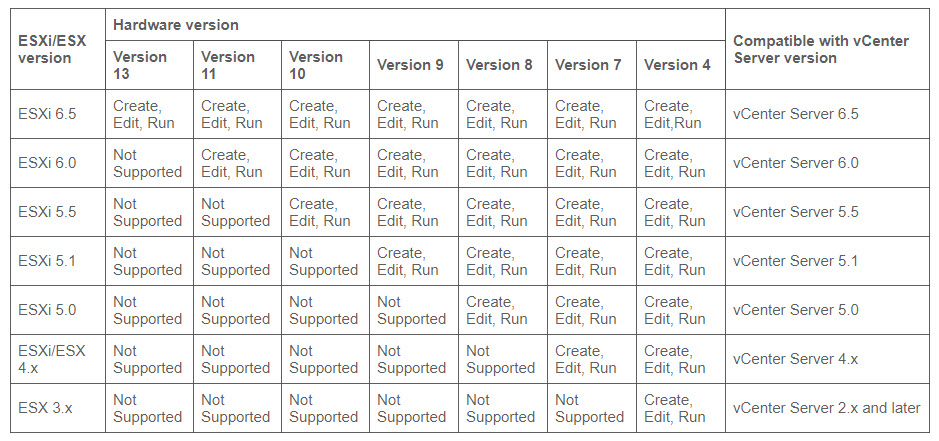 You might be wondering, where is a VM hardware version 12?
Note: There is not VM hardware 12 on the list.
Why? Because it was released only for Desktop virtualization products such as VMware Workstation and VMware Fusion.
You might experience an error saying that you cannot use the vSphere client to edit the settings of virtual machines version X.X. In this case, you need the propper version of the client or go and use Web client.
As being said, the download page, the VMware KB article with All availabe VMware vSphere Clients is here – Download URLs for VMware vSphere Client (2089791)
Wrap Up:
VMware continues to improve the vSphere Web client. Recently there was a big problem due to a dependency of Adobe Flash player. What happens is that the Flash player update which triggered within many infrastructures has completely crippled the access to a vCenter server by continuously crashing. Whether you reload the page, it crashed again. Sure, you still had the HTML 5 based client, but this isn't 100% complete just yet.
As the vSphere Client for Windows wasn't available any longer, clients had the choice to use the incomplete HTML 5 client for clustered based tasks or the HTML 5 based Host client which is pretty good as well. Note that for vSAN monitoring the HTML 5 host client has also recently implemented some additions and you can monitor your some of the vSAN functions via this client as well.
It will certainly be interesting to see, whether VMware plans to introduce some kind of redundancy to vCenter server management, through HTML 5 based host client. It would certainly help in situations such as vCenter server unavailability or vSphere client unavailability.
Whether VMware vSAN development is fast with many updates within the past few years, we cannot say the same about VMware vSphere itself. The vSphere 6.5 announce was 18th of October 2016. We're at the end of 2017 and it does not seem that we will have vSphere NEXT anytime soon even if we could manifest some interest by participating on vSphere Beta recently. If you're interested in vSphere Beta release read that post and go to the registration page.
More from ESX Virtualization:
Stay tuned through RSS, and social media channels (Twitter, FB, YouTube)