After a long travel home, I'm still full of excitement, full of impressions and good moments from this year's VMworld Barcelona 2016. Contrary to other years VMworld this time VMware has announced more "important stuff" here in Europe. VMworld Barcelona 2016 uncovered VMware vSphere 6.5, VSAN 6.5, but also, more importantly (for some) the new VMware cloud strategy, which now seems to be rock solid. VMware and Amazon AWS finally stop competing (or trying to) against each other, but rather cooperate to offer VMware customers, I hate to say, "single pane of glass" management UI for private and public cloud.
During the General session, we have assisted to a demo allowing to create a new cluster on Amazon AWS and migrate a VM from our on-prem data center to Amazon AWS datacenter. VMware on AWS runs there directly on the physical hardware. VMware Virtual Machines running on AWS can further use over 70 AWS services covering compute, storage, database, security, analytics, mobile, and IoT. Customers will be able run latency-sensitive workloads such as databases on Amazon Aurora or Amazon DynamoDB or use the Amazon Redshift warehouse for petabyte-scale data analysis.
The system will be powered by VMware Cloud Foundation, which will integrate compute, storage, and network virtualization products (vSphere, vSAN, and NSX), along with vCenter management, and optimize it to run on next-generation elastic, bare metal, AWS infrastructure.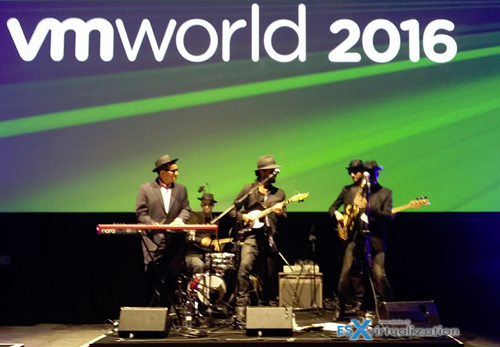 VMware vSphere 6.5 is a significant release, which I covered partly with a series of blog posts, and there will be more and more articles on my VMware vSphere 6.5 WP page.
I've participated this year as a blogger (Thanks to Corey Romero, Tony Dunn and the Social media team from VMware for inviting me again). Without the blogger pass, otherwise, the event would not be quite possible.
I did meet many "old" friends, bloggers, IT engineers, VMware admins, consultants or VCI trainers. I also met many new friends during the event. It's always a pleasure to find folks you know that they are super friendly and super cool. Like this on the photo with Jorge de la Cruz and Fred Hofer.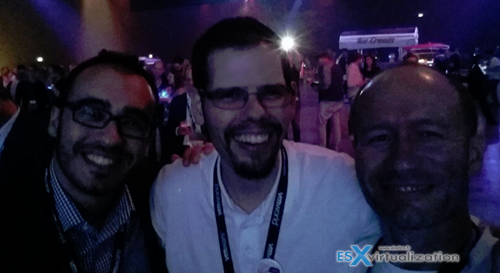 I spend again some good time at the Bloggers lounge, where people could find me with my ESX Virtualization T-Shirt. That's where I met Amit Panchal or Fabian Lenz and many others. We had a small talk about productivity and I talked about productivity on MAC or Productivity on Windows. Well, it is not about those OSs, but rather on the applications which you need for the job to be done. In my case, I'm a power user of Snagit software (on Windows) which has the Watermark feature, but the same software on MAC does not. If I were to switch to MAC, because of this I would have to change the workflow (perhaps would have to layer the Watermark), possibly seek for a new software…. That's some drawback which holds me back for now, for being a MAC user.
The other thing is to price of the MACs in Europe, and in general. But the price is not a principal problem. We all like cars, and we don't hesitate to buy (if we can) nice Mercedes, Audi, BMW or other high-end cars just to have the best. For a MAC it can be a similar thinking….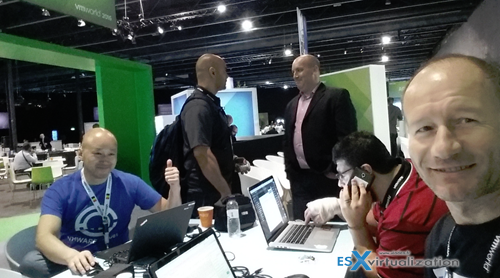 The event was packed. I don't have the numbers, but I feel that there are more and more attendees every year, in Barcelona. We had some good time during VMUG party where we even had a chance to watch interesting choreography with a very innovative group of people. The lighting, a choreography, and movements will stay in my memories….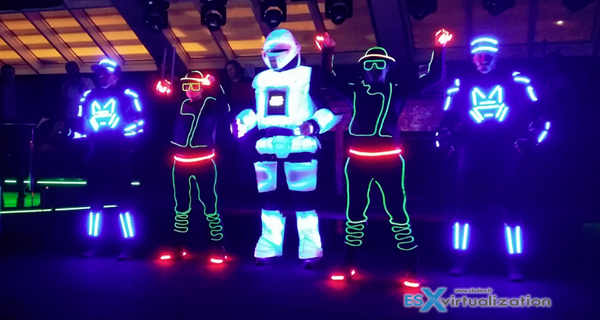 I'm impatient to discover the new vSphere 6.5 when it will be released (currently still in RC), as the platform has  not only matured since the vSphere 6.0 release but also will offer quite a few significant enhancements and performance improvements.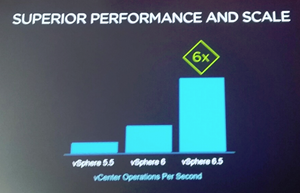 Another year, another VMworld. For me, it seems that It's been just few "moments" ago traveling to my first VMworld, at Copenhagen 2010 and meeting  -:)…. Yes, the time go fast, and I'm glad to be back home, at Reunion.
Some videos from VMworld Barcelona? There are plenty of them. Quickly:
VMworld Videos:
Sessions can be found from one VMware page. See the videos from VMworld here (just needs to fill in your e-mail address).
There is also many videos done by VMware TV, freely accessible on YouTube via VMworld TV YouTube Channel.
I have done few video interview for partners, as I usually do. You can have a look here:
I'm sure that there is more and if you have some more time, check YouTube for that.
Stay tuned through RSS, and social media channels (Twitter, FB, YouTube)