VMware Fault tolerance (FT) has historically used vLockstep technology, which had been replaced in vSphere 6.0 by another technology called fast checkpointing. My detailed post – VMware vSphere 6.0 allowing to configure 4vCPU in a FT protected VM.  vSphere 6.5 is pushing things forward and improving this technology even further, especially from a latency standpoint, which was a principal pain point of non adoption.
As you know, the FT technology uses a concept of Primary and Secondary VM. The primary VM is the original VM and the secondary VM is an exact copy of the primary. The primary VM has to acknowledge the changes made within the secondary VM, so latency was an issue for apps which requires low latency.
Latency which made some application almost unusable or unsuitable for FT will now be able to finally benefit from being FT protected as the latency has dropped compared to the 6.0 release, by up to 10x. Details to follow. This and more about VMware vSphere 6.5 FT in this post.
Improved DRS Integration
VMware vSphere 6.5 will be able to take better decisions concerning which host will be the best host to run the secondary VM. You know, when you activate the FT, the system will ask you about where you want to place the secondary VM? The initial placement of a secondary VM.
Now with the vSphere 6.5 release, some more elements are taken into an account, for example:
Network bandwidth which influences host rankings – The system will look into a network throughput and those metrics are taken into account when decisions are taken "where" to run a secondary VM.
Ranks datastores for secondary VM – you'll be able to choose to which datastore you'll place the secondary VM. The ranking will be based on the space available on the datastore, so you'll have to choose not only a host where to run the secondary VM, but also a datastore where to place the VMDK.
Those two elements will improve the experience for the initial placement of FT protected VMs.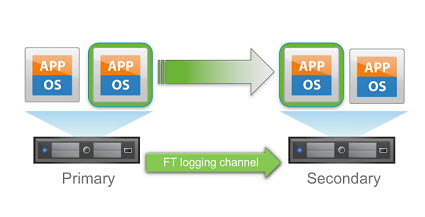 Network Latency
Let's talk about the details, about network latency. VMware has spent quite a lot of time to see what can be done concerning those latency problems.
The FT technology has changed in vSphere 6.0 where no more vLockstep technology is used for FT, but another technology called fast-checkpointing. FT allows 4vCPU VMs and 64 Gb of RAM per VM. The host limit with FT protected VMs is 4 within the vSphere 6.0 (We don't have information if in vSphere 6.5 this limit was lifted or changed). From the networking
From the networking perspective, it's required to have 10 gig network (or more) as single FT protected VM will use 1 gb (or a bit more) of network bandwidth. (Note that that was the v6.0, but it seems that it is the same in the 6.5, but more work on the latency has been done).
For vSphere 6.5 and the FT – a first early tests were taken and here are some results (Note that a performance Whitepaper will be updated and released by the end of the year):
Netperf TCP_RR and TCP_CRR – improved by 3x
Netpref TCP_STREAM and TCP_MAERTS – improved by 10x (that has data flowing from the netserver to the netperf – this is opposite of the classic TCP_STREAM test)
Ping RTT – reduced by over 7x ( The ping RTT test which tests the latency between the primary and secondary VM).
Multi-NIC FT
You'll be able to tag multiple physical NICs for FT traffic. Awesome…. The same way this works for vMotion – Multiple-NIC vMotion (since the vSphere v5.0 I believe… )
You can get more lanes for FT traffic. It will improve the performance of VMs doing a lot "in-memory" work by using those additional lanes for FT traffic.
VMware vSphere 6.5:
VMware vSphere 6.5 Fault Tolerance (FT) Improvements –  [This Post]
Check our VMware vSphere 6.5 Page for ALL details about new announces and releases.