VMworld Barcelona 2015 and a new announce from VMware concerning their New Cloud Management Products within the suite. There are significant updates in the Q4 concerning the management platform. The vRealize Automation 7 which has converged blueprints, simplified deployment, NSX integration, DevOps-enabled (built-in) and also vRealize Business 7.0 (vRB) which we'll detail in this post. Also completely re-designed vRealize Orchestrator 7.0 with brand new UI (now called Control Center) which you'll love!
While in San Francisco we have had some major updates on vSphere storage with VMware VSAN 6.1, VMware SRM 6.1, some of you might be dissapointed  with few new feature vSphere 6.0U1 added, like vSphere Cloud Manager for migrating workflows between OnPrem and cloud environments.
vRealize Business 7.0 Announced – What's new?
Architecture changes:
Separate data collection within appliance, to be able to collect data locally in different geographical locations via Remote data collector.
Support for vRA 6.0 AND vRA 7.0 – previously you had to upgrade if you have upgraded vRealize business…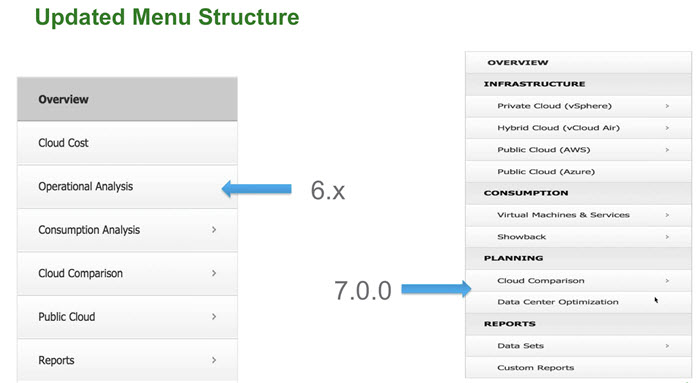 Unified analysis of Private and Public cloud – the data from public and private cloud are brought together, within the same screen.. From the single view you can see the costs (now renamed to Expenses) within the private and public cloud.
Newly added a VSAN integration costs – with the streamlined view within the UI now there has been done a VMware VSAN integration as well as SRM.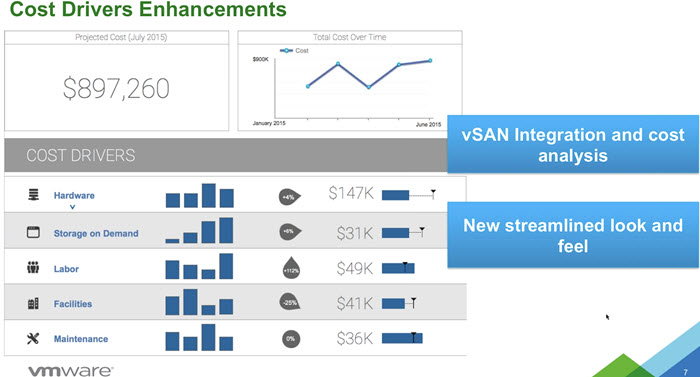 The new v7.0 tabular design…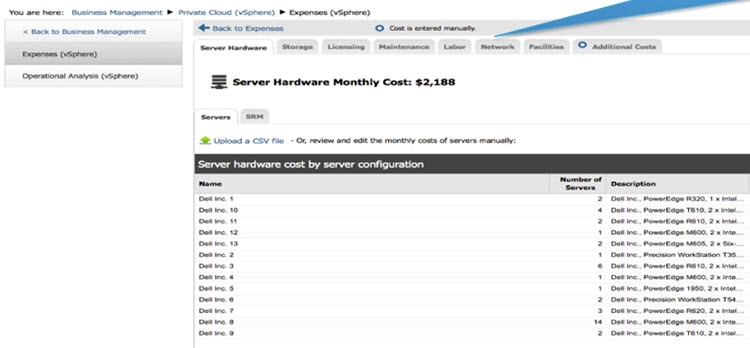 Multi-source Business Unit Hierarchy and Multi-source Business services Hierarchy – It's possible to define groups of VMs from vRO and vCD. The same for business services. You can groupe VMs by blueprint, by vAPP or by folder. (across public or public cloud). All the cost information is available in single dashboard.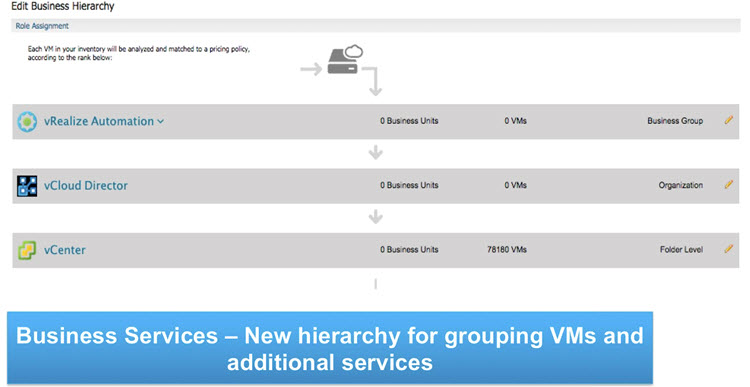 Pricing policies
cost – what the provider pays
price – what you charges the consumer
Current running costs. There are auto-generated pricing policies for private and public cloud. Based on the reference database. You can provided other costs as well. You pull in the pricing policies, from the inventory and from the running VMs. You'll be able to see your running costs per day.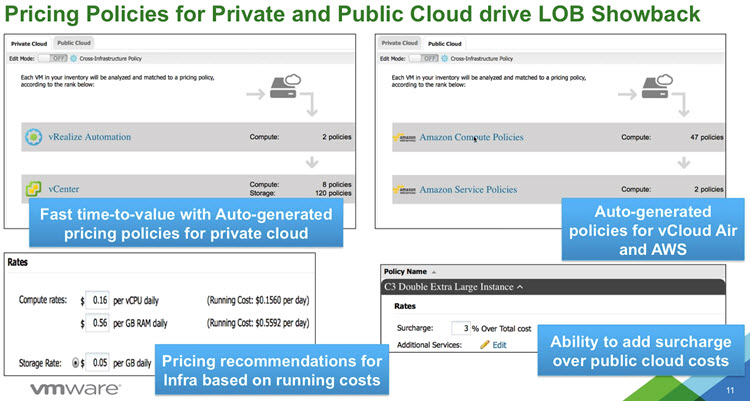 IaaS Pricing with vRA/vRB integration
vRB pricing policies are for all vRA end points.  vRB Pricing policies replace vRA cost profiles (from v6.0). The upfront pricing in vRA catalog are basd on vRB policies.
You'll be able to digg deeper to get further details on vApps, where you can how the details of the costs for each VM of a vApp concerning the vCPU, Memory, storage and also a daily cost or total lease cost.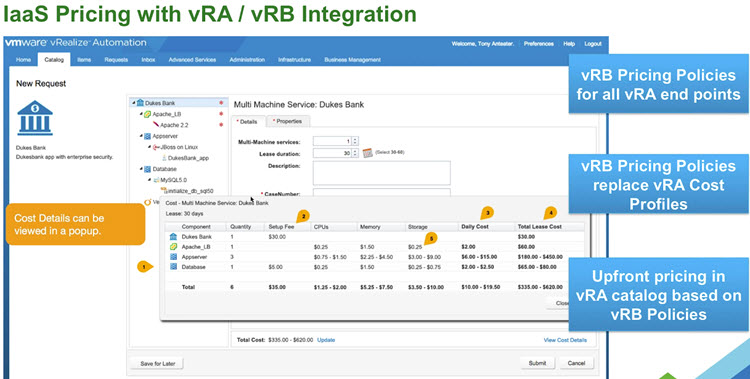 Provider View.
From the providers side they will be able to analyse cloud costs and charges by Line of business. Also they will see margins, the top consumers, over or under budget by consumer.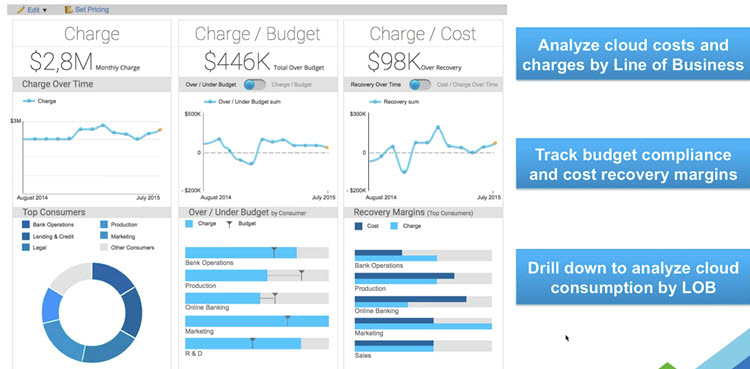 Consumer View.
The consumer will be able to log in and see their monthly charges, what's the budget or what's the projection for upcoming months. They will also be able to see the top business services (the most consuming).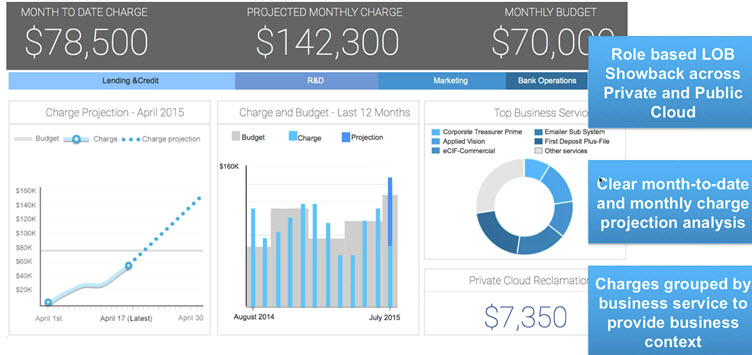 Datacenter Planning – Newly introduced per-datacenter planning (pulling data from vROPs). You can add more VMs into the prediction and you'll see the impact on the overall costs and also what's the remaining capacity within the datacenter. Useful for clients which are runing projects, to give them details what's particular project will costs how much resources it will consume.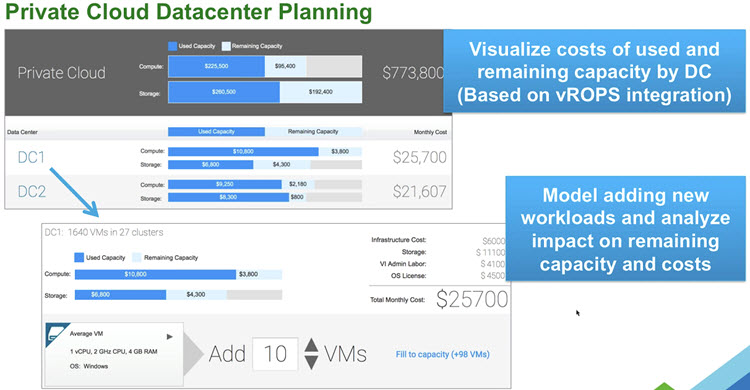 Based on vCloud air on demand (vCA On-demand) as well Disaster Recovery as a Service (DRaaS), vCloud Air Governement Services (vCGS). You can drill down through different offeirngs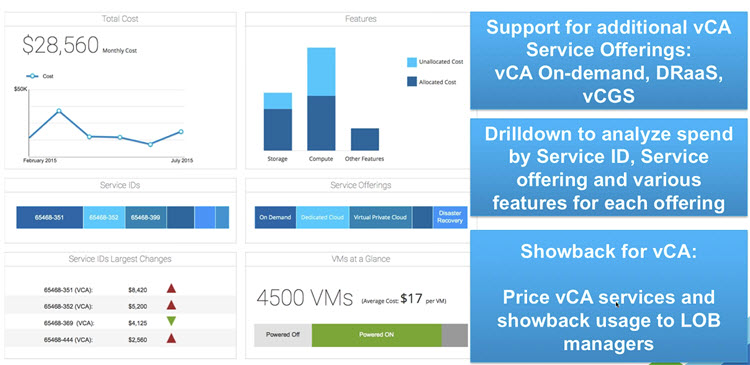 You can group AWS EC2 Instances by Accounts and Tags (better granularity), visualize EC2 breakdown of Reserved vs On-demand type of services. You can price those services, to show them to the clients.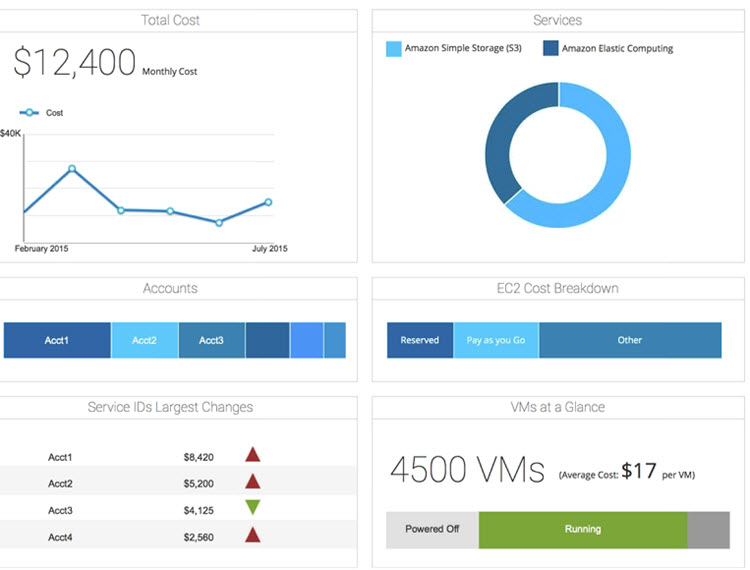 Cloud Cost Comparison
You can compare the costs from different cloud services
Added vCloud Air Government cloud services, AWS GovCloud. You can add additional cloud providers. Possible for clients to import your own pricing (the one you have right now). The client will actually create "My_AWS" and then input their own pricing, their costs, format as template, which is available to them.
It's also possible to add advanced services, like Load balancers, IPs, etc…

Reporting Enhancements
It's possible to freeze, hide/show existing columns
Create new columns based on tags/custom properties
Add Aggregation/group-by to existing grid reports
Create Ad-hoc charts based on grid reports
Save custom reports in a common report repository
Rest API Available for all reports (in advanced licensing only)
Historiacal showback reporting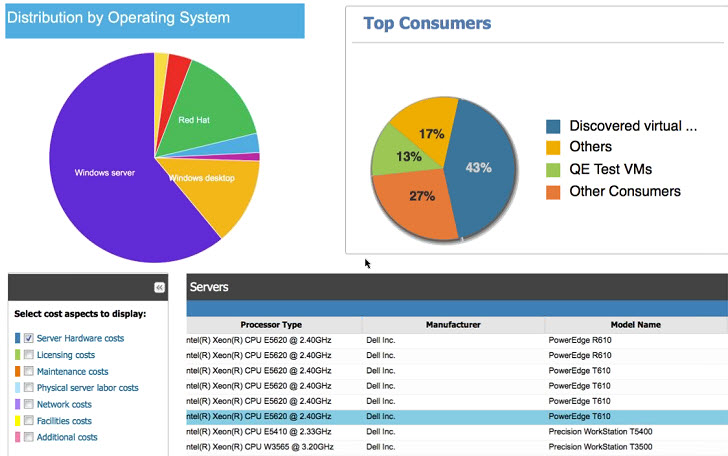 You can enter your own operational costs, for your own hardware (purchased or leased), your own pricing. Licensing costs allows adds cost for VMware licensing while running on private cloud. For users on previous releases for vRB, there wasn't any information concerning upgrades. I'd suggest to getting back to VMware on that if that's your case. Stay tuned for other releases during VMworld Barcelona 2015.
Check out vRealize Orchestrator 7.0 which has simpler, HTML 5 based UI! And also don't miss big update on vRealize Automation 7.0!