vRealize Operation Management 6.0 announced today pushes a step further the integration with vSphere. The product is completely integrated into vSphere web client (single UI with access to all object types) and not as a separate management product. vRealize Air announced in San Francisco was just a preparation on what's really coming in Q4 and what will be further announced during VMworld Barcelona 2014.
I'll be reporting in depth on what's available and what's coming during the show as well as I'm present in Barcelona.
vRealize Suite will alighn with the other management products to form a full management suite based on the name vRealize Suite 6.0. Here what's look like the individual software components that were just announced here in Barcelona. Those products will be available in Q4, but VMware did not get more precise date on when all those products will be GA.
Here is the list of products that will be inside of the vRealize Suite 6.0:
vRealize Suite (vCAC + vC Ops Suite + Log Insight + ITBM)
vRealize Operations (vC Ops Suite)
vRealize Operations Manager (vC Ops)
vRealize Operartions Insight (VSOM addon, vRealize Operations + Log Insight).
Other products will complete the whole family:
vRealize CodeStream 1.0
vRealize Air Compliance (Beta)
vRealize Suite 6.0 will offers clients to manage the whole infrastructure on demand – as a service.
Possibilities to use Management As-a-Service
Possibility to manage across Private, public and hybrid cloud with flexible consumption models
The naming changes. I know it might be difficult as everyone is used to vCOPs etc.. but now we'll have to deal with vROPS…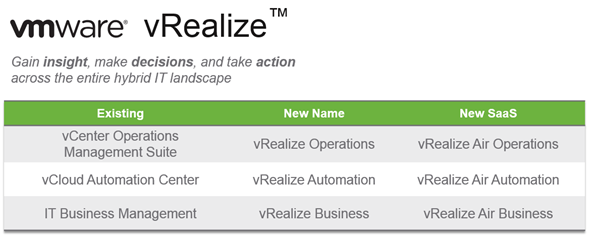 With that said the commercial offering is aligning so the On premise as well as Off premise management is possible, as well as management of Hyper-V, KVM, Openstack, Amazon AWS and other physical systems.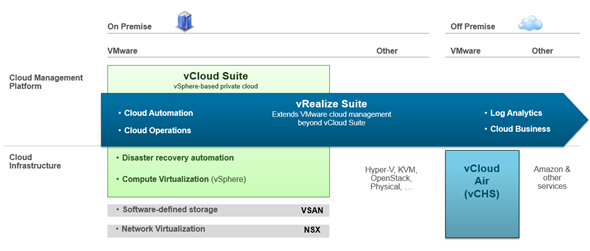 vRealize Operation Management Suite 6.0 – New and improved features
Increased Scale of a single deployment
Cluster – shared data and UI
Resiliency (application RAID!)
Smart alerts with problem-definitions
Customizable Dashboards and Reports (drag and drop to create new)
Advanced capacity modeling via possibility to save capacity project and do a what-if analyse.
Public APIs released to partners in order to work on additional extensibilities.
Newly the product will feature a management pack integration (add-ons) which will be delivered by VMware and partners for specific storage devices. There is 40-50 management packs available on the VMware Solution Exchange and those management packs can be installed inside the vRealize Management Operation. (vROPS)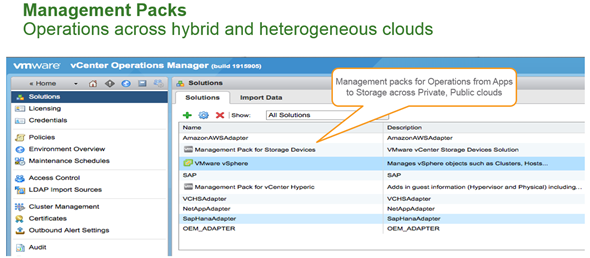 Platform Enhancements – Scale-Out
The architecture has changed as well (there is no more UI VM and Analytics VM like int he vCOPS 5.8) . It's using "slices".
The appliance works in cluster, and from within the dashboard you'll be able to deploy/add an additional appliance (node) to the system to scale out. The solution is highly resilient, by using Gemfire to spread the data across at least 2 nodes.  Two slices has the copy of the data (at least).  If there is a failure of one of the slices, then another slice takes over.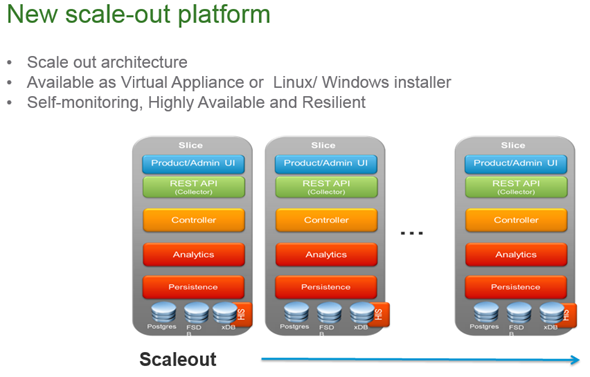 There is self-monitoring dashboard as well within the vROPS where you get the information about the nodes (slices) and the health state of the cluster.  You can click to enlarge.

First Config Wizard!
when you first deploy the vROPS, you can follow the simple First Config Wizard. The solution will then follow the options which you have selected and how aggressive the calculations to be.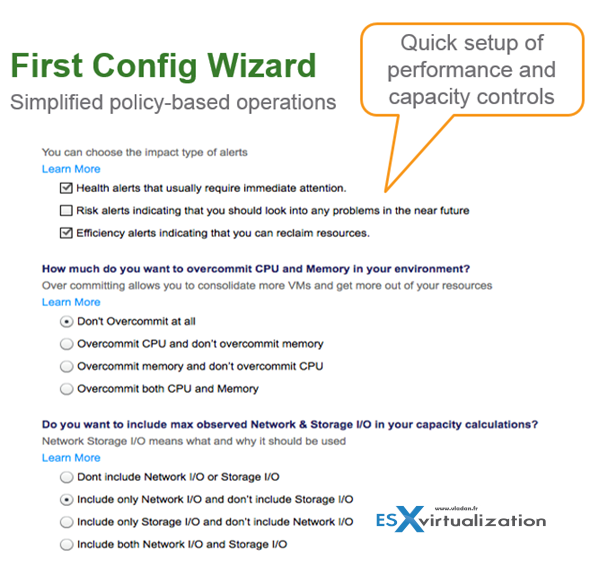 The Dashboard now shows Top Health Alerts!
So for example you have an alert like this: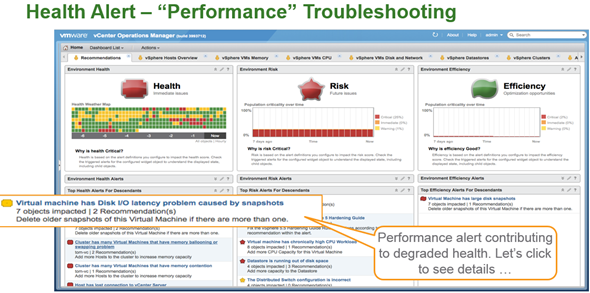 By clicking the alert you're taken to this screen where you can see a problem take a decision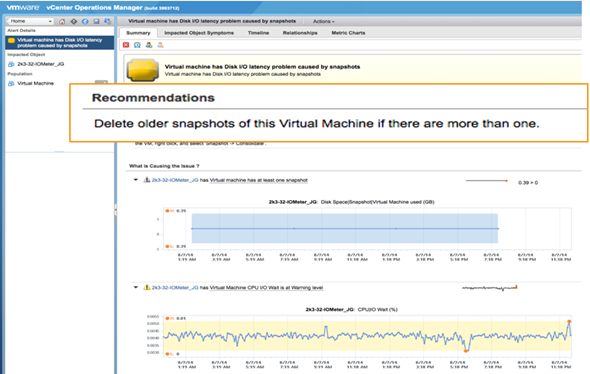 This might even get further enhanced with scripts which would automate the remediate actions. It's possible to and/edit/remove the definition and remediate actions.
Further deeper analytics can be analyzed via Log Insight where the unstructured data can be analyzed by log Insight which would analyze the unsturctured logs that can be routed back to vROPS and bring up a notification window when the problem happens again.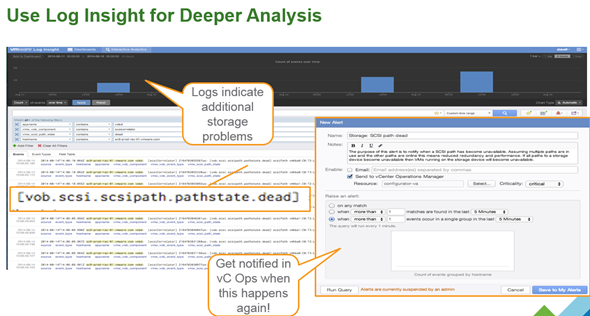 New:  Views and Reports
Any view can be converted into a report. Multiple views can be combined into a dashboard.
And view can be added to a report or to a dashboard.
View Creation – simple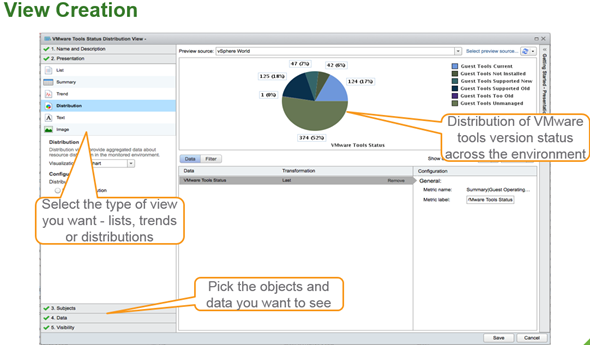 Or here you can see the report creation: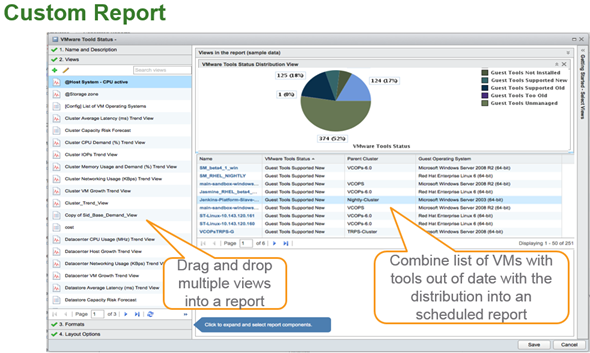 There is a follow up post on  Management Packs for vRealize Operations Management Suite 6.0. Check it out!
Other Announcements from VMworld Barcelona 2014:
vRealize Operations Management Suite 6.0 Announced (vROPS) – (This post)