VMware has announced vRealize Automation Center 6.2 (vRAC). A product previously named vCloud automation center, but with the name changing scheme recently introduced – vRealize – the product's name has also changed into vRealize automation Center.
In Q3 2014 a vCloud Automation Center 6.1 introduced new consumer API with multiple interfaces as well as enhanced integration with vCloud Suite (ITBM). Also the NSX has been integrated into the VCAC. Twelve international languages or the UI has also been introduced in the 6.1 release. The user's experience has been improved allowing enhanced HA deployment.
What's new in vRealize Automation Center 6.2?
Enhanced Integration between vRealize Operations (vROPS) and Automation (vRAC)
Health status displays
Reclaim Inactive VMs
Admin Friendly CLI
– simplification of scripting for vRAC commands
Enhanced Ednpoing support for:
vSphere 6 (Q1 2015)
XenDesktop 7
Enhancements to vCloud air
Proxy Support
Pay as you go support (Q1 2015)
Example of the operation visibility in vRAC. Screenshot shows different VMs with their health status (in list view) whether in detailed view the health status in on the right: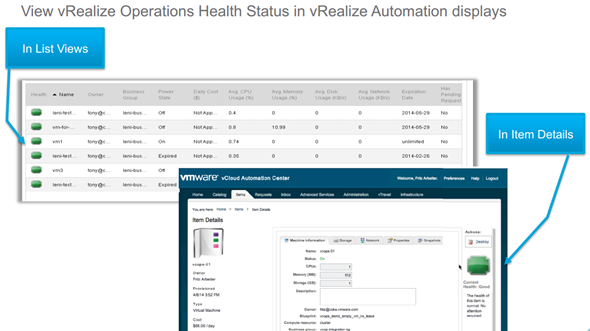 Inactive VMs reclamation.
It's possible to manage machines by all users in a tenant, and identify underutilized VMs and send requests to reclaim unused resources.  The reclaimed machines can be shown in a report by Group and by Owner, which can show the type of VM (single VM or vApp) and how many VMs has been reclaimed. To give an idea of how many memory has been reclaimed, with storage etc…
The process of identifying of Unused VMs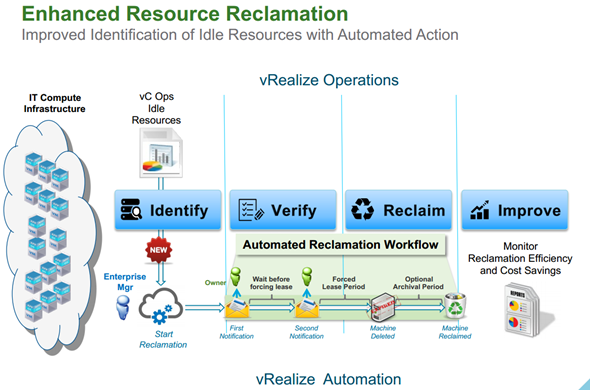 So after setting some thresholds you can start reclaiming: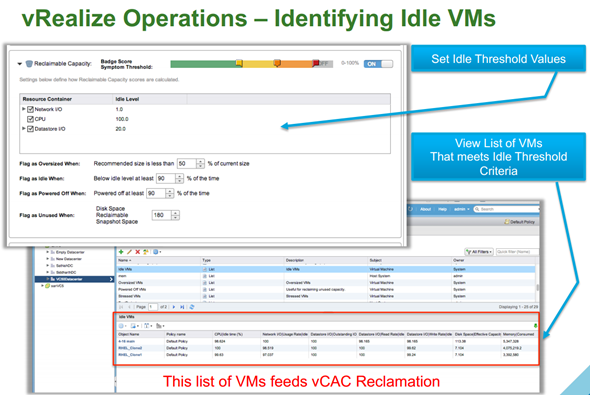 The UI of the vRAC with the Reclamation function: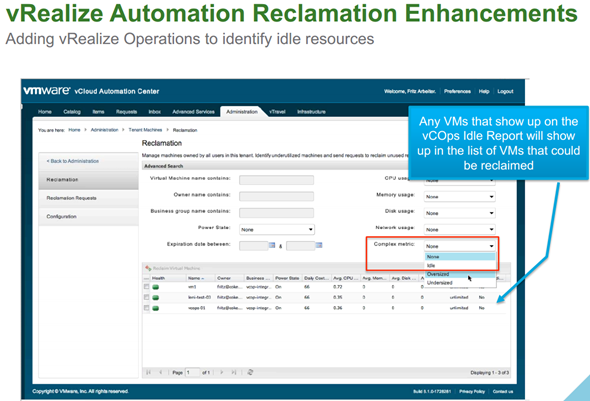 Here is an example of report showing how many VMs has been reclaimed with details on resources: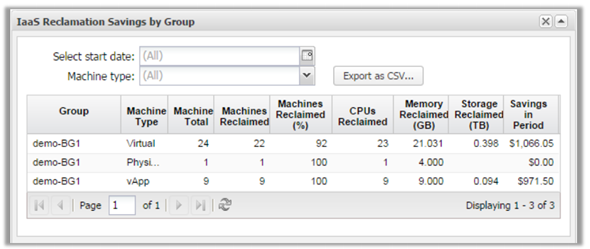 Further notes concerning the UI and enhancements.
Users can request new apps and services with reduced deployment times.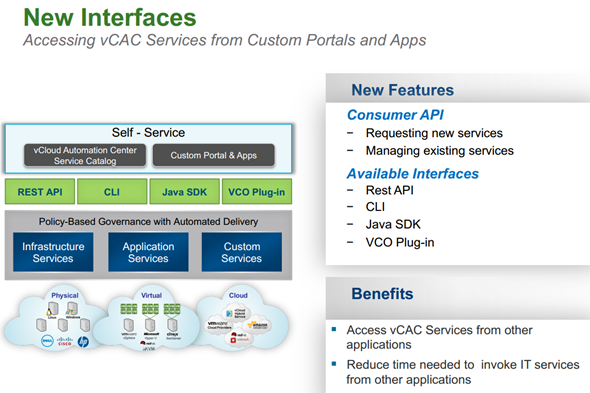 vRAC can be extended by using VCO where it's possible to call VCO workflows from various points in the lifecycle or create custom IT services.
Also it's possible to add 2nd day actions to existing services.
See the possibilities on the following shot from VMware presentation: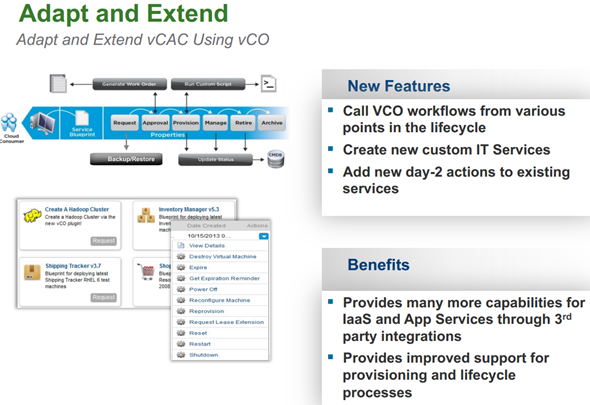 The upcoming 6.2 release (shall be out in December) will be able to (based on if the service is running or not) implement actions, the day 2,  like:
Turn Off
Copy
Snapshot
Delete
Turn On
Delete
 Cloud Client – Separate helper product
Cloud client is a command line tool for troubleshooting vCAC, VRAC APIs (with Iaas, Apps, vCO) with unified command line interface. Has a common security with exception handling, with formating supporting JSON, CSV and tabular for matting for exports.
Also auto-login for scriptiong (pass + keyfiles) and auto-generated documentation.
Shall be available in early Q4 as a separate download for vCAC 6.1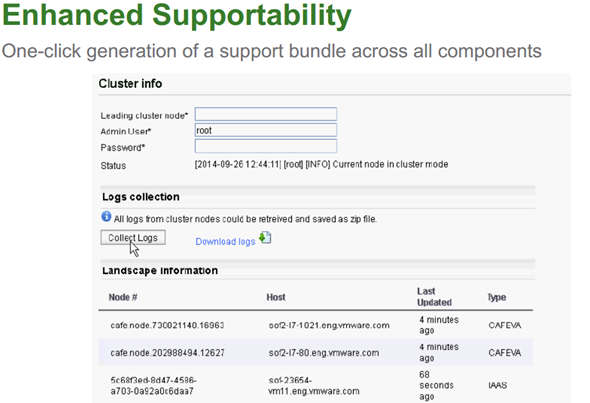 Upgrading from Previous releases of vCAC into vCAC 6.1
The 6.0 release must be upgraded to 6.0.1.1 first and it's an in place upgrade from 6.0.1.1 to 6.1 where the Application services (AppD) needs side-by-side migration.
Users with 5.X releases needs to upgrade to 5.2.1 first and after install 6.1 side-by-side before launch an upgrade with migration utility which will migrate the data to the 6.1 deployments. Migration does not include AppD.
Other Announcements from VMworld Barcelona 2014:
vRealize Automation Center 6.2 – (This post)