What's behind that term? What is vRealize Air automation? It is a new beta service from VMware. The service brings a comprehensive platform for managing the hybrid cloud. The platform combines the capabilities of VMware's existing cloud automation, cloud operations and cloud business management solutions into a single offering to deliver. But it's part of the whole vRealize Cloud Management Platform.
VMware vRealize Suite represents the next step in the evolution of VMware's market leading cloud management family of products, shifting from a product to a platform strategy. By bringing all management products under a single product family, VMware is focused on delivering a platform with a common services model and an integrated interface to help businesses achieve a high level of automation and orchestration.
Enterprise customers can buy and set up enterprise cloud management. vRealize is the platform which will centralize all that so it will be in some way the all existing VMware vCloud products tighten together into single location. Read the full paper here
There is tons of other announcements however. Let's see…
vRealize Air
Infrastructure Delivery and Lifecycle Management
Provision and manage IT infrastructure services across private and public clouds with a consistent management experience and fast time to value.
Provision and manage IT infrastructure services across private and public clouds with a consistent management experience and fast time to value
Deploy across multi-vendor, multi-cloud infrastructures (Public & Private)
Single and multi-machine deployment
Create and repeat consistent, standardized environments and configurations
Manage the lifecycle of services from requisition to retirement

The Cloud Management Platform for the Hybrid Cloud Era
Building and sustaining a competitive advantage today requires that businesses continue to innovate and stay nimble. To become a strategic partner to the business, IT must resolve the defining challenge of this new era: delivering on the increasing business need for speed and agility while also offering the on-going need for control and efficiency. VMware vRealize Suite is designed to help customers address both.
The new platform provides a comprehensive management stack for IT services running on VMware vSphere and other hypervisors, physical infrastructure and external cloud service providers such as VMware vCloud Air and Amazon Web Services.
VMware vRealize Suite delivers three key capabilities:
On-demand delivery of applications and infrastructure services via a service portal/catalog or API and guided by policy– available with popular tools such as Puppet, Chef and Jenkins to enable DevOps methodologies.
Cloud analytics and advanced management to optimize the performance, capacity and security of existing and next-gen applications, combining integrated monitoring, self-learning remediation and log management from app to storage, supported by an ecosystem of third-party management packs for Microsoft, AWS, Cisco, SAP and more.
Infrastructure service costing, metering and analysis including public cloud rate cards, facilitating optimal workload placement and transparent show/charge back.
VMware vRealize Air Automation
VMware today also introduced the beta of a new software as a service (SaaS) cloud management offering — vRealize Air Automation. This new subscription service will enable customers to automate the delivery and on-going lifecycle management of application and infrastructure services while maintaining compliance with IT policies. The possibility to automate and manage the whole infrastructure (off and on premise) through single UI.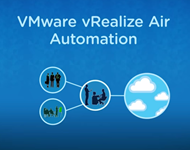 The Benefits for the admin:
Rapid time to value – the service will be immediately available for trial eliminating setup and installation
Lower Total Cost of Ownership – fewer people and infrastructure will be needed to support the software, and maintenance and upgrades are included in the subscription pricing
More flexible and predictable pricing – customers will pay for what they need, and be able to predict monthly/yearly costs
Eliminating system management – customers can focus on managing their data center or cloud environments without having to manage another software stack.
And another announce is concerning vCloud suite which goes from 5.5 to 5.8 version and brings few enhancements and new features as well.
What's new in vCloud Suite 5.8?
Improved BCDR (Self-Service, policy based, increased scalability of DR capabilities)
Enhanced Next-Gen Apps –> Big Data Extensions supports Hadoop 2
Improved interoperability with NSX
New Proactive support (free Support Assistant vCenter plug-in)
In the vCloud suite there were always those products – and this does not change:
vCloud Automation Center (vCAC) – with Standard, Advanced or Enterprise edition
vCenter Operations Management Suite (vCOPS) – Standard, Advanced or Enterprise edition
Site Recovery Manager (SRM) -present in the enterprise edition (ee) of vCloud Suite only!
vCloud Network and Security (vCNS)
vCloud Director (vCD)
vCloud Connector (vCC)
VMware vSphere Enterprise Plus (++)
vCloud Air…
VMware has rebranded vCHS few days ago… Here is the roadmap…. The new name is vCloud Air

vCloud air will allows to consume the cloud and several services will provide that:
(DaaS) Desktop as a Service
(PaaS) Platform as a Service
(IaaS) Infrastructure as a Service
(MaaS) Management as a Service
Certainly exciting times ahead. But it's not all… There is vCloud Air Object Storage
What is vCloud Air Object Storage?
VMware vCloud Air Object Storage is a highly scalable, cost-effective, and dependable storage solution that can easily scale up to petabytes, and you only pay for the storage in use. Based on EMC's ViPR technology, it offers the popular S3 API, including lifecycle management and versioning features to simplify and reduce management overhead. Data durability is 11 nines per object, and data can be accessed via HTTP and HTTPS.
One of the differentiating features is support for very large objects up to 20TB in size, in line with the rapid growth in size for media files and other unstructured data. We have a number of other innovations in the pipeline, and will talk about those closer to release.
Apparently the pricing will be very competitive. Sounds good, but let's wait and see -:)
Special Report:
Stay tuned via RSS or Twitter.