vRealize Operations Management Suite 6.0 that has been detailed in the previous post, allows adding on the top of that, management packs. Those vRealize Operations Management Packs are add-ons which works similar way as the management packs for Log Insight, and are built by VMware and also by VMware partners. Bu implementing management packs for storage devices it's possible to get end-to-end visibility from the ESXi hypervisor back to the storage stack.
The architecture of the vRealize Operations Management Suite 6.0 (vROPS) has changed over the previous version and with those changes also those managemeent packs can now be installed more easy way through the vROPS user interface. Tere were some managment packs already available for vCOPS but there is more of those in the pipes and all those management packs are centralized through the VMware
vRealize Management Pack for NSX
vRealize Management Pack for Storage Devices
vRealize Management Pack for OpenStack
vRealize Management Pack for vCloud Air
vRealize Management pack for NSX
Provides dashboard view of the overall health of NSX Components (NSX Manager, NSX Controller, NSX Edge, NSX logical router). It collects NSX information through NSX – APIs, Compute and storage information through vSphere – APIs.
It does correlates issues across the compute, network, and storage and Includes top-of-rack switch data from physical network.

Features
Scalable up to 50k VMs
Multi-tenant role based access control
Advanced capacity analysis
Consolidated problem alert interface
vRealize Management Pack for Storage Devices
VASA is leveraged. Many storage arrays present here.
Out-of-box storage dashboards
Provides visibility into the physical storage infrastructure and data paths including HBAs, Fabric and Arrays
Brings together views of topology, stats and events by leveraging standardized protocols such as CIM, SMI-S and VASA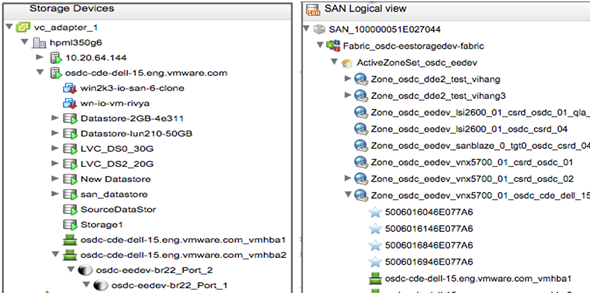 Troubleshooting of storage performance is performed via application performance where for example admin gets an alert and can see where exactly the issue is. Here is an example:
"Admin gets a call from the app owner that Oracle DB is slow > App metrics from the vC Ops Hyperic adapter confirm there is an increase in transaction latency > The operations views in vC Ops Manager will show the correlation between the application group and the infrastructure components supporting it along with their operational status (Red, Yellow, Green) > With the built-in storage adapter in vC Ops, it will be possible to trace the operational issues all the way down to the LUN level > Then drill down into the LUN details to show the relevant metrics …such as high I/O outstanding. > Get visibility into the underlying issue (e.g., issue with storage processor) > Finally, look at correlated events (e.g., HBA resets) to troubleshoot the issue.
Here is the corresponding screenshot: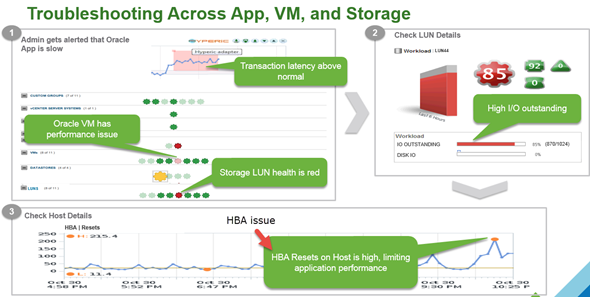 vRealize Operations Management Pack for vCloud Air
There is out of the box performance data without further config needed.
Provides utilization for cloud resources and deep VM performance data
Supports shared and dedicated/private Cloud
Includes 40 VM metrics related to CPU/memory/disk/network
Collects change events and resource topology from vCHS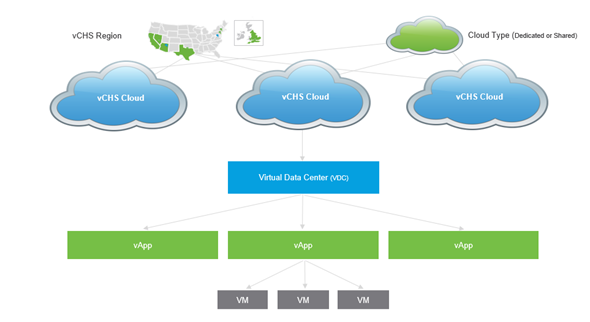 Comprehensive vSphere like Out-of-box Dashboards
One operations console across private and public clouds
Out-of-the-box dashboards enable isolation and quick resolution of performance issue
Multiple Resources Supported
vCHS Cloud, vCHS Region, vCHS vApp, VDC ,VM, Cloud Type
All Form Factors Supported
vApp, Standalone – Windows and Linux
The vCloud Air Management pack allows to collect data even if there is not a connection to the cloud or not. In fact there is a service which collects the data, and when the connection to the cloud is re-newed, the datas collected offline becomes available in the UI. It 's a histrorical service which runs in the vCloud air, and allows not losing any historical data in case you're not connected to the cloud all the time.
Next release will also have Storage and networking service resource details or metrics.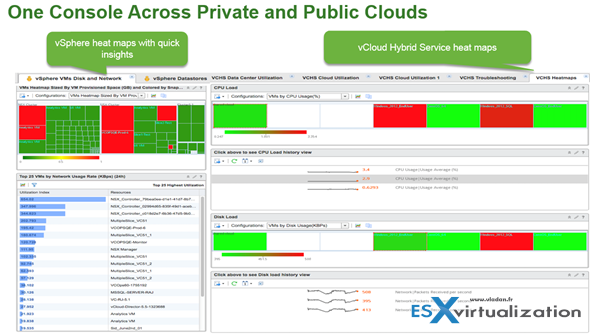 vRealize Operations Management Pack for AWS
If you're using Amazon AWS VMs in your organization and want to monitor those within your vSphere environment, it's possible with this management pack.
*********************************************************************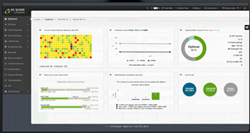 DC Scope for VMware vSphere – optimization, capacity planning, and cost management. Download FREE Trial Here.
Tracks the performance of VMs with a summary view of the resources and metrics in degradation.
Easily improve the performance of your infrastructure.
DC Scope is affordably priced per VM.
*********************************************************************
Provides operational awareness into your AWS environment
Offers visibility into the performance and health of EC2 instances, EBS volumes, Auto Scaling Groups, Elastic Load balancers, and Elastic Map Reduce clusters.
Enables you to use the out of the box dashboards, or build your own to maximize the value of the predictive analytics from vCenter Operations.
Collects resource information and performance details from AWS through Cloudwatch
In this example there is an Online Sales application in AWS. We are able to identify health related problems in Oracle database and then we drill down to find the problem metrics associated with it.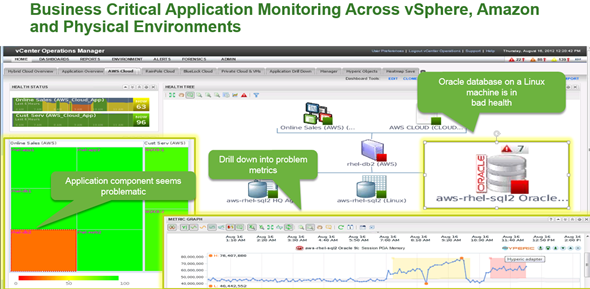 There will be several more services developped.
vRealize Operations Management Pack for OpenStack
This management stack is targeted for OpenStack customers and offers the OpenStack admins to administer VMware distribution or the Ubuntu distribution. Leveraging NSX and vSophere the admin gets precise picture of the performance.
Unified UI for vSphere, NSX, OpenStack and other resources
Health, Risk and Efficiency badges for OpenStack objects
Sub-badges for OpenStack objects (workload, faults etc.) and capacity model
Problem detection and remediation for OpenStack infrastructure and tenants
Reporting templates for activity, capacity and issue frequency
OpenStack Compute, Storage & Network Infrastructure Analytics
Inventory, availability and capacity of ESX and non-ESX hosts, NSX and vSphere data stores registered with OpenStack
Integration with vSphere and NSX Multi Hypervisor Management Packs
OpenStack Controller Services Dashboard
Correlation of OpenStack Controllers to vSphere VMs
Services availability monitoring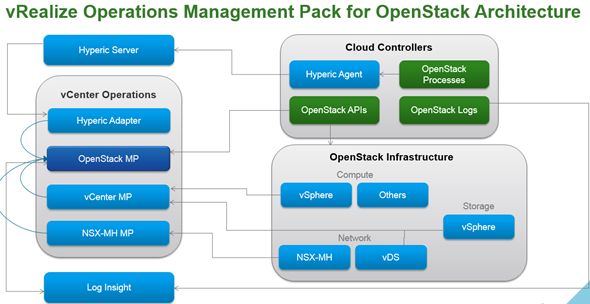 Quote:
The sources that we utilize are Hyperic, vCenter, NSX Multi Hypervisor MP and the OpenStack environment itself. If the customer does not want to install Hyperic, there will be no reporting on the service and performance metrics. All the top level objects would still be there. As a customer, you don't require NSX MP to make it work but if you want to correlate NSX Network elements, you need to use NSX. With vCenter, we can do compute correlation i.e. ESX and VMs but again, it is not a requirement here. OpenStack has controllers for compute, storage and network. These need to be monitored and we leverage Hyperic to accomplish this task. For the infrastructure piece, the MP will correlate compute, network and storage. We are also expecting to correlate vDS assuming OpenStack will deliver a plugin to provision vDS resources through OpenStack. We also leverage Log Insight for analyzing OpenStack logs.
In the next post I'll talk about vCenter Log Insight which will be  in version 2.5.
Other Announcements from VMworld Barcelona 2014:
Management Packs for vRealize Operations Management Suite 6.0 – (This post)