Free E-Book (PDF) version of vSphere 6.5 Host Resources Deep Dive from Niels Hagoort and Frank Denneman is available since few days. A Free book which you can have if you give your E-mail to Rubrik as they partnered with VMUG to offer this book to the IT and virtualization community for free.
The book is otherwise available through a usual distributor channels such as Amazon (Paperback $29.95| Kindle $9.99) if you prefer to have a paper one. But having it for free is certainly a very good deal.
We do not know for how long it will stay free, but VMUG and Rubrik partnered together and made things happen. Take the chance to get this book from this link.
If you're looking for highly deep tuning guide for vSphere, there is no better book. You'll read about things you never knew it exists. Things like Interrupt Coalescing anyone? Interrupt coalescing is a feature implemented in hardware under driver control on high-performance NICs, allowing the reception of a group of network frames to be notified to the OS kernel via a single hardware interrupt. (source: VMware)
And that's just one single feature those guys are talking about. Both authors are VCDX experts and experienced IT architects.
The cover of the book (Image from Amazon).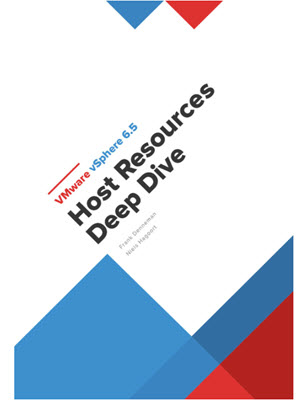 The Amazon Review:
*********************************************************************
Shop for vSphere licenses at VMware Store:
*********************************************************************
The VMware vSphere 6.5 Host Resources Deep Dive is a guide to building consistent high-performing ESXi hosts. A book that people can't put down. Written for administrators, architects, consultants, aspiring VCDX-es and people eager to learn more about the elements that control the behavior of CPU, memory, storage and network resources.
This book shows that we can fundamentally and materially improve the systems we're building. We can make the currently running ones consistently faster by deeply understanding and optimizing our systems.
The reality is that specifics of the infrastructure matter. Details matter. Especially for distributed platforms which abstract resource layers, such as NSX and vSAN. Knowing your systems inside and out is the only way to be sure you've properly handled those details. It's about having a passion for these details. It's about loving the systems we build. It's about understanding them end-to-end.
Screenshot from the book.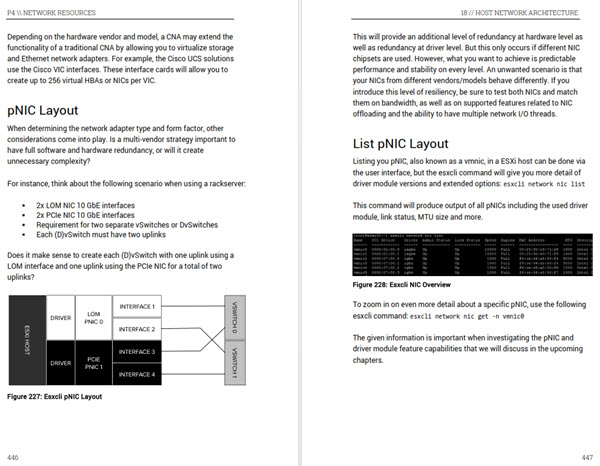 This book explains the concepts and mechanisms behind the physical resource components and the VMkernel resource schedulers, which enables you to:
– Optimize your workload for current and future Non-Uniform Memory Access (NUMA) systems.
– Discover how vSphere Balanced Power Management takes advantage of the CPU Turbo Boost functionality, and why High Performance does not.
– How the 3-DIMMs per Channel configuration results in a 10-20% performance drop.
– How TLB works and why it is bad to disable large pages in virtualized environments.
– Why 3D XPoint is perfect for the vSAN caching tier.
– What queues are and where they live inside the end-to-end storage data paths.
– Tune VMkernel components to optimize performance for VXLAN network traffic and NFV environments.
– Why Intel's Data Plane Development Kit significantly boosts packet processing performance.
We can only highly recommend getting the vSphere 6.5 Host Resources Deep Dive book from this link.
Other Free Resources on ESX Virtualization:
If you're interested in other free resources, you can have a look at the "Free Books" section as we partner with Revresponse to offer their free E-book catalog to our readers. You can request any of the free ebooks via your Linked IN account or provide your details on the signed form. However the Linked IN a way it is much easier.
We can highlight for example "Enterprise Cloud from Dummies" or "Office 365 for Dummies" ($13 value).
Free Tools page
Check our Free Tools page where you'll find an up to date list of popular IT tools for VMware, Microsoft or General IT infrastructure.
Source: Linked IN
More content from ESX Virtualization 
Stay tuned through RSS, and social media channels (Twitter, FB, YouTube)