vSphere Mobile Watchlist app got a nice update which allows you to add hosts to your list of monitored objects. I have already wrote some details about this app, the ability to create a list of critical VMs which needs to be up no matter where you are, but just to remind you, the vSphere Mobile Watchlist allows monitoring and remote remediation for VMs and now hosts from your smartphone.
You can log into your vCenter server, choose hosts and VMs you want to keep an eye on and have the possibility to send remediate actions. You are able to remediate directly from the device. The remediate actions are:
Powering on/off
Resuming/suspending
Connecting/disconnecting
Restarting VMs and/or hosts
You can add several lists, which could be used to monitor different part of the same infrastructure. You can search for and select a subset of VMs and hosts from your VMware vCenter Server and/or ESXi inventory to monitor in one or multiple watchlists.
Alerts options – Alerts are linked to pertinent diagnostic information from the VMware Knowledge Base, as well as articles from the Web.
Added in this release:
Added support for hosts for monitoring and troubleshooting
Enhanced display of related objects (e.g. all VMs on host, datastores, networks) and their alerts
Discover and add hosts and VMs to a watchlist directly from related objects
Remediation actions on hosts: power operations, connectivity, and maintenance mode.
Updated UI and navigation enhancements
Bug fixes
Here is a screenshot from my phone showing the connection screen and grid view of the monitored objects: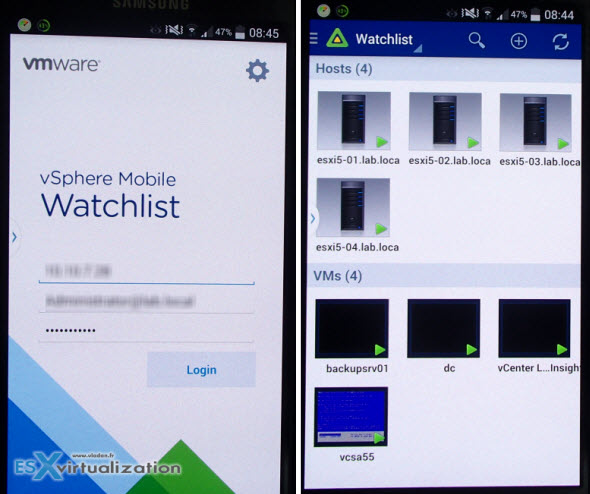 By default when you first connect you're in a List view, but this can be changed to a grid view which allows to have more object on screen (but without details). See below the differences between those two views….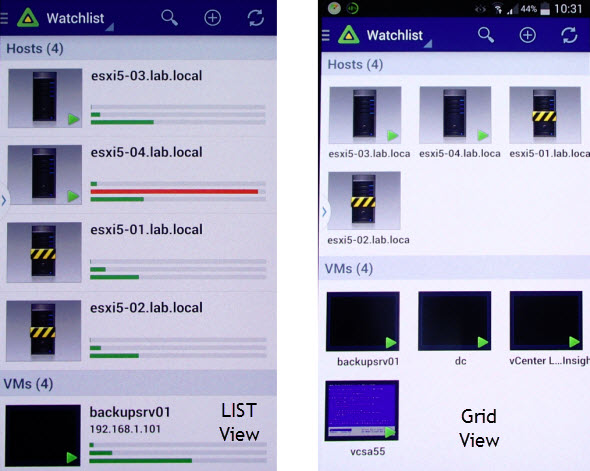 I also did shoot a short video where you can see this utility in action. I'm using Android phone for this demonstration and you'll see the connection to my vCenter server, then the detail actions which are possible for a host/VM and also an example of exiting from maintenance mode.
The app is compatible with VMware vSphere 5 and higher.
What would be nice is to have more vCenter actions integrated, like possibility to vMotion a VM or so… -:), but this is not currently possible. Access to vSphere infrastructure may require a secure access method such as VPN on a mobile device.
Support and tips for using VMware vSphere Mobile Watchlist are provided via VMware Communities at https://www.vmware.com/go/vspheremobile
Here is a quick video from my lab where you can see the look and feel:
Enjoy… -:)