My Review of vSphere Pro Training videos from TrainSignal.
Last week I received the new additional training for VMware vSphere 4 made by 3 vEperts well known by the VMware Virtualization communities. Those guys are (in no particular order):
David Davis, Hal Rottenberg and Rick Scherer. You can find some more details about those guys in my previous post here.
David starts the course by presenting the VDI concept in general and the benefits it can bring to modern enterprises. Easier management for IT stuff and time save, easier backups of clients data, easier patching and more secure, and coupled together with Thin Clients saves some great energy too….
To put all the pieces together, what's needed. That's the subject of the second video in the series. Here again David with his slides explains why and how every piece of VMware View works and ….  where to install it.
Because it's not obvious. Between the VMware composer, vmware view agent or vmware view client….. One can get lost. And also what's are the pre-requisites for the operating systems etc etc… Can I install VMware view on 2008 R2 or it's not supported yet? Should I put VMware view agent on my terminal server? Why? After watching few David's videos I've got the full picture.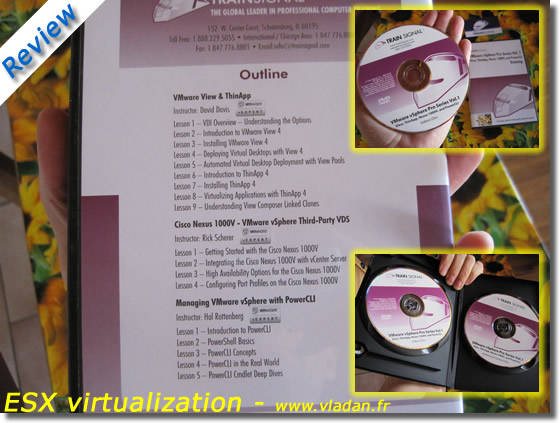 What's View Composer? How it  helps you to save disk space and to roll out desktop images. How it helps you to process with Image upgrades and desktop refreshes? All those new terms are now more clear for me.
After viewing the course, what I'm able to do? I am able to successfully install or deploy at client's site vmware View 4. I could see the different actions needed to be taken to successfully deploy the VMware View 4 solution in the enterprise. Together with Thinapp which is a tool for virtualization of applications, VMware View completes the offer for modern virtual environments based on vSphere 4.
VMware View 4 with the new protocol PCoIP (licensed from Teradici) takes advantage over Xen Desktop – a VDI desktop solution from Xen. Streamed video can be watched over WAN connections or multiple monitors can be used for the client.
Second vExpert Hal Rottenberg is on of those PowerCLI masters out there (together with Alan Renouf and many others…). By using PowerCLI which is a VMware's sort of PowerShell, you can automate many routine tasks in today's virtual infrastructure.
You'll learn the basics, and some advanced concepts too… but no fear. Hal explains brilliantly. Even after, with creating your first script to find an old snapshot you could say: Hey,  "I'm not a scripting guy"…… But with Hal it's possible to learn, to follow…..and not get lost in complexity…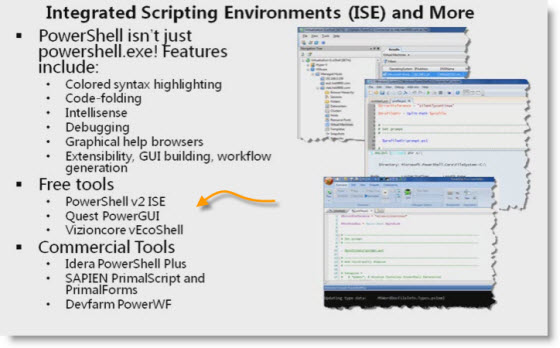 Hal is showing some commercial tools used for scripting and what's the benefit over the free tools. Some of those free tools I mentioned here on my website several times . Like PowerGUI – In my post here: Are you serious admin of VMware ESX? Then you'll need PowerGUI or Vizioncore's Virtualization ECOShell – In my post here: VESI – sponsored initiative of Vizioncore might be a great way for us to adopt Powershell. Both tools are free to use and will helps you to get started with PowerCLI, but some commercial products just stands out. So it's up to you which way you'll go.
Did you know that it was possible to create a linked clone with a script?  This, and many more examples can be seen in Hal's videos.
The third guy featured in the vSphere Pro series Vol. 1 is Rick Sherer. A VCDX 21……. He will teach us some advanced stuff with Cisco's Nexus 1000V virtual switch. Using Distributed Virtual Switches (vDS)  in a datacenter simplify the management of Networking, because the management of VDS is operated on a cluster level instead on host level, which is the case for standard switches. VDS is a part of VMware vSphere Entreprise Plus license. The ultimate level, the most expensive too…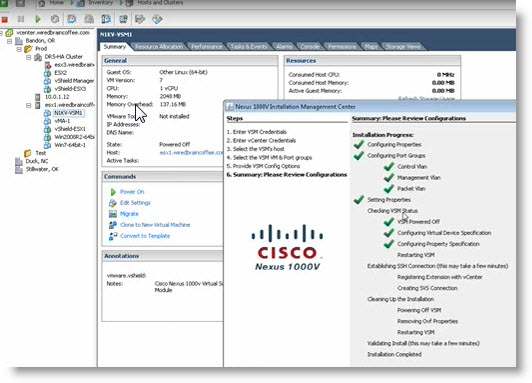 With the Cisco Nexus 1000V brings some more advanced network features like QoS, ACL, LACP…. The Nexus 1000V is deployed as a virtual appliance. It comes as an OVF file. But that's not all. Rick showed how to install and configure the Nexus 1000V inside of vCenter. It's not an easy task if you're unaware of certain points, but Rick showed me an easy way to go through. It's because there is not only one way the configuration to the switch can be made. There is an easy way and a hard way…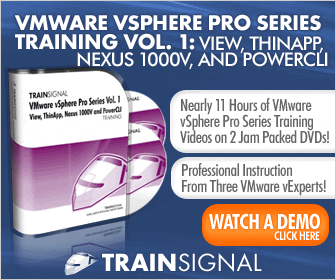 After the initial configuration Rick walk us through a failover configuration of 2 distributed virtual switches. There are some very deep dive configs showed. Configuration of port profiles, management ports, VLANS, uplinks….
Those additional training videos completes the first VMware vSphere 4 training videos (3 DVDs) from TrainSignal. The vSphere Pro series (2 DVDs) are much more technical, with more deep dive into specific sections of Virtual Infrastructure and also with an addition of VMware View. With those specific sections I mean scripting via PowerCLI or concept configuraton of Cisco Nexus 1000V vDS.
Those parts are technically very high and very specific. Mastering those topics is a crucial for an IT professional managing and administrating vSphere 4 infrastructure.
The whole package containing 5 DVDs is a great investment for somebody who wants to move into the right direction to start learning all the necessary concepts needed in today's Datacenters and for SMBs too. It's a great help to prepare for passing the VCP 4 certification exam on vSphere.
For an enterprise its a great investment too, because it saves money to send people to the class trained by real person.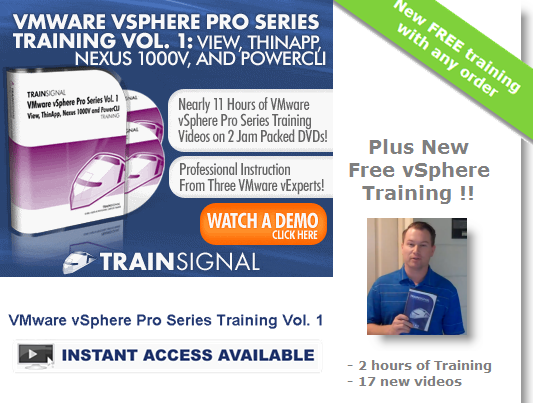 Feel free to see the Trainsignal's latest offer on the whole package (The 3 trainings bought together) because you can get almost 200$ off the price.