Again this year we'll have virtual VMworld. Yes, the pandemic situation isn't easy to get through. But VMware is throwing in a massive amount of sessions and learning tracks this year. The software portfolio of VMware reaches wider and wider audience. 600+ sessions, 8 learning tracks, hands-on labs, access to experts and more.
There has never been so much content available online for free. If you know VMware from the early days, like me, VMworld back in a day did not have so much content.
VMware portfolio of their own products, products from different acquisitions, put together, bring this amount of content to be consumed. Since several years now, one has to use filter when seeking for sessions. Nobody can be 100% interested in everything. IT is the kindom of specialities.
Today's post will bring you some light to sessions which I'm looking for to watch online. As I'm a datacenter guy with also some VDI experience, this will most likely help me to find some technical sessions (filter: Technical 300).
I think playing with the filters and topics will lead you to the content you're really looking for. You can combine search field with Track or Product, which both combined with the Level can narow the sessions down so you can choose the ones you like.
One last thing. There is a General and Tech+ passess sessions and Tech + passes sessions only. The latter ones you'll need to buy a pass.
Here are my Top 5 sessions for VMworld 2021
Please note that it's extremly difficult to pick just 5 of them -:)…

Extreme Performance Series: Performance Best Practices [MCL1635] – Are users complaining of poor application performance? Demanding more resources to compensate? Do you know where to start looking for issues? Are you confident you have the right configuration in place? Attend this breakout session, delivered by VMware's most experienced performance gurus, to answer these questions and more. This session will explain the most important performance practices that need to be applied across the stack, from application to hardware. Based on real customer case studies, the goal of this session is to empower you to identify the most common performance issues and remediate them by applying best practices. Leave with the tools, methodologies, configurations and confidence you can provide maximum performance to all your users and their applications.
Mark Achtemichuk, Performance Specialist, VMware
Valentin Bondzio, Sr. Staff TSE, VMware
My take: I think that performance with vSphere is crucial. This session is a must attend as you'll always learn new things. Where and how you track your bottlenecks, how you tweak your infrastructure for best performance, what's best design and use case etc.
vSAN Technical Deep Dive [MCL1654] – VMware vSAN is the largest and fastest growing HCI product in the market today. vSAN has always been at the forefront of technology innovation. Are you interested in learning about the latest innovations in vSAN? In this session, we will cover the latest enhancements and how vSAN interoperates with other products across the entire SDDC stack. You will learn about some of the innovations in vSAN software (VMware HCI Mesh, File Services, VMware vSphere Lifecycle Manager, compression-only) and advances in hardware enablement. We will also touch on some of the key enhancements to management and monitoring. In doing so, we will go over how easy it is to install, manage and monitor vSAN for your daily operations. We will provide a demo of the newest features in core vSAN and full-stack HCI. This is one VMworld session you do not want to miss.
Rakesh Radhakrishnan, Director, Product Management, VMware
My take: VMware vSAN is the technology which brought a second revolution to the storage subsystem for VMware vSphere. It gains traction more and more as the scalability, reliability and performance are there. Lean how to make the best out of it for your virtual infrastructure.
Designing and implementing a high-performing Virtual Desktop solution [EUS3074S] – In this session we will present the design and implementation of a Virtual Desktop Infrastructure (VDI) solution to support migration of high-performance developer desktops from local workstations to VDI. We will summarize the customer's key business objectives, application resource and IO performance metrics, and end-user experience metrics. We will describe our analysis and assessment, and how we arrived at the solution for the combination of hardware infrastructure and VMware Horizon/vSAN software.
Baker Hull, Global Solution Architect, VMware
My Take: VDI wasn't simple in the early days. Horizon now matured and has more flexibility. Let's have a look how to migrate some high-end workstations without losing performance.
Place Your Cluster in a Desired State [CODE2752] – Discover the new way of updating clusters through configuring and applying a desired state. See what's different and how it brings simplicity and efficiency to your infrastructure.
Ivaylo Ivanov, Developer/Engineer, VMware
My Take: vSphere lifecycle manager allows now using desired state. Let's have a look at some tips here.
Ransomware Resistance and Recovery with vSphere Security [SEC1385] – Good security goes a long way toward preventing the next ransomware attack. Leveraging advanced VMware vSphere security and data protection features helps protect you and your organization from breaches, ransomware and malware attacks. Learn how vSphere security features (such as confidential containers for vSphere Pods, VMware ESXi configuration encryption, and key persistence) can help lock down your security posture and provide peace of mind while reducing operational costs with vSphere Native Key Provider. We will review new security features in vSphere, and discuss where the industry as a whole and vSphere in particular are headed.
Bob Plankers, Sr. Technical Marketing Architect, VMware
Ken Drori, Product Line Manager, VMware
My Take: Ransomware, ransomware, ransomware. A fear of the dark… but it's real and it's dangerous. Let's have a look now to protect your virtual infrastructure agains ransomware.
Bonus for homelab -:)
Testing Tanzu on the Desktop [CODE2759] – In this session we'll look at the recently released Tanzu Community Edition, and how we can use Fusion and Workstation to deploy a full Tanzu Kubernetes deployment using entirely open source software, but controlled the using the same 'tanzu cli' that is used to manage Tanzu Kubernetes Grid.
Michael Roy, Product Line Marketing Manger, VMware
My Take: Learn how to install and configure vSphere with Tanzu by using VMware Workstation software.
Go to the VMworld Session Catalog and checkout the sessions
Here is the agenda during those two days. Note that there are 3 different time zones.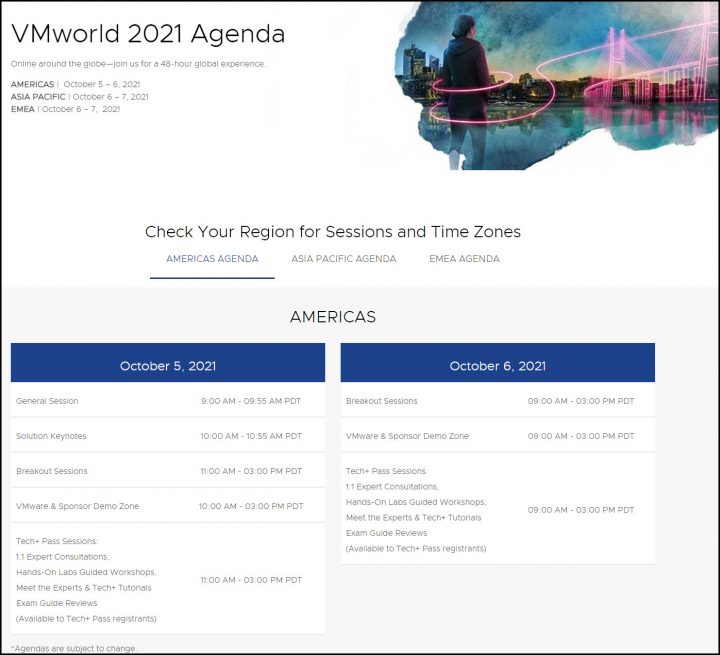 More from ESX Virtualization
Stay tuned through RSS, and social media channels (Twitter, FB, YouTube)