We were playing with Windows Server 2019 (Tech Preview) in the lab, as well as with Project Honolulu. The Windows Server 2019 was installed on vSphere 6.5 in the lab, as a new VM with default settings of Windows Server 2016. As you can imagine, everything worked as it should.
After installing VMware tools, I decided to install a Project Honolulu tech preview as well. You'll see that we had a surprise as the Internet Explorer browser present (still) in the tech preview of Windows Server 2019 isn't working with Project Honolulu.
Anyway, we can see where Microsoft is heading. Project Honolulu is a lightweight browser-based management where Microsoft will try to integrate as many features as possible which will allow using Azure services such as Azure Backup, Azure file sync, disaster recovery and more. So of course, those services are paid services. We know that Microsoft is a commercial company which is in this business for profit, not for loss. So it's quite logical they want us to use Azure as much as possible.
It is a way too early to talk about vSphere support for Windows Server 2016. We suppose that this will become actual when both Windows Server 2019 and next version of vSphere will become available, later this year.
Project Honolulu
The Honolulu app runs in a web browser. The app manages Windows Server 2016, Windows Server 2012 R2, and Windows Server 2012 nodes through the Honolulu gateway that you can install on Windows Server 2016 or Windows 10. The gateway manages servers via Remote PowerShell and WMI over WinRM. The app and gateway both install from a single lightweight .msi package that you can download from this link: https://aka.ms/HonoluluDownload
Publishing the web server to DNS and setting up the corporate firewall can allow you to access Honolulu from the public internet, enabling you to connect to, and manage, your servers from anywhere with Microsoft Edge or Google Chrome.
Honolulu Poster Download
Yes, a small freebie from Microsoft. You can download the Honolulu poster from Microsoft Githup page.
Where to Install Honolulu?
The Honolulu MSI can be also installed elsewhere than directly on the Windows Server 2019, like we did for our lab test.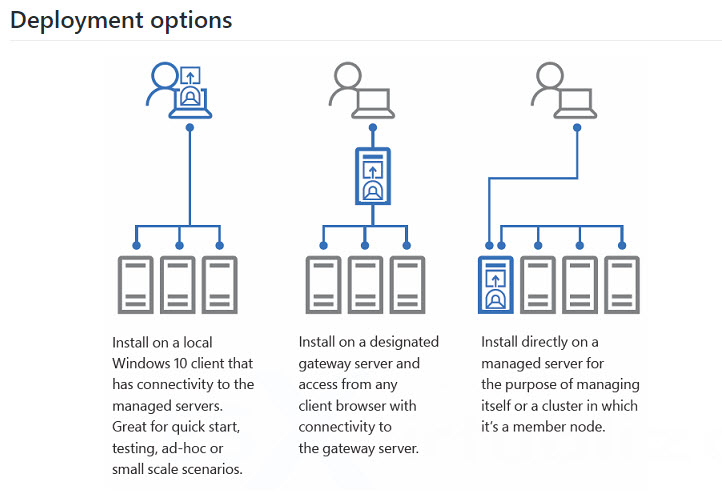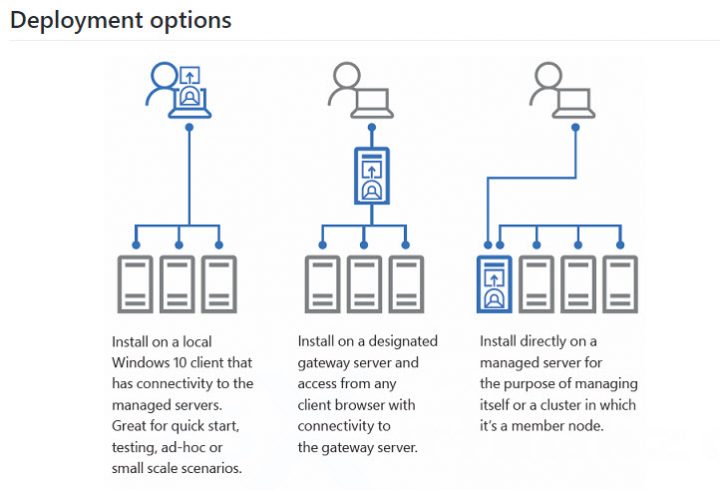 You can install it on:
Windows 10 (Desktop mode)
Windows Server, version 1709 (Gateway mode)
Windows Server 2016 (Gateway mode)
Desktop Mode: Connect to the Honolulu gateway from the same computer on which it's installed (i.e. http://localhost:[port])
Gateway Mode: Connect to the Honolulu gateway from a client browser on a different machine (i.e. https://servername)
Screenshot from the lab….
Quote from Honolulu Git page:
When you install Honolulu on Windows 10, you'll be able to open the app from the Start Menu or the System Tray. The user interface will open in a browser and you'll be authenticated with your logged-in user account, and those credentials will pass through to connect to managed Windows Server nodes.

On Windows Server, Honolulu starts a network service that listens on the port you specify during installation. Any user who has access to the port with a web browser, and rights to log on to the gateway machine, can open the app. But since the app is running with the permissions of a network service, you will need to configure some form of Kerberos delegation on the server to get a single sign-on experience. The Honolulu Gateway machine will need to be trusted to delegate to the target node.
Video from the lab:
Few FAQ from Microsoft:
Q: When will Windows Server 2019 be generally available?
A: Windows Server 2019 will be generally available in the second half of the calendar year 2018.
Q: Is Windows Server 2019 a Long-Term Servicing Channel (LTSC) release?
A: Windows Server 2019 will mark the next release in our Long-Term Servicing Channel. LTSC continues to be the recommended version of Windows Server for most of the infrastructure scenarios, including workloads like Microsoft SQL Server, Microsoft SharePoint, and Windows Server Software-defined solutions.
Q: What are the installation options available for Windows Server 2019?
A: As an LTSC release Windows Server 2019 provides the Server with Desktop Experience and Server Core installation options – in contrast to the Semi-Annual Channel that provides only the Server Core installation option and Nano Server as a container image. This will ensure application compatibility for existing workloads.
Q: Will there be a Semi-Annual Channel release at the same time as Windows Server 2019?
A: Yes. The Semi-Annual Channel release scheduled to go at the same time as Windows Server 2019 will bring container innovations and will follow the regular support lifecycle for Semi-Annual Channel releases – 18 months.
Wrap Up:
Project Honolulu together with Windows Server 2019 looks pretty cool. Microsoft's targets are clear: Azure, HCI, Hyper-V, security and more. Hopefully when we get closer to the release date, later this year, we'll have further detail about both products and their integrations.
Having a single tool to manage your servers whether they're on-prem or in Azure seems appealing. Admins which are not using Azure services can still use it for all on-prem managements of existing server infrastructure starting Windows Server 2012/2012 R2, Hyper-V Server 2016 and 2012 R2/2012.
More from ESX Virtualization
Subscribe to RSS, and social media channels (Twitter, FB, YouTube)