Yes, the news just came out a few hours ago, Windows Server 2019 GA download is available. This is a major news today. The new Microsoft Server OS came out just a week after Ignite so here we go, Microsoft released Windows Server 2019.
It seems that the price of Windows Server 2019 is up 10% compared to the previous release. The Windows Server Client Access Licensing (CAL) is, what I think, to be moved up as well. We'll come back with the numbers when we'll find them afterward.
Apparently, the number of deployments of Windows server 2016 has been lower than WS 2012R2, so It seems that the number of deployments of Windows Server 2019 will be down again. Linux to replace Windows? Not for all scenarios of course, but… let's have a look at some of the features of Windows Server 2019.
Windows Server 2019 What's New?
Hyper-converged Infrastructure (HCI) – There are some other improvements and enhancements concerning new hardware, etc. HCI is one of the latest trends in the server industry today. It is primarily because customers understand the value of using servers with high performant local disks to run their compute and storage at the same time. It is a cost-effective software-defined storage and networking that allows deployments to scale from small 2-node, all the way up to 100s of servers.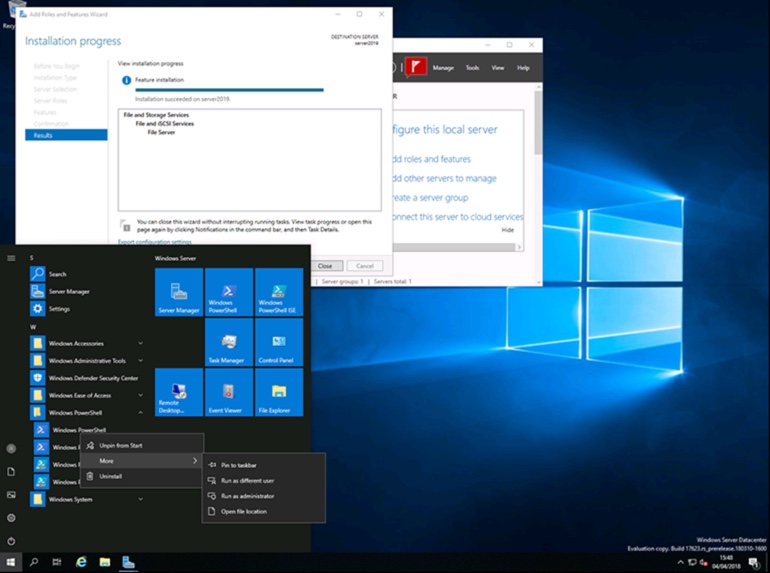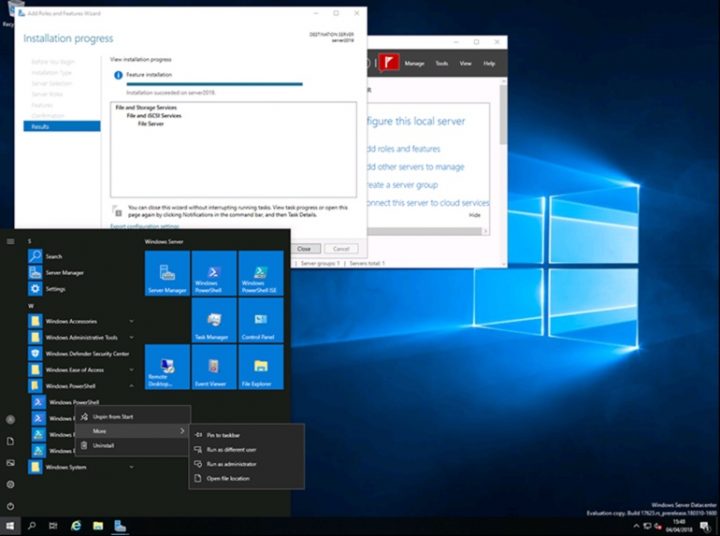 Windows Server Administration Center –  GUI for Windows, web-based, fast.
Hybrid deployments, migrations, file sync – With hybrid approach, all can be managed through Windows server administration center (previously Project Honolulu). It's obviously to make it easier for customers to connect to Azure services.
Quote:
We built interfaces for hybrid capabilities into the Windows Admin Center. With Windows Admin Center and Windows Server 2019, customers can use hybrid features like Azure Backup, Azure File Sync, disaster recovery to extend their datacenters to Azure. We also added the Storage Migration Service to help migrate file servers and their data to Azure without the need to reconfigure applications or users.
Security – Windows Server 2019 has an updated Windows Defender component. This now has a Windows Defender Advanced Threat Protection (ATP) that manages and handles general security breaches and blocks automatically the most common attacks.  The ATP has been present in Windows 10 since a few months already.
Smaller Windows Core version – Windows Server 2019 has a smaller, ServerCore image which means smaller surface for attacks, less to deploy. Server core has been reduced to the third of its size of the previous version.
Windows Subsystem on Linux (WSL) – The Windows Subsystem for Linux is not the same as VMs on Hyper-V. It rather handles a basic virtual machine operation of Linux systems on Windows Server and has a deeper integration for networking, native filesystem storage or security. You can enable encrypted Linux virtual instances through WSL.
The Windows Server 2019 is also available for customers running Windows Server on Azure, Windows Server 2019 is also available in the Azure Marketplace.
Windows Server Essentials 2019 released as well.
Windows Server 2019 Essentials will have the same characteristics as the 2016 version that small business look for:
A single license that includes Client Access Licenses (CAL) for up to 25 users/50 devices
Lower price point
Ability to run traditional applications and other features, such as file and print sharing
What's in Windows Server 2019 Essentials
Windows Server 2019 Essentials has the same licensing and technical characteristics as its predecessor, Windows Server 2016 Essentials. If configured as a Domain Controller, Windows Server 2019 Essentials must be the only Domain Controller, must run all Flexible Single Master Operations (FSMO) roles, and cannot have two-way trusts with other Active Directory domains.
Windows Server 2019 Essentials includes the new hardware support and features and improvements like Windows Server 2019 Standard, including Storage Migration Services, System Insights, and many more.
Download your eval of Windows Server 2019 from the Microsoft Evaluation Center
Source: Microsoft Cloud Blog and Windows Server Essentials blog
More from ESX Virtualization
Stay tuned through RSS, and social media channels (Twitter, FB, YouTube)