Here is a quick recap (not even close to be exhaustive) of different applications which offers access to remote desktops. I know there is many other apps, but let's quickly have a look at some of those which are the most interesting. One of them is Ammyy Admin, which is Zero-Config Remote Desktop Software that you might want to check out. The single executable file just needs to be distributed to your endpoint and executed. No need to do an installation. Once run it once, an ID is generated which will be used to identify the endpoint. The end user needs to communicate that ID to the admin wanting to connect remotely to the workstation.
The tiny application (727 kb only) can traverse the routers without the need to NAT those, so even users in remote offices which ask for help can be reached without of setting up complicated software or users without the admin rights on their computers.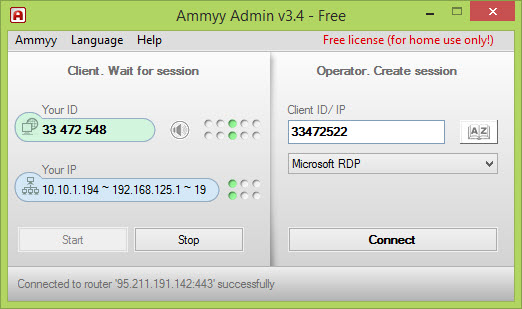 The software is free for home users, but paid for corporate usage. As it works behind firewalls and doesn't require additional settings you can always connect to remote desktops of your office PC or your colleagues computers. Link to the product website here.
Another initiative which I spotted recently is Chrome remote desktop which seems to be picked by Google to get improved in the near future in order to create an alternative to Microsoft's TeamViewer.  Advantage is t fully cross-platform. Provide remote assistance to Windows, Mac and Linux users, or access your Windows (XP and above) and Mac (OS X 10.6 and above) desktops at any time, all from the Chrome browser on virtually any device, including Chromebooks. The Chrome Remote desktop installs as an Add in to Chrome browser. Can't be simpler. Users can connect through Chrome browser or a Chromebook.
When Installed, an unique number is generated. This number is the ID which needs to be communicated to the remote administrator so he (she) can connect to the system. The connections are fully secured. Chrome remote desktop link.
Chrome remote desktop can be used in two ways. First way is to use case where the end user (the person that need help) provide temporary access to the remote help desk.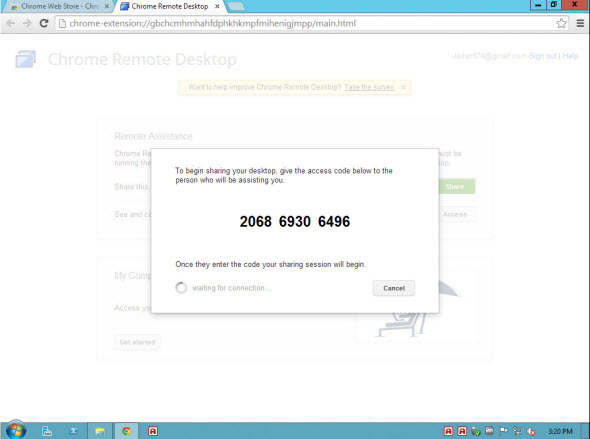 And second use case would be to set an unlimited access to another computer or server (or VM), where you'll need to secure the access via a PIN at least 6 digits long. By enabling the remote connections for a computer or server you can connect any time without the need for someone to be in front of that particular system. Again, multi OS possibility is neat….
*********************************************************************
Shop for vSphere licenses at VMware Store:
*********************************************************************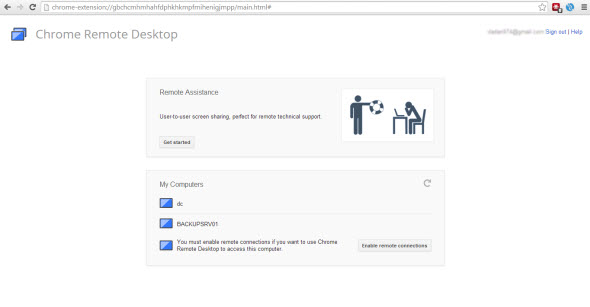 What's cool (and at the same time is normal) is that you don't have to have a chrome to be executed at that remote system. For example I quickly tested and installed Chrome and enabled the Remote desktop extension on one of my Servers VMs (It's Windows Server 2012 VM), and logged Off. It works like a charm. You're prompted for the PIN first…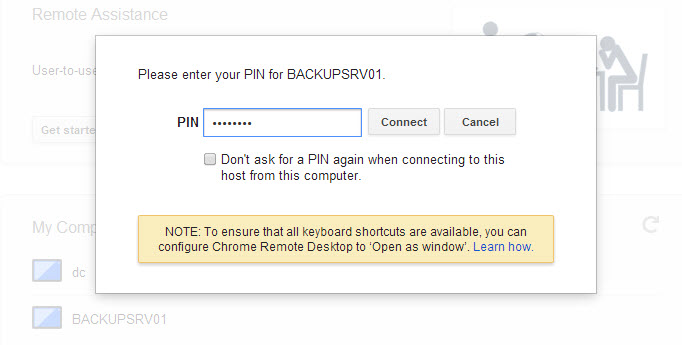 And then you'll see the login page of your server… You have several screen options, like full screen or shrink to fit…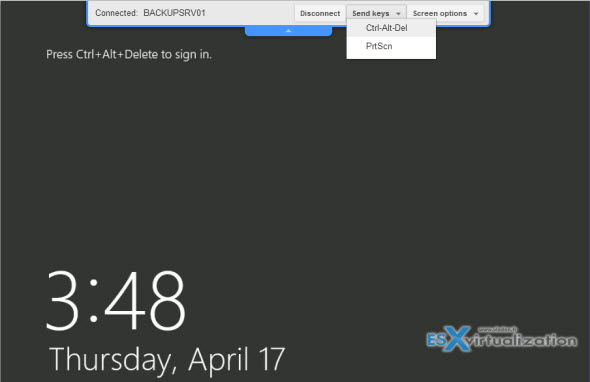 And here is the last screen where you can see the final desktop with the possibility to stop sharing the desktop. This is pretty powerful from Google. Pretty awesome…. The quality isn't that sharp as through plain RDP session as there is certainly some compression used, but as it's optimized for WAN and remote sites, it's quite priceless…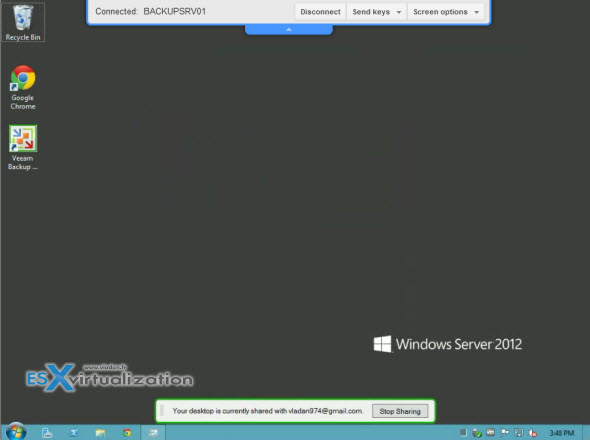 Third option – Teamviewer. I don't think that it needs some introduction or presentation. The software is here since several years, very flexible and quite easy to install and use. Yes, you need to install it on the remote endpoints, and it's not free for usage other than home user. I haven't checked for the version 9, but previous versions did not installs without a paid license on systems which runs Server OS. At the same time, it's quite normal.
Again, no need to NAT the router/firewall which is often the blocked on anything else than 80, 443 etc… Teamviewer can get through. There are Linux, Android and MacOS versions as well. The software has recently reached version 9 already.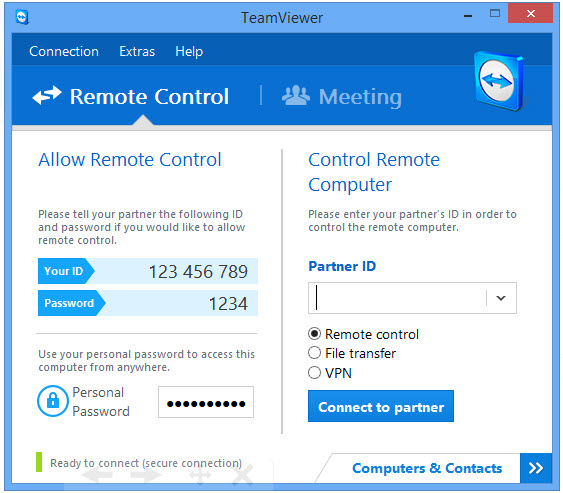 Interesting fact is that Teamviewer can also be used to help out people with iPad devices. iPhone, iPad or iPod touch.  Examples of what the app enables you to do include pushing email or Wi-Fi settings to the device or transferring files to the iOS device. Link to the Teamviewer product page.