Zerto 7.5 Released yesterday and available for download. Zerto has been on fire this year with two major releases (7.0 and now 7.5). The Zerto Resilience platform has evolved over time, but it's only this year when the 7.0 release came out with Elastic journal allowing you to restore your VMs from older date.
In fact, Zerto is able to keep data during longer period of time to provide the ability to recover VMs, files or application from 7 sec to many years. Previous releases were able to keep the data in the journal for 30 days only.
This is pretty much a game-changer and positioned Zerto also as backup software. Previously it wasn't possible to keep the data for let's say archive purposes, with Zerto. One had to use traditional backup software to do so. Now Zerto can fully play in the data protection market by providing not only low RPO and RTO, but also provide archiving of data (up to 7 years).
The latest Zerto 7.5 is Generally available and there is quite a lot of new features added, as well as platform enhancements.
Zerto 7.5 Released – What's New?
Zerto joined the VMware vSphere APIs for I/O Filtering (VAIO) program that enables support for secure boot and storage-policy based management (SPBM). Zerto has completed the initial certification of its vSphere Installation Bundle (VIB) for VMware's vSphere APIs for I/O Filtering (VAIO) framework.
The integration will allow creating and using VMs configured with Secure Boot for VMware vSphere and creation of Zerto replication policies within VMware's Storage Policies. There will be a new release of certified VIB to VMware customers, which will come up with Zerto's next major release programmed for the second half of 2019.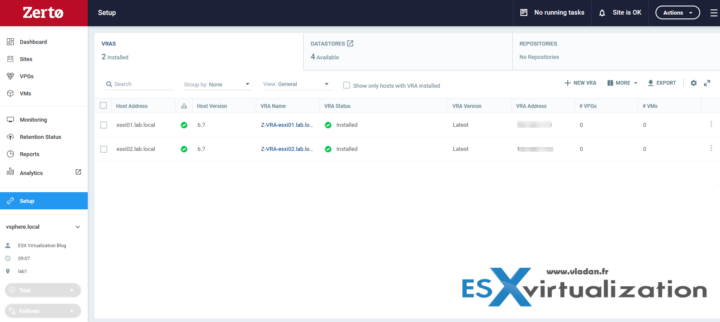 Support for Azure Active Directory Managed Service Identity provides – Zerto and Microsoft Azure users the ability to authenticate to Azure services and keep their credentials secure via the Microsoft Managed Service Identity (MSI).
Support for AWS Identity and Access Management (IAM) – Zerto enables users to unlock granular control and securely manage their AWS services and resources using IAM permissions.
Support for Azure Premium Managed Disks –  Failback from Azure Managed Disks to and from the cloud (premium SSD, standard SSD, and standard HDD). Unlock the value of Azure Managed Disks to deliver improved flexibility, performance and capabilities for your Zerto-protected VMs in Azure.
Further Integration with Azure VM Scale Sets –  Experience best-in class recovery performance and scalability with Zerto's further integration with Azure's native VM scale sets to now support ongoing replication as well as recovery workflows. Reduce your ZCA footprint and allow Zerto to scale with your workloads automatically as required.
Workload Mobility and Testing for Azure –  Easily test your recovery and gain the ability and flexibility to move applications to and across Azure regions.
Integration with Azure VMware Solution (AVS) by Cloud Simple –  Utilize the public cloud and migrate your VMware workloads natively to AVS without rearchitecting your environment. Make your Disaster Recovery operations of your VMware workloads natively to, or from AVS or native Azure to benefit from Azure's scale and simplicity.
Journal Sizing for Storage Capacity –  This new capability in Resource Planner helps a user quickly understand and trade-off storage capacity requirements with the amount of time data is protected. Easily predict your infrastructure needs by predicting changes to your journal and retention policies within minutes.
Throughput Graphs – Within the Resource Planner, users can now view the throughput for the selected group of VMs over time to identify the I/O trends and properly size their recovery site.
Full Integration with HPE StoreOnce Catalyst – Zerto delivers converged DR & backup, leveraging its Continuous Data Protection to deliver Long-Term Retention (LTR) without the traditional backup overheads. Zerto 7.5 furthers this convergence with integration with HPE StoreOnce Catalyst that delivers source-side deduplication for more efficient use of storage and network resources
Zerto Replication Technology
Zerto, however, does not use snapshots. Zerto's Virtual Replication Appliance (VRA) is able to tap into a virtual machine's IO stream causing no overhead or performance problems compared to traditional hypervisor snapshots. It captures and copies the IOs from a particular VM to the remote site where a journal system keeps those data sorted for 30 days right now at maximum.
Repositories
There are many different storage types supported and backup appliances:
HPE StoreOnce
ExaGrid
Dell EMC Data Domain
Other De-duplicated Storage Appliance
Network share
SMB and NFS are supported right now, other protocols will be added.
Enhanced Retention Settings – Retention settings can now be configured for Long Term Retention per VPG. The available Retention periods are:
Daily Incremental Retention
Weekly and Monthly Full or Incremental Retention. Either Weekly or Monthly Retentions must be set to Full.
Yearly Full Retention
Check out Zerto's website here for further details.
Release Links:
Other posts about Zerto:
More from ESX Virtualization
Stay tuned through RSS, and social media channels (Twitter, FB, YouTube)