It's been a while since we haven't reported on what's new in Altaro VM Backup and Replication. As you know, Altaro is now part of the HornetSecurity group which is a leading cloud security provider. HornetSecurity has excellent tools and solutions to back up and restore Microsoft/Office 365 mailboxes and files in OneDrive and SharePoint. Also physical Windows server backup and endpoint backup for files stored on roaming and on-premise Windows desktops and laptops.
The latest Altaro VM Backup 8.5 adds support for new Amazon S3 and Wasabi object storage regions and also for the latest Windows Server 2022 and Azure Stack HCI operating systems as a supported platform and hypervisor. Altaro VM Backup supports both VMware as well as Microsoft Hyper-V, all from a single console.
Altaro VM Backup's big features are efficiency, reliability, and performance. Like many other backup vendors, Hornetsecurity embraces public clouds to store and secure your backups in case of ransomware attacks.
Read my full review of Altaro Backup and Replication here that I published earlier this year.
One of the strongest points of this VM Backup software is Augmented Inline Deduplication which allows only the common data to be transferred to the backup or offsite location only ONCE.
Quote:
This process happens inline and not as a post-process like most competitors, which ensures that only changed data gets sent to your backup repository from the get go (rather than removing the identical data after the transfer). The result: Superior efficiency, drastically reduced backup storage requirements, and blazing fast backup speeds.
Instead of talking about backup features which you probably know already, let's talk about some restore features. Restores are more needed than backups, right? There are many different ways you can restore a VM depending on what has happened to that particular VM. Was this VM corrupted by a datastore or SAN crash, virus, ransomware or simple Microsoft patch that needs to be rolled back? Yes, sometimes you can roll back Microsoft patches, I agree. But there are situations where you need to roll back the whole OS of a particular VM while keeping the data disks untouched. Altaro VM Backup can handle many different scenarios.
Altaro VM Backup Restore Features
Boot from Backup – Did you know that you can boot any VM from backup instantly? Altaro VM Backup supports quickly booting up VM directly from the backup location instead of restoring to production storage first. A time saver. There is an option called Recovery mode and it's very useful because the VM can be booted up instantly from the backup drive with minimal downtime, while the VM is restored back to the Hypervisor in the background. Then a simple VM reboot completes the recovery process and preserves any changes done while the VM was booted.
Granular Restore – Other than that, granular restore options for full VMs or individual files or Exchange item-level restore is supported.
Restore to a different host or restore clone – pick your option where you want to restore. Clone restore is able to restore an identical clone of the VM with a different name.
Restore single virtual disk – As an example of this would be a file server that has an OS problem on its OS disk. (the VM is unbootable). This option will allow you to restore just the system disk. Not the whole VM with files located on the data disk.
Scheduled Test Restores – this feature allows you to test full VM restores automatically so that you can actually boot up the VM and confirm that everything works as expected. The VM will be restored with the NIC disabled so as to avoid IP conflicts with the production machine as well. You can find the instructions on how to set up sandbox and restore schedule here.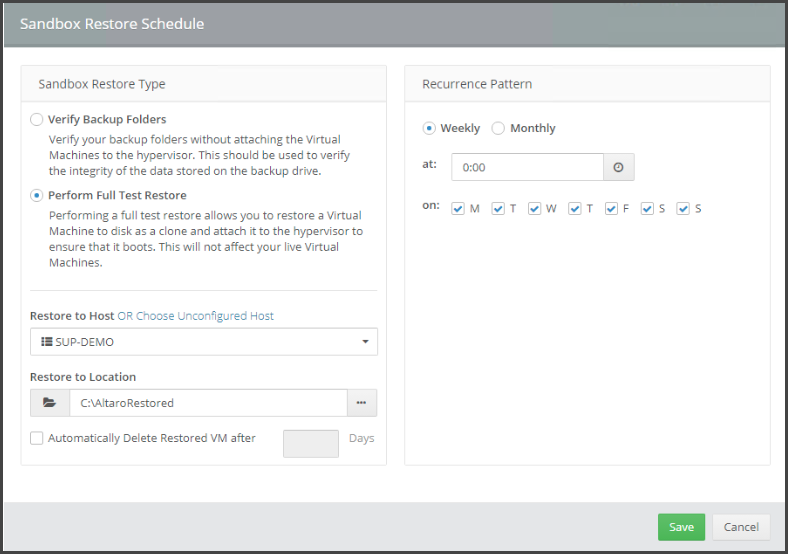 Quick tip to restore when your vCenter is not available
If you're in a situation when you need to restore a VM from a host normally connected to a vCenter server but your vCenter server is down or not available? Simply go and connect directly to your ESXi host via host client and disconnect the host from vCenter. Then initiate the restore of your VM via the Altaro console, but not via vCenter, but directly from the particular ESXi host.
In the VMware Web UI, right-click host in the VMware Host Client inventory and select "Disconnect from vCenter Server" from the pop-up menu
Replication with Altaro VM backup
Altaro software has a replication capability. Replicated VMs are stored on different site or in a different building across the street. It can also be a replication to the cloud data center. In case you have a problem at your main office, you switch to the remote site and power ON your replicas.
Altaro VM Backup has a  WAN-Optimized Replication functionality that enables admins to be back up and running in minimal time in case you have disaster. Simply switching to a replicated virtual machine (VM) that is running offsite, to continue your work. Replication can be done through VPN or WAN connections to an Altaro Offsite Server. The Altaro Offsite Server acts as a target for copying backups over to a remote location over a WAN connection. Available in the Unlimited Plus edition only.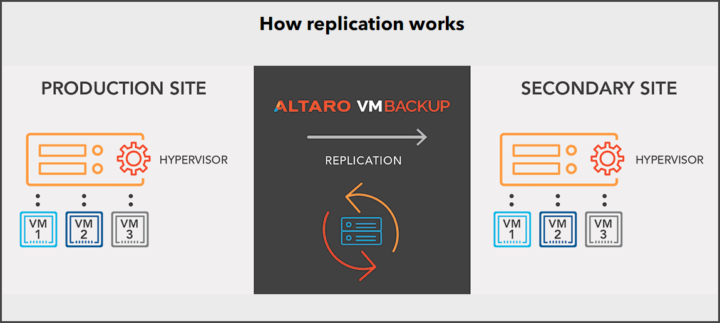 Worth to note some details from Altaro documentation concerning VMware:
Quote
On ESXi hosts you will see the replicated VMs in the vSphere console when you enable replication for your VMs. It is imperative that you do not boot the VM outside of the Altaro Offsite Server. The replicated VM is fully managed by Altaro and will essentially end up discarding any changes made if booted outside of the Altaro Offsite Server.
You can read further details about Altaro VM Backup replication here.
Altaro VM Backup Features quick:
Cloud Management Console (CMC)
Cloud Backup to Azure
Flexible Backup Scheduling
Hot/Live Backups
Restore Clone
Offsite Backups over WAN/internet
File Level Restore
Sandbox Restore & Backup verification
CDP – Continuous data protection
3-2-1 backup
Augmented Inline Deduplication
Compression
Exchange Item-Level Restore
Restore to a different host
Boot from Backup
Military Grade (AES) Encryption
Support for VMware vCenter
Support for MS Hyper-V Clusters(CSV)
WAN-Optimized Replication
Grandfather-Father-Son Archiving (GFS)
Native integration with multiple cloud storage providers
Final Words
All I can say is that Altaro VM backup has a good potential to become a standard player within the backup industry. I know we haven't talked much about licensing, but basically, you can choose whether to purchase a perpetual license (with a renewable Software Maintenance Agreement) or an annual subscription – depends on your needs. The main difference is that perpetual licenses are licensed per host and subscription licenses per number of VMs. You can find a detailed pricing calculator HERE.
More about Altaro and HornetSecurity
More posts from ESX Virtualization:
Stay tuned through RSS, and social media channels (Twitter, FB, YouTube)