During my VMworld Barcelona 2018 last week I was invited to a Cohesity briefing and was introduced to their product. I and other analysts and vExperts were able to get some insights into Cohesity's product called Cohesity Data Platform. This product is currently a complete storage solution (software and hardware) which handles data protection of your production workflows running on production storage.
You are able to create backup jobs for your VMs which then, in case of necessity can quickly be spun up (instant recovery) on Cohesity storage before migration back to production storage, via Storage vMotion. Cohesity leverages VMware's vSphere API for Data Protection and Change Block Tracking (CBT) mechanism, the same way as all other backup vendors in this space. As you know, CBT can track virtual disk blocks that have been used and/or changed since a previous backup.
Cohesity data platform is an appliance (hyper-converged) which has many data services such as deduplication (a more efficient one, with variable size deduplication providing 2x-3x more space savings), compression and integrates with VMware, Hyper-V, Nutanix AHV, and KVM environments. It can scale the same way as vSAN for example (by adding more nodes you grow the compute an storage a linear way). It exposes to the outside world as NFS, SMB, and S3 protocols.
Their solution can spans across different environments in a hybrid approach. It's the same data fabric. So you can have some data on-premises and some data in the cloud by replicating there. They use a policy-based automated archiving, tiering, and replication to the cloud.
Below Cohesity architecture.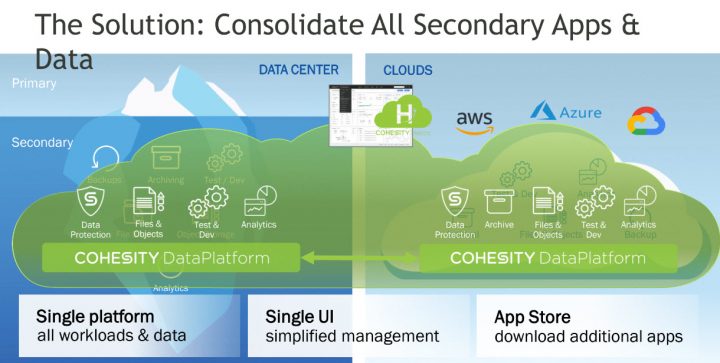 We haven't had a possibility to view a demo, but it's possible to ask them and they'll give you an access to a remote lab, so in case you're interested, get in touch with Cohesity, through their website which I'll put at the bottom of this post.
A few years back (yes, it's bee few years) I've assisted in Rubrik's briefing during TFD in Boston and found a lot of similarities between those two platforms. It's normal as the founders of Rubrik and Cohesity were originally at the beginning of …. Nutanix, which is, as you know, also present as an actor of the hyper-convergent architecture and using a distributed file system as the one used by Google. We have written an article about Nutanix too and talked about their distributed file system here.
Global Actionable Search
Now some interesting stuff. As you know, to find what you need to restore might be a challenge. Especially if you don't know the location of your file or VM's name. That's where the global actionable search kicks in. You're able to seek within all your dataset for those files and have some predefined actions.
If you looking for a whole VM for example, you have a choice of four actions:
Protect – if the VM has not been added to a backup job and right now is unprotected, you have the choice here to protect (to backup) that VM.
Instant Mount – Power up the VM directly from a backup stored on the Cohesity platform. Cohesity has enough power to spin up many VMs at the same time.
Recover – initiate a full VM restore.
Clone – clones a particular VM to other  (to the cloud for example) place.
Here is another screenshot we've seen during the briefing.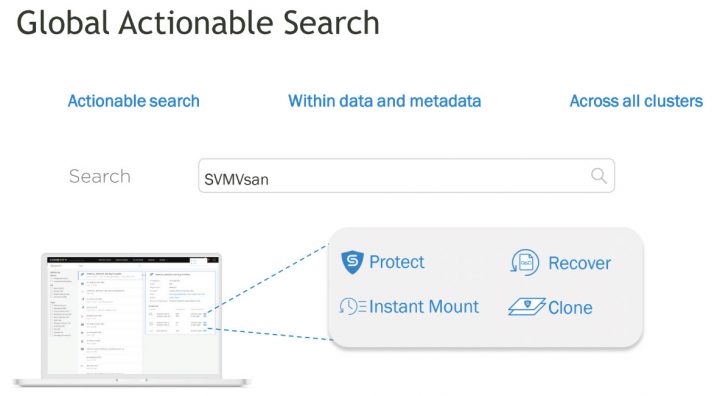 Note: I imagine that if you, for example, select a VM which is already stored in the cloud, from the past, and that you clone it there once more time with more recent data if the system sees it and so it will copy only the data that missing? I'd say yes, as the system is based on metadata and knows exactly which data are located where etc.
Speed or Restore
What the main reason you're backup your infrastructure? A possible restore, when needed. But restore speed? It might be a good argument too which in many situations can be critical when making decisions.
Apparently, Cohesity's solution is rather speedy when it comes to restores. Not only that they claim a speedy restore, but also a parallel processing of many VMs which can be spun up instantly and then migrated back to the production storage when it comes back from an outage.
Fully Hydrated Snapshots – This is something I hear for the first time, so I'm unsure I got it right.  They do incrementals, but as stated in their whitepaper (direct link to the PDF):
SnapTree creates a tree of pointers that limits the number of traverses it takes to retrieve blocks of data, regardless of the number of snapshots that have been taken. SnapTree uses a B+ tree data structure (Fig 1) such that access to any point in the tree takes a fixed number no matter how many snapshots there are, without having to rebuild any chain linkage.
And as they use a distributed file system, all the nodes sees the same and can participate in restoring. A restore process of many VMs at the same time is possible.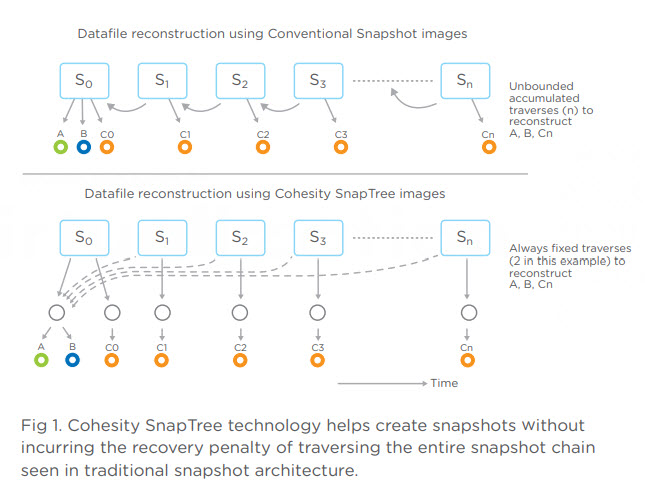 Speedy restores are certainly a good point, indeed.
What's might be missing is perhaps the integration with enterprise apps and their recovery. The same "problem" has had Rubrik or Simplivity when I asked. They must use third party tools to do that and there is no integration that we have for example, with Veeam. Individual Items recovery, without mounting the whole VM? Otherwise yes, you can mount the whole VM and then export perhaps just what you need from there, if possible.
Wrap up:
We have just scratched the surface. But who knows, perhaps next time, if we'll get some time, we'll talk about other stuff from Cohesity and their platform. I cannot say I did not like the presentation, but I'd need to see more. Much more than what I've seen there. The technology is interesting, but as any hyper-converged system, you need at least 3 nodes (I imagine the same as for Nutanix and Rubrik) and right now you need still to buy the whole package (hardware and software).
They're preparing a software-only solution, which in my opinion, will change the perception a little bit. Obviously, you won't be able to install it on any hardware as they'll certainly have some kind of Hardware compatibility list (HCL) like VMware for their vSAN solution.
I'm not a Cohesity employee so please accept this post as is, with some errors in stating perhaps. But it's an independent point of view from someone who assisted first insights on Cohesity's platform. There would certainly be more questions to be asked if there would be further briefings. Only trained Cohesity staff can assume the talks better then I do as I'm just a messenger.
With that said, I hope that our readers still apreciated this post, which is done right after VMworld Barcelona 2018.
Cohesity website can be found here.
More from ESX Virtualization
Stay tuned through RSS, and social media channels (Twitter, FB, YouTube)