An overview of a few sessions from Commvault Connections 22, a virtual event taking place across three time zones. You can register and watch the content here.  For me, one of the most important aspects lately is ransomware management.
We have to deal with ransomware on a daily basis, to have a plan what to do when it will happen (because one day it will happen). If you don't have a plan, you'll most likely be in a panic. The IT job as a company IT guy is getting more and more stressful and without a proper strategy, you'll be even more stressed and in pain.
Is Kubernetes Cloud-Native Data Protection the Next Frontier?
Nigel Poulton and Mike Letching are talking about Kubernetes. One of the questions in 2022 are What's the best practices for Kubernetes, who should we be partnering with, which tools shall be using it etc.

Mike Letchin and Nigel Poulton
Companies across the board are using Kubernetes. Enterprise businesses took a slower approach, but most of them now are running Kubernetes along with virtual machines (VMs). The questions are now to try to put in place Kubernetes and apps first instead VMs, but that only if the application is supported to run in a container. Most environments run side-by-side VMs and containers.
Kubernetes provides an abstraction layer for different clouds, so while you might start at cloud A for example, then you realize that B cloud has a better offer so the migration is much easier because you're having that Kubernetes abstraction layer in between.
Kubernetes and the protection of Kubernetes as an infrastructure, you're protecting the application configuration, the data as well as the control plane, you're good. If you can't protect it all, you're at risk. You must be able to protect the entire stack.
With Comvault, Kubernetes solutions can be protected at different levels. They can protect and restore the entire cluster, name-level protection, or application (or part of an application). They can recover granular levels of the environment. They have the ability to protect or recover the whole Kubernetes clusters if you don't know which part of your application is damaged, lost, or corrupted. You can select the point-in-time etc, like any other backup and recovery environment.
Digital Transformation is a Journey, Not a Destination
For a while, a lot of businesses have had their workloads on-prem and in the cloud. Within those environments, there is an increased risk of ransomware and cyber attacks. Data transformation is not easy and moving traditional apps from on-prem to the cloud directly might not work.
Most common issues:
Constantly adding new technology – when you constantly add new technology to align with the business need, it "forces" you to keep both, new and old technologies.
Increased risk – due to the complexity of maintaining both, new and old legacy infrastructure, you're managing an environment that is more difficult to maintain and secure than it would be a more homogenous one. Ransomware is even more present you might find it difficult where all your data is and if they're even protected.
Skill shortage – employees aren't trained fast enough. Every new app that appears within your environment, needs your employee to acquire a new skill.
With data sprawl across multiple environments, you'll need a common solution that is able to give you more visibility into on-prem or cloud environments. Comvault has solutions that can help to provide a way of managing data from a single location.
The Power of AND
The Modern CIO's journey to the Cloud
A customer interview with Michele Buschman from a bank called American Pacific Mortgage, with 3600 employees, sell and provides mortgages for houses. Technology is part of the business now. The technology can now improve revenue for the company and give a better experience to the customer. The CIO is not only here to maintain the back end of the infrastructure, but also to grow the business because the data access and data management is better than use to be in the past.
Comvault is a long-term provider for APM, and back in the day, they used a simple Comvault backup solution. Then in 2016, they chose Comvault for next-gen infrastructure protection. Back in the day, they were looking for a single-file restore, which was back in a day a 2-day restore (because of the size of the file). Now it takes 5 min….
The data is critical, for the company, and for the customer. They collect a lot of data points, from the customer or about the property that they're asking to get a mortgage for. The data is crucial. It's also important to Digg into that data and sees how you can do some BI on who is most likely going to need to refinance that mortgage, how we get in front of that customer etc.
They have a lot of PII and NPI data, so they're subject to all sorts of regulations, such as GDPR, GLBA, CCPA in California. The security of data is crucial, including ransomware, the data protection.
There is an Online event this week that you might find interesting. The event is about cloud data, their management, storage, archiving, and ransomware protection with Zero Loss Strategy. Pretty hot topics. You'll be able to follow technical sessions and real stories online.
Commvault Connections 22, a virtual event taking place across three time zones
US – November 2nd
EMEA and APJ – November 3rd
You can register here.
It is something that couple of years ago did not exists. We've heard about ransomware from some bigger compagnies, but now, they attack even smaller businesses and SMBs.
Quote from the brief about ransomware:
While they may be inevitable, breaches, leaks, and losses don't have to be disasters. Get on the offense with our proactive and responsive data protection capabilities that keep your data safe and your company out of the headlines.
Your data management changes over time. What was right or OK just a couple of years ago, now changes into something different. Modernizing Data Management – Digital Transformation is a Journey, Not a Destination.
There are also sessions about Kubernetes Cloud – Native Data Protection, and whether it is what you might implement within your organization.
You can follow the event in 3 different time zones.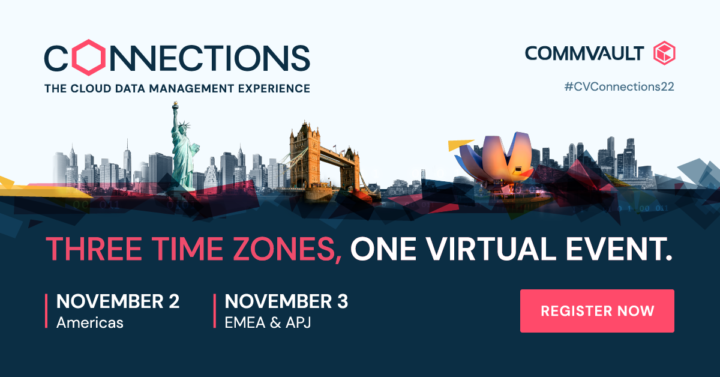 Connections provides IT leaders with the insights and best practices they need to Innovate with Confidence today and tomorrow. During the event, we will feature keynote speakers, a customer panel, and numerous technical and partner sessions that share our vision, technology roadmap, and best practices with our data-minded customers, prospects, partners, and industry influencers.
There is also a couple of sponsors such as Microsoft, Oracle or AWS which is normal. They'll share their insights about latest findings from the field and latest innovations.
Register here for Connections event (Nov2-Nov3).
More posts from ESX Virtualization:
Stay tuned through RSS, and social media channels (Twitter, FB, YouTube)