There is a new update on Cross vCenter Workload Migration Utility, which is a free tool for VMware vSphere. The tool is free but is not intended to be used in the production system, because it's only experimental. The same for all the other VMware Flings. Download only when accepting the checkbox….
The latest update has brought some scale improvements where now you can migrate up to 100 VMs (previously you were limited to 10). You need Java to be able to work with the utility.
I haven't personally tested, but as far as the comment section goes (over 150 comments) it's very popular and in active development. With each release, there are some bug fixes, and new bugs which appears too, so it's up to you. This release is a v 2.1.
Cross vCenter Workload Migration Utility – What can you do with this tool?
Migrate VMs from one vCenter to another – Completely UI-driven workflow for VM migration.
Provides REST API for managing migration tasks.
Works with vCenters not part of the same SSO domain only.
Support for batch migration of multiple VMs in parallel (up to 100 VMs in this release).
Auto-populate inventory for ease of management – you can select network at the destination, as well as a cluster, storage etc…
vMotion across vCenters – Supports both live as well as the cold migration of VMs.
Performs storage vMotion, not requiring shared storage.
Flexible network mappings between source/destination sites.
There is a nice video on the site which I'm embedding to my post. Unfortunately, there is no sound (no comments or speech by the developer)
Screenshot from the VMware site: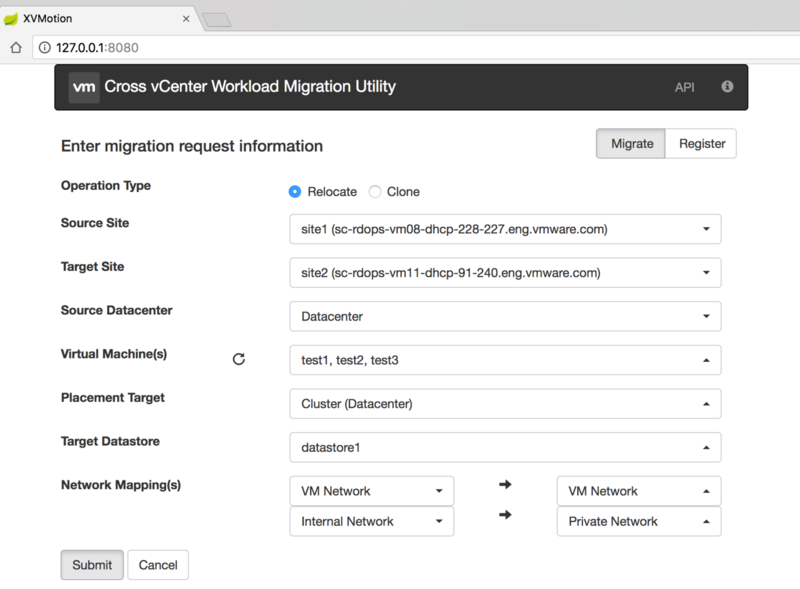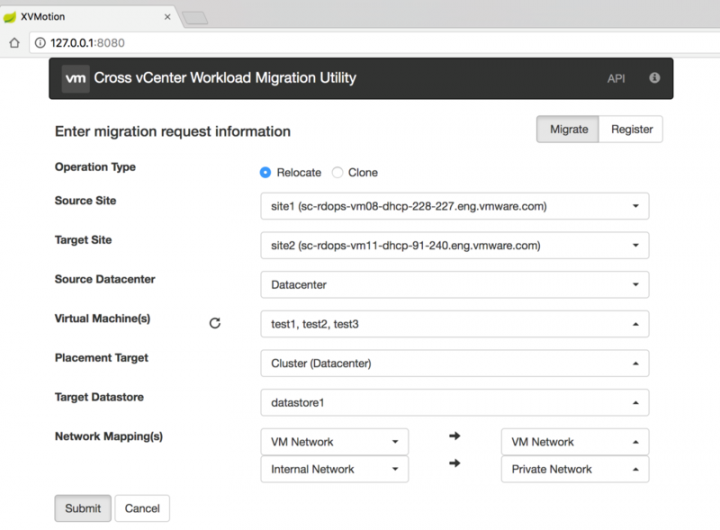 Here is the video which shows how it works. First, you have to open a command prompt window and call the utility jar file. After you'll open a web browser to continue the rest of the work within a browser window. Pretty easy.
Here is the video:
There is a VMware KB article for supported configurations (different version of vSphere) for Cross vCenter vMotion https://kb.vmware.com/kb/2106952. Please note that vSphere 5.5 is NOT supported by this utility. vSphere 6.0 and higher are supported.
Cross vCenter Workload Migration Utility – Requirements:
vCenter Servers 6.0 or higher
Java Runtime Environment 1.8 (some comments says that there are problems. So use this exact version).
Web Browser
Please review https://kb.vmware.com/kb/2106952 for Cross vCenter vMotion requirements
Source: VMware Labs
It is certainly a very useful utility allowing to do a datacenter migration from one site to another via user-friendly GUI. There can be a variety of scenarios. It can be during an onboarding to another site on remote datacenter, cloud, or migration from one datacenter to another.
More from ESX Virtualization
Stay tuned through RSS, and social media channels (Twitter, FB, YouTube)