DataDog is a monitoring service. It's a SaaS application, which allows to gather thousands of metrics from many systems. It's possible to correlate and search the metrics and events to obtain different views which helps to pinpoint problems related to application's or VM's performance.
How does it works? DataDog needs to deploy a lightweight agent to the system to then centralize the view to single location. The agents can be deployed almost everywhere, including VMware. tons of other OSs include the latest Linux OS like RedHat 7, CentOS 7, latest Fedora, CoreOS or Windows OSs…
In fact the recent addition of vSphere support allows better monitoring of applications and VMs within vSphere as the root cause can be not only the underlying infrastructure (storage, physical memory, network or CPU) but also the application itself (or the way that the application is deployed).
DataDog has support for dozens of OS, DBs, Web servers and technologies, including Docker for example. Docker is pretty hot lately as VMware has announced Project Fargo…
What counts in enterprise are the apps, their performance and their availability. DataDog installs an agent on your vCenter server. This agent collects all available metrics from vCenter, tags them and make them available through the DataDog UI. You can see a dashboard presenting vSphere integration. Simple and efficient.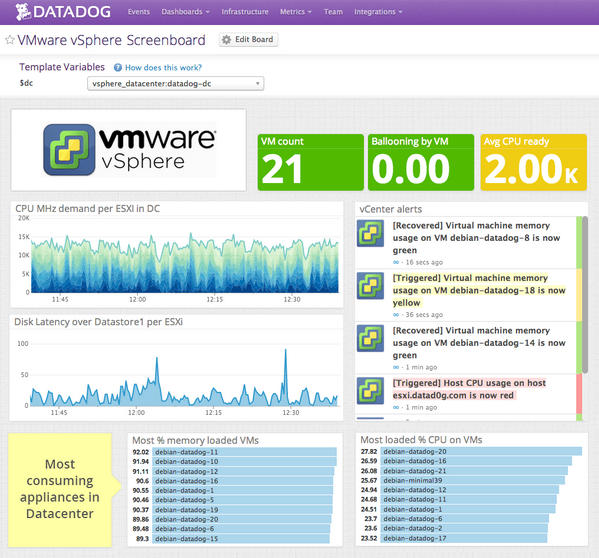 Here is how DataDog works:
The Datadog integration places an Agent on the vCenter server, and collects vSphere performance metrics in real time, as well as configuration events like vMotions and resource configuration changes.

The agent gathers events and metrics provided by vCenter and tags them based on VMware clusters and VM configuration so that you can use the exact same cluster and VM names in Datadog. The data is continuously sent through a secure connection to Datadog where it is processed and normalized to a common timescale, along with performance data from over 80 other commonly-available tools, applications and cloud-based services.
Leo Cavaille who works for DataDog as a software engineer, in his post he explains through an example what has happened in his clustered SQL server VM and how he could pinpoint the source of the problem. One of the DataDog's feature is the fact DataDog allows zoom in and out and see the specific period of time where you can track what has happened when the problem has occured.
As a result, DataDog can lead you directly to the source of the problem.
Quote from his post:
Without Datadog you would only see memory ballooning without a clear idea of the cause. With Datadog you can save time and directly look into what happened with the SQL Server instance
In the example below you can see that VM has started to struggle on memory, starts to balloon and then swapp.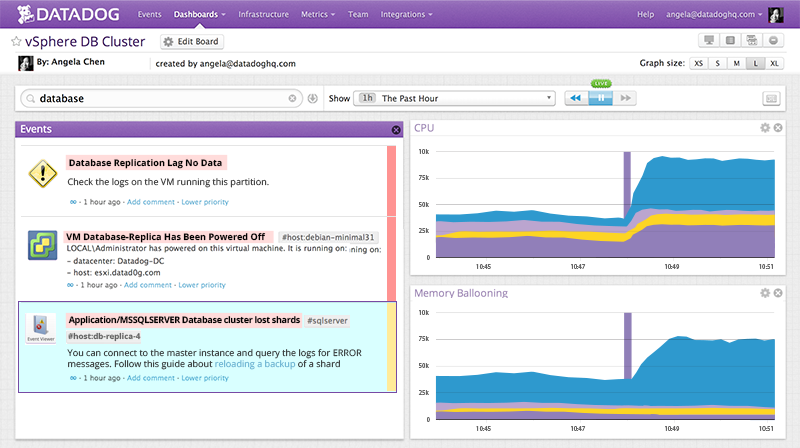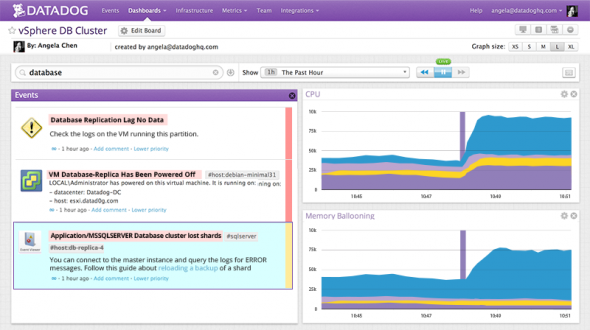 As mentioned above, DataDog provides agents for deep monitoring of many systems. Particularity is that most of those agents just don't need to worry about dependencies. The agent's installer takes care of it…
Here is an example of Docker containers…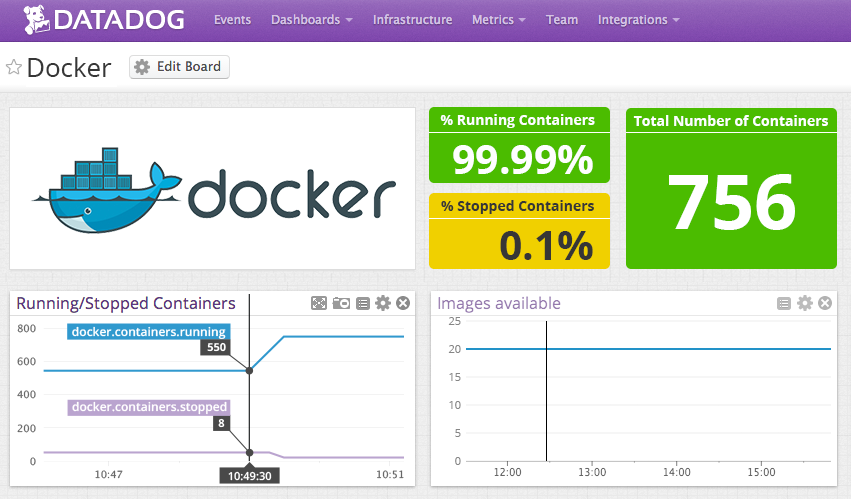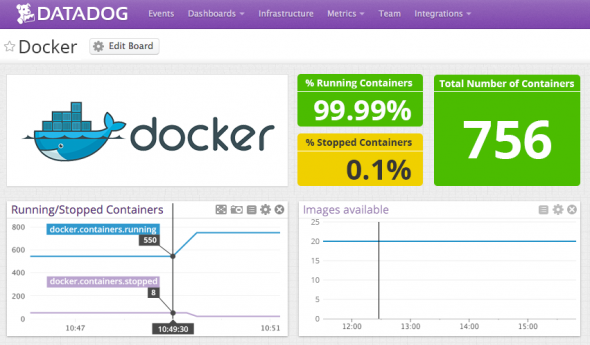 A very cool video I found by browsing their website. In this video you'll see that the dashboard, you can build your own in less than 2 min !!.
Best to watch in HD and Full Screen. Pretty awesome…
DataDog is present during VMworld San Francisco this year – Booth #218. Check out their demo!
Source: DataDog
VMworld isn't finished yet and there is more to come. but if you missed the US version of VMworld you can still register for VMworld Barcelona and see the show live.
Special Report:
Stay tuned via RSS or Twitter.