During the Day 2 keynote some VMware vSphere 6.0 has been announced by Raghu Raghuram, Executive Vice President, Software-Defined Data Center Division. The vMotion technology, which has been here for about a decade was continuously improved in previous releases. An example in vSphere 5.0 with multi-NIC vMotion function and also vMotion without shared storage.
But let's see what vSphere 6.0 will bring (when it will be released).
vSphere 6.0 vMotion Enhancements
vMotion Across Virtual Switches
You're no longer restricted by the network created with the switch. vMotion across virtual switches (standard or VDS). It transfers all the metadata from the VDS ports (port groups etc) with the VM during the vMotion process. It's transparent to the VMs (VMs are not aware that they are moved) – no downtime for applications.
Requirements:
L2 VM network connectivity
It's possible to move VMs:
from VSS to VSS
from VSS to VDS
from VDS to VDS
vMotion Across vCenters
Allows to change compute, storage, networks, and management. In single operation you're able to move a VM from vCenter 1 where this VM is placed on certain Host, lays on some datastore and is present in some resource pool, into a vCenter 2 where the VM lays on different datastore, is on a different host and it's part of the different resource pool.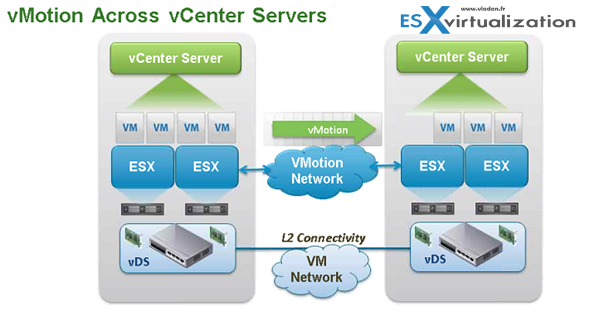 Long-Distance vMotion
vMotion supports 150 ms RTT (previously only 10ms). Long-Distance vMotion can move VMs from your datacenter into a cloud data center or into another data center owned by your company.  This makes me thin when to use this kind of vMotion and why?
When To Use Long-distance vMotion?
Some of the use cases would be…
Disaster Avoidance
Permanent Migrations
SRM/DA testing
Multi-site Load balancing
From local datacenter into vCloud Air
vMotion using routed networks
The v6.0 of vSphere will allow using routed networks for vMotion networks, which is currently impossible.
The vSphere public beta allows work with this technology already. You can check out the vSphere Public Beta 6.0 page here.
While myself I'm not currently present at VMworld I managed to publish some posts already. Here is the list.