With yesterday's announce about EVO: RAIL – a VMware Hyper-Converged Software product there was also some of the usual OEM partners that has provided some details about their integration of VMware EVO: RAIL product. Fujitsu and VMware EVO: RAIL Integration is a logical step as Fujitsu has been longtime VMware partner. Perhaps less known for some but more for others.
Just to note, without hint of promotion from my part as I do not currently work for Fujitsu, but I worked for Fujitsu partner previously. Fujitsu holds first position in 9 of the 13 VMmark benchmarks. (Note: VMMark is an industry standard virtualization platform benchmark – link).
Here is the link to the press release, but I'd like to quote one part of it as I like efficiency and especially energy efficiency. We all live on the same planet and it seems that the energy efficiency is the way to go. It seems that their latest server platform got more efficient than ever:
The latest addition to Fujitsu's fast-growing portfolio of business-enabling Integrated Systems is based on Fujitsu PRIMERGY CX400 rack servers optimized for VMware EVO: RAIL. In addition to industry-leading server performance, Fujitsu is also driving down energy costs by up to 27 percent thanks to its Cool-safe advanced thermal design technology. This will allow for the second generation of FUJITSU Integrated System Appliance for VMware EVO: RAIL infrastructures – due later this year – to run at higher ambient temperatures, therefore reducing power costs for cooling.

Fujitsu server platform for EVO:RAIL is based on CX400 S2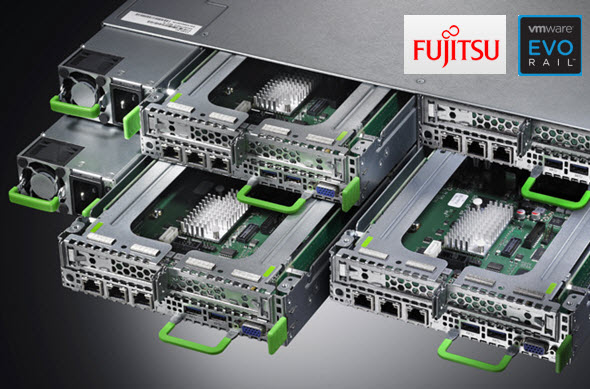 Multi-Node server with up to 4 independent dual socket server nodes and up to 24 local storage drives. All consolidated 2U rack enclosure. Each node is based on dual Intel Xeon E6-2620v2 and 16 DIMMs per server node with up to 1,024 GB DDR3.
There are 2 config possible when it comes to hard drive enclosures: 12x 3.5-inch or 24x 2.5-inch (HDD, SSD)
Link for Technical Specs (PDF).
EVO: RAIL software can get deployed in roughly 15 min of time and configures the whole multi-node environment where you would normally need to configure manually about 200 parameters, including VSAN config, Log Insight config, vCenter and cluster config, HA, vMotion ….  It's pretty exciting stuff.
VMworld US Special Report:
Stay tuned via RSS or Twitter.